The driving force behind the production of Scotland's Aquaculture Growth to 2030, which aims to double the value of the aquaculture industry by 2030, he reflected on the potential of the industry and the role the conference, and events like it, should help galvanise the growth of the industry.
"The more we can as an industry take a lead in innovation and collaboration, knowledge and experience sharing, the more we are likely to get ahead of the curve on the opportunities and challenges which we face. I do hope that this conference will therefor provide the opportunity for the industry to take another forward step on our growth path," he reflected.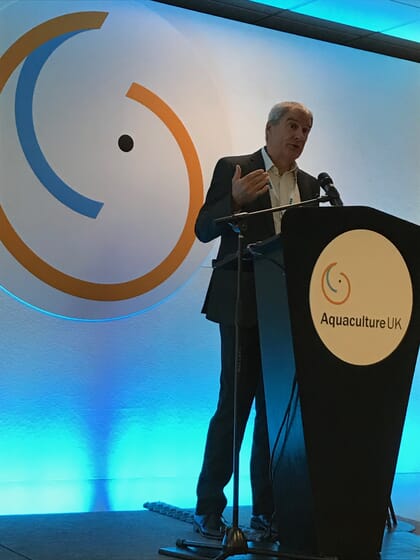 Stewart has also been an integral part in setting out a strategy for growth of the industry, and was able to pass on how the strategy is evolving and gaining momentum.
"Even I, as the eternal optimist, could not have believed how much buy in we got to the ambition of the strategy and how astonishingly quickly it was produced...It is simply remarkable that in the space of just one year we moved from no forward visibility of where the industry was going and real fear of mentioning ambitious growth targets to a position where the strategy is accepted by all stakeholders as the reference source for industry aspirations. It has taken on a life of its own in that regard and all real stakeholders have accepted its ambition. I know that it has already inspired investment, policy changes and many other actions beyond those that have had direct involvement with its production," he said.
Such a flying start has filled him with confidence that the momentum behind the project will continue apace.
"I, for one, now feel very confident about the prospects for a successful implementation and development of the strategy and achieving an optimal rate of growth for our industry here in Scotland," he added.
He emphasised the social and economic benefits of aquaculture and was keen to emphasise that, while the sector does have an environmental impact, this is minimal when compared to the benefits it produces.
"I challenge any industry or activity to deliver such a high positive social and economic return for so small an environmental impact. For any major source of protein production our credentials are second to none. Compared to red and white meat production in agriculture we are shining stars and yet we need to eat, we need protein and we need food security. So, if I was committed to aquaculture 30 years ago, I am an evangelistic advocate for it today," he reflected.
He was also keen to point out the lessons that could be learned from his own experience of dealing with politicians.
"Listen very carefully there are significant transferable lessons in and from the experience. When I spoke with and subsequently wrote to the First Minister I did not have a whinge or a moan, nor did I complain. I empathised with and recognised what the Government's policy objectives and challenges were, I spelt out the scale of the opportunity to be grasped, what the benefits for the wider stakeholder group could be and critically how that aligned with the government's own policy objectives. I never asked for one penny of government money. I only asked for one thing and assured her that we in industry would do the rest. I asked that the aquaculture portfolio was placed at ministerial level with a minister whose calibre and position in government was commensurate with the scale of the opportunity," he explained.
He is convinced that the strategy will help communities and rural economies to prosper.
"If we can deliver this growth we will have sustained and developed rural and island communities and they can and will be thriving…By 2030 we can expect to see many more businesses established in the aquaculture supply chain, the value-added processing sector and niche players in production and across the value chain, as well as the largest key producers we have today growing strongly. We would hope that we would have diversity of species in primary aquaculture beyond salmon too – in other fin fish, shellfish and algae," he pointed out.
Such a situation would, he believes, lead to a bright future – both for the industry and Scotland in general.
"In summary my vision for the future of aquaculture in Scotland out to 2030 is that Scottish farmed seafood as a sector will grow from one of the greatest economic success stories of the rural Highlands and Islands in the last 50 years to become one of the most sustainably successful industries Scotland has ever developed," he concluded.