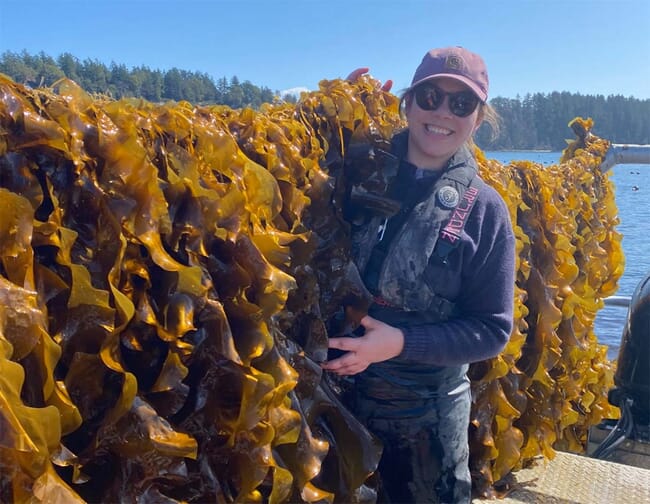 The $1.5 million funding from the British Columbia Centre for Innovation and Clean Energy (CICE) will be used by Cascadia Seaweed ­– the largest ocean cultivator of seaweed in Canada – to fast-track the commercialisation of its agricultural products to reduce greenhouse gases and improve food security.
Climate change is the most important issue of our time and it is negatively impacting how much food we can produce for a continuously growing population. Farmers are facing rising challenges to produce more food using less land and less fertiliser in worsening soil conditions, with rising input costs and pressures to reduce emissions. Cascadia Seaweed has identified scalable solutions that fight climate change and address food security by producing seaweed-derived products for land-based farmers that have the potential to reduce emissions at the megatonne scale.
"Cascadia Seaweed and some Indigenous communities on the BC coast have built a strong collaboration that involves cultivating seaweed and transforming it into agricultural products. This commendable joint initiative reduces methane emissions from cattle and improves soil carbon retention. Recognising the vital role of kelp in future carbon management solutions, CICE is excited to support Cascadia in becoming a global leader in seaweed cultivation, pioneering first-of-its-kind advancements on the west coast," explained Ged McLean, the executive director of the BC Centre for Innovation and Clean Energy, in a press release.
Cascadia Seaweed is receiving intervals of financial support from Agriculture and Agri-Food Canada (AAFC), Sustainable Development Technology Canada (SDTC), and the BC Centre of Innovation and Clean Energy (CICE), which support the development of a 100-hectare seaweed farm and bioprocessing facility in Prince Rupert, British Columbia. The expansion of operations in Northern BC is thanks to a mutually beneficial partnership between Cascadia Seaweed and the Metlakatla Development Corporation, who have extensive experience in aquaculture and access to existing shellfish tenure and equipment that can be converted to seaweed cultivation.
"We are thrilled to receive support from CICE, which will accelerate our plans to scale up the cultivation and bioprocessing of seaweeds into agricultural products. This builds on the support we've received from SDTC and AAFC and enables us to deliver nature-based and climate-positive solutions in a timely manner," added Rob Napoli, CFO at Cascadia Seaweed. "These agencies have vetted our solutions, which are expected to avoid the release of one megatonne of CO2e by 2035."