I've been a fisherman all my life. Ever since I was 12 years old, and allowed to come along for a short trip onboard the fishing vessel where my father worked, I knew exactly what I wanted to be when I grew up. So, I started as a 16-year-old mess-boy on one of Norway's factory trawlers, then working in the factory as a processor, before moving on to the trawl deck as a deckhand and deciding to start my nautical education.
After years of fishing in Norway and New Zealand, I got a job with Kjell Inge Røkke's (KIR) Seattle-based American Seafoods Group in 1995. Ever since then I have worked in various KIR controlled projects, onboard lots of different vessels, fishing in different waters.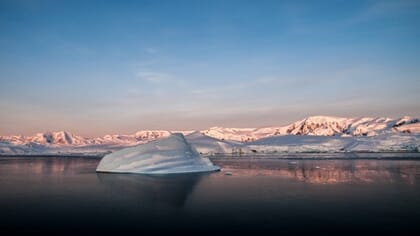 After more than 30 years as a fisherman, last year I accepted an offer to become Operations Manager for Aker BioMarine's offshore fleet, and started my first ever shore-based job.
Looking back at my time at sea, I take pride in quite a few things. I have been fortunate enough to have fished in so many different waters – including the Barents Sea, Norwegian Sea, North Atlantic, Bering Sea, Sea of Okhotsk and the waters of New Zealand. I've fished in ice-covered waters and warmer waters, and they have all had their challenges and attractions, but common to them all is that the view at sea pretty much consists of a flat horizon.
One continent stands out though; Antarctica. Without comparison, Antarctica has been the most fascinating and enthralling place I have ever fished. Suddenly the horizon is filled with huge icebergs and mountains. All the time you're surrounded by albatrosses, petrels, penguins, seals and whales, which at times can completely take your breath away. Several days away from civilization, you are doing 12-hour shifts in the wheelhouse from morning to evening. In harsh conditions one is navigating and fishing with Norway´s largest and most advanced fishing vessels. Even so, I must admit that having Antarctica's magnificent wildlife, views, sunrise and sunset, has been a huge factor for always wanting to come back.
I'm also proud to have been part of one of the most dedicated, innovative and competitive group of people – the fishermen. The kind of people that will always push each other for the best result. The kind that never step down from a challenge. The kind that always want to raise the bar, no matter what the expectations are. It is because of these people we were able to develop our eco-harvesting process. Because of their innovative mindset and desire to do better, we developed Saga Sea to be the first twin-pelagic trawler with continuous pumping system. And it is because of their dedication to success we made Antarctic Sea the most efficient krill harvesting vessel in the world.