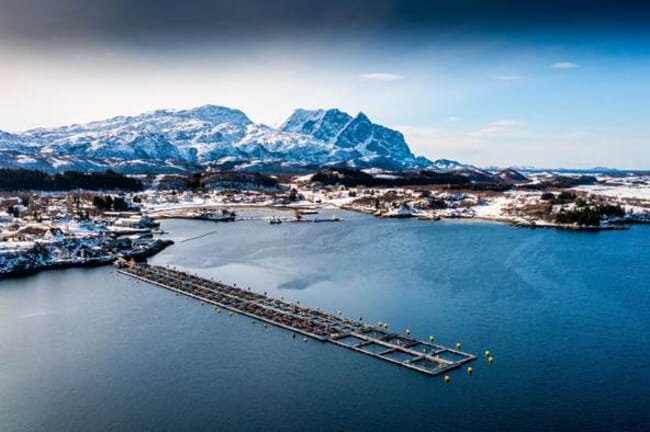 Aker BioMarine, LetSea and Nofima have submitted a joint application to the Norwegian Directorate of Fisheries to conduct more research in this area. Their joint project has been named the Raw Material Revolution, a name that signifies the urgent need for more sustainable ingredients in a rapidly growing aquaculture industry.

Aker currently produces more than 50,000 tonnes of krill-based feed ingredients annually and, together, the three companies plan to evaluate the performance of krill, as well as other novel raw material ingredients.
"If we receive approval, we plan to test seven new raw materials within seven years, with the goal of increasing the combination of new raw materials in fish feed from 0.4 percent to 25 percent [an increase of over 6000 percent] by 2030," said Matts Johansen, CEO Aker BioMarine, during a panel discussion at the Bellona Raw Materials Pledge event on 29 November.
The Raw Materials Pledge is a movement within the Norwegian seafood industry to stimulate greater diversity and sustainability in aquafeed raw materials. The companies that have pledged support include Aker BioMarine, Skretting, Lerøy and Sjømat Norway – headed by Bellona. The shared ambition is to increase knowledge and awareness about new raw materials. Together, the group presented their report on this topic to the Minister of Fisheries and Ocean Policy, Bjørnar Skjæran, during the Bellona event.
By applying for research permits, Aker BioMarine aims to help pave the way for new, sustainable raw materials.
"The role of the raw material suppliers, including Aker BioMarine, has been passive until now, especially during large-scale trials conducted under real farming conditions, even when our own raw materials have been used in fish feed. This project differs from other studies in that we want to focus on the importance of raw materials in the final feed formulation and evaluate a combination of new raw materials. With this project, we are now taking a much more active role by running our own large-scale research," said Johansen.
Speeding up the adoption of novel ingredients
Since 2006, Aker BioMarine has harvested, processed, marketed, and sold krill products as an ingredient in fish and animal feed, in addition to omega-3 supplements for humans. The company now has a separate department dedicated to research and development which consists of 15 PhDs.
"Refining a new ingredient and introducing it to the market is both expensive and time-consuming. Aker BioMarine spent 15 years researching and documenting the effects of krill alone. The aquaculture industry needs to see much faster development," explained Johansen.
"With research permits from the Norwegian Directorate of Fisheries, it is possible to carry out necessary and important research that will help us mitigate future risk related to sustainability within aquaculture. The approval for this research is a green light for us to increase our knowledge and stimulate greater sustainable growth across the industry," he added.
As part of the research collaboration, Aker BioMarine, Nofima and LetSea will each contribute with their own expertise and experience, stemming from across the industry and through previous studies. Together, the companies aim to produce robust documentation of new and sustainable feed.
Nofima, who will hold the scientific responsibility within this research project, has a long track record of conducting research within the aquaculture and fisheries industries, among other areas. For several years, Nofima has worked to document new, sustainable ingredients for salmon feed on both a small and large scale. ­­­
"The industry wants to use a greater amount of new, sustainable ingredients, and we need to move quickly to do so. Large-scale research is a necessary tool for success, and we have the knowledge and set-up required to contribute to the development of new raw materials for feed," said Bente Torstensen, division director at Nofima.

"It's no coincidence that this project will take place in Helgeland at LetSea. We have worked with research in multiple areas, every day, since 2001. If the industry is to succeed, we are dependent on driving these kinds of initiatives," said Henriette Hanssen, R&D director at LetSea.