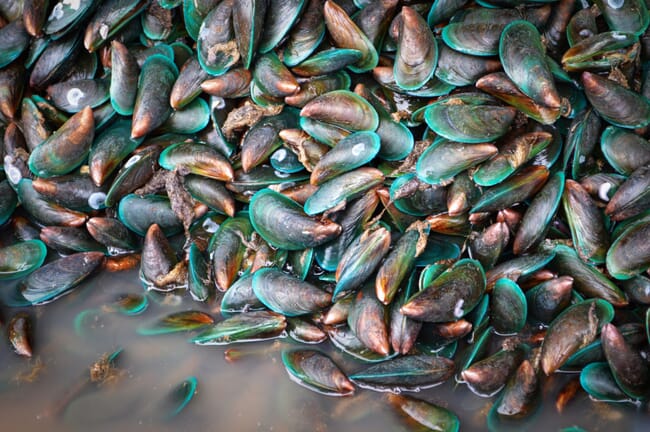 Preliminary observational trials in Thailand have indicated a preference by prawns and barramundi for mussels over fish meal. Green Blue Health Pty Ltd is particularly interested to see if prawn diets with the inclusion of mussel meal will increase the black tiger prawn acceptance of locally available and sustainable ingredients such as poultry and arable by-products, as dDried mussel meal contains over 50 percent protein as well as the naturally occurring appetite stimulant betaine.
Feeds containing mussel meal at various inclusion rates will therefore be tested in formulations also containing poultry by-product and plant-based ingredients to assess growth rates, intake, digestibility, prawn yields and consumer acceptance. The sustainable formulations will also include a seaweed additive currently used in Mexico, Brazil, Korea, and Vietnam.
These will be compared against a commercially relevant fishmeal diet.
Improving palatability
Black tiger prawns are renowned for being picky when it comes to their feed. Positive results could also help to improve the palatability of other sustainable protein sources, including insects and other terrestrial-derived ingredients.
The founders of Green Blue Health Pty Ltd, Anthony Jacobs and Karlie Wilson, are building their business with companies that support sustainable land-based aquaculture. They are promoting renewable marine solutions from both seaweed extracts and mussel farming products.
"We see this study as opening the door for inclusion of mussel meal for a number of other aquaculture species including mud crabs, lobster and barramundi," said Karlie Wilson, technical director, in a press release.
The secret with mussel meal lies in the nutrient density, which includes a comprehensive range of essential amino acids, vitamins, minerals, and lipids. The nutrients from mussels and shellfish have been acknowledged as providing the evolutionary bridge for many species, including Homo sapiens.
The Green Blue Health prawn feed study was made possible by CSIRO Kick-Start, an initiative that provides funding and support for innovative Australian start-ups and small businesses to access CSIRO's research expertise and capabilities to help grow and develop their business.
The study is being conducted at the CSIRO research facilities at the Bribie Island Research Centre in Queensland, Australia. Results should be available early in 2022.