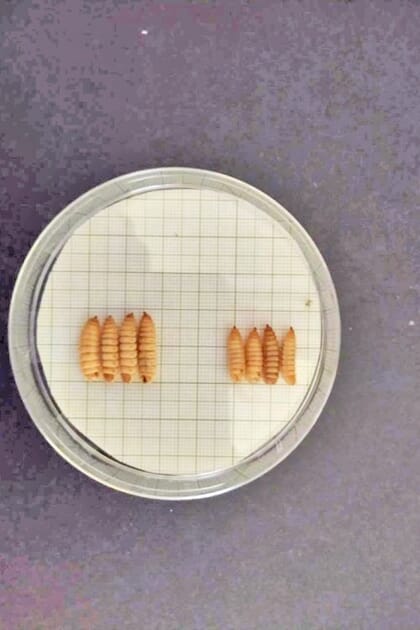 According to the Dutch firm, which currently produces 15,000 tonnes of BSF larvae a year, the two-year project with Hendrix Genetics is the first to demonstrate that genetically selecting the larvae for their ability to gain weight can greatly enhance the output of large-scale production facility.
"During the project larvae with desirable qualities were selected and bred to produce improved offspring, generation after generation. Due to the short life cycle and large reproductive capacity of BSF, there is huge potential to make the species even more sustainable, for example by using less feed, land, and water," the company stated in a press release.
After running the selective breeding programme for two years, a large-scale, fully automated trial was undertaken at Protix's €40 million production facility in Bergen op Zoom.
The latest batch of larvae were found to be 39 percent heavier, leading to 32 percent more protein and 21 percent more fat harvested than with conventional insects.
Based on the trial results, Protix estimates that using improved larvae will improve their annual production by 20 percent, without the need to use more energy.

"Being a pioneer in the insect industry means you must lead the way and drive the biggest and most ambitious programs across nutrition, technology and genetics. Our advancements in genetics are a great step forward for the insect industry and the environment. Animal breeding has a vital role to play in help solving the global food challenge," said Protix founder and chief executive, Kees Aarts.
"We are really proud of the achievements of the collaboration with Protix," added Johan van Arendonk, chief innovation and technology officer at Hendrix Genetics.
"The results clearly indicate that selective breeding on insects is not only possible, but also has significant benefits. Hendrix Genetics is truly multi-species focused and this collaboration demonstrated again that sharing knowledge across species speeds up innovation. Working on the genetics of insects adds a new dimension and opportunity to create added value," he added.
Fresh funding
The news comes a week after the Dutch firm announced that it had raised €50 million to fund its international expansion and increase its R&D activities. The funding came from the European Circular Bioeconomy Fund (ECBF), BNP Paribas, the Prince Albert II Foundation and The Good Investors. Existing shareholders Aqua-Spark, Rabo Investments and Invest-NL also supported the raise.