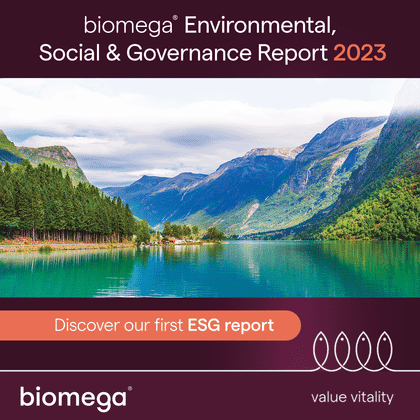 Biomega, a biosciences company that develops salmon peptides for the human nutrition and pet food markets through its continuous enzymatic hydrolysis process, has reported on its 2022 financial year key performance indicators, including its scope 1 and 2 emissions for its production plants in Norway and Denmark.
Stig Petersen, CEO of Biomega, commented in a press release: "At Biomega, we are striving to make the aquaculture industry more sustainable through our circular approach, ensuring that all resources are used in the best possible way. We recognise that there are many dilemmas we face in the seafood processing industry, but over the last few years we have seen clear improvements from suppliers to remediate these challenges. The global food system is swiftly moving from a linear process to a circular one. In doing so, Biomega is naturally taking that next step as an industry leader and innovator to identify those gaps in the system and close them."
He added: "Our first ESG report is a major milestone for us and establishes a solid foundation for us to improve upon year-on-year. As part of our 2023 report, we have conducted our first double materiality assessment, developed our initial ESG strategy up to 2026, and established a baseline for our future governance processes."
The 28-page report outlines the company's strategic focus, which is aligned with the United Nation's Sustainable Development Goals (SDGs). This includes ongoing environmental projects like Life Conquer to reduce its water consumption by 30,000 tonnes per year, and setting realistic targets for 2023 by reducing carbon emissions through using renewable energy in its production facilities.
In addition, the company has also set targets for its social and governance actions. This details how it will act as a socially responsible employer by ensuring the health, safety and wellbeing of its employees, as well as performing audits on at least 40 percent of its suppliers in 2023 to encourage a sustainable supply chain.
"We stand by our promise that Biomega will make a positive impact on the world. By delivering our ESG Report, our partners, suppliers and customers can rest assured that we are doing everything we can to enable consumer vitality and quality of life through our products for human nutrition with SalMe Peptides and pet health with our Salmigo range. We are an ambitious company – and we want to inspire others to do the same for the health of our planet," concluded Petersen.
You can download the Biomega ESG report 2023 from the company's website.