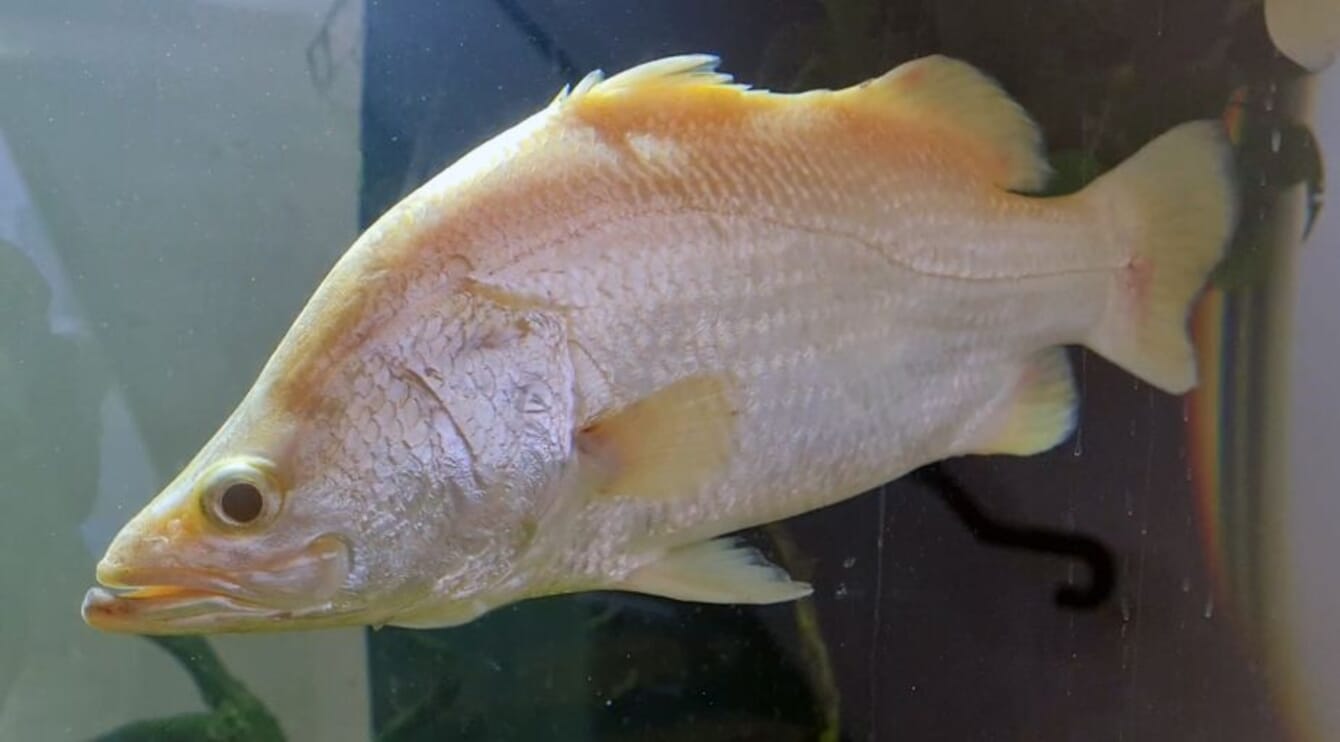 JCU's Professor Dean Jerry said most people recognise the iconic barramundi as a silver-scaled fish with great eating qualities, but there's a very rare golden variety that's in high demand at market, given its ultra clean taste and flesh which is whiter than a regular barramundi fillet.
"Golden barramundi are a beautiful fish, but are almost never seen in wild populations and only very rarely seen in farmed populations. At JCU we aim to understand the unique genetics behind the gold colour pattern and then be able to control how to breed pure lines for the Australian industry to farm," he said in a news release.
James Cook University and industry partner Mainstream Aquaculture Group have been awarded funding from the Australian Research Council Linkage programme to decipher the genetic basis of the golden fish and how best to produce them. JCU experts in aquaculture genetics and nutrition will partner with Mainstream Aquaculture's R&D team to deliver this project.

Over a decade ago, technicians at Mainstream Aquaculture's Melbourne hatchery fortuitously identified a parent combination that produced several golden barramundi in each spawn. Since then, the company has been able to manage breeding in a way that has produced several hundred golden fish and enable a niche market.
But control over pure breeding remains uncertain and this challenge must be overcome in order to mass produce the product.
Mainstream Aquaculture has worked in close collaboration with JCU scientists for nearly 15 years and operates the largest and most sophisticated barramundi selective breeding programme in the world. Mainstream's fish account for the direct supply to over 60 percent of Australian farms and have been exported to 25 countries.

Mainstream's chief scientist, Dr Paul Harrison, said it is a really exciting project.
"We value the long standing and highly productive collaboration we have with the JCU genetics team. This project provides a golden opportunity to have the research teams crack the code on pure-bred golden barramundi. It is a great tasting product and it presents exceptionally well in whole, fillet and even sashimi formats. It will be a game-changer when it is available more broadly to the public."
Professor Jerry said production of golden barramundi through genetic and breeding technologies will provide a clear point of distinction for the Australian product and enable new and valuable niche products in the marketplace. These will more effectively compete with imported products and have increased consumer attractiveness.
"This project will have high benefit to Mainstream Aquaculture, and the broader Australian industry," he said.