The breakfast took place at the Aquaculture UK exhibition in Aviemore this week and attracted a sell-out crowd. It was opened by Ellen Hardy, managing editor of 5m Publishing, who kicked off proceedings explaining how The Fish Site's Women in Aquaculture series helped to inspire the meeting.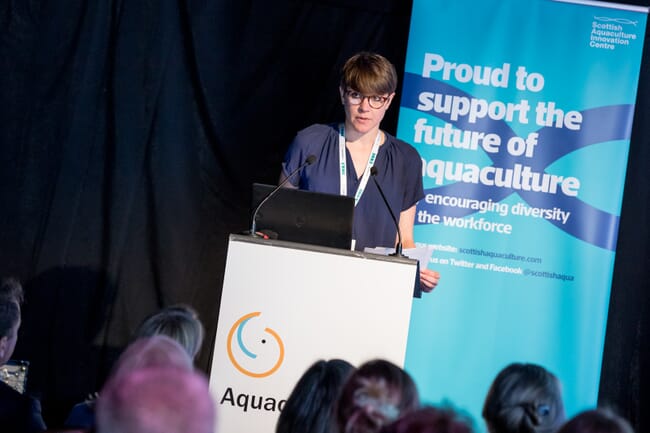 "We started the series back in January because we wanted to provide a platform for positive stories about women's professional issues across the aquaculture industry… and this breakfast is a chance for us to celebrate that women in aquaculture are now front and centre of The Fish Site and to hear some great presentations about the present and future diversity of the industry and to share ideas about future events and initiatives that you might like to see on this theme," she said.
Sheila Voas, the Scottish government's chief veterinary officer, animal health and welfare, spoke first emphasising the "unconscious bias" that many people have which affects the way they treat female candidates for jobs.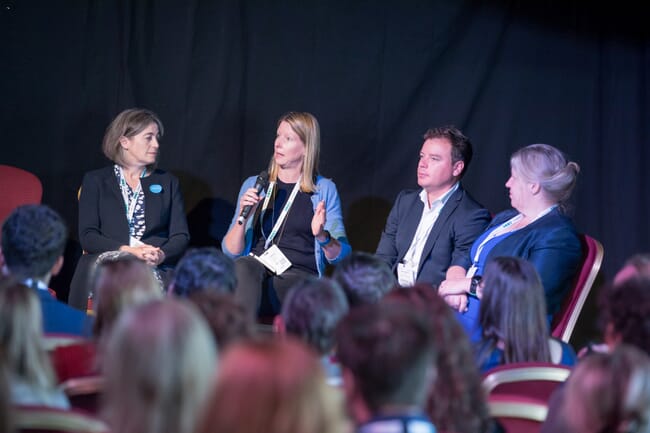 "It's not about saying that everyone is totally the same, it's about recognising strengths and weaknesses in everybody," she pointed out.
In terms of her own career progression, which began as the first female vet at a large animal practice in Yorkshire, she pointed out that she has been happy to roll the dice. "I took chances… if it doesn't work out you can do something else, you can start again. And I had to persuade others to take a chance on me – sometimes that was straightforward sometimes it wasn't."
She also added that it was important to be both realistic and honest when it comes to looking to make progress.
"One of the things I would say is you must be honest, it's OK to say 'I don't know' and I think possibly – and it's a gross generalisation and probably shows some unconscious bias – that women are better at saying 'I don't know' than men are – it's fine, as long as you know where to find the information it's not a problem."
"It was good to see women winning awards last night and I suspect that your industry like my government has plenty of women involved but, as yet, they're still at the lower levels. We need to work to change that and we need to make sure people are given the same opportunities," she added.
Diversity breeds economic success
Ben Hadfield, COO of Marine Harvest's feed division and MD of Marine Harvest Scotland, then spoke about the need to increase the diversity in the UK salmon sector, whose key message was that "diversity is what I believe companies need to be good companies".
Speaking about his recent role as part of a delegation from the Scottish salmon industry to defend the sector in Holyrood, he reflected that: "The team on balance did fairly well, but what let us down was not the fact that we couldn't answer any economic arguments or that we didn't have the science to backup what we were doing, it was the fact that, for all intents and purposes, we looked like what we were – five middle aged men in suits – and that is a problem – it's a problem because diversity runs a business well."
"Diversity is important because it generates different life experiences and when those are applied to business they create a broad range of thinking, create different tolerances to risk, different strategies and different approaches to managing a business and I would argue that's essential for business, essential for shareholders and essential to stakeholders that surround a business," he continued.
Room for improvement
Although he pointed out that, in gender terms, aquaculture was making progress – judging from the senior roles of women in the veterinary industry, in SEPA and in farming positions - he stressed there was room for improvement – in particular in farming roles.
"We do need more women in aquaculture and we need more women at senior levels in aquaculture, I would argue quite urgently, in order to get the full potential out this," he observed.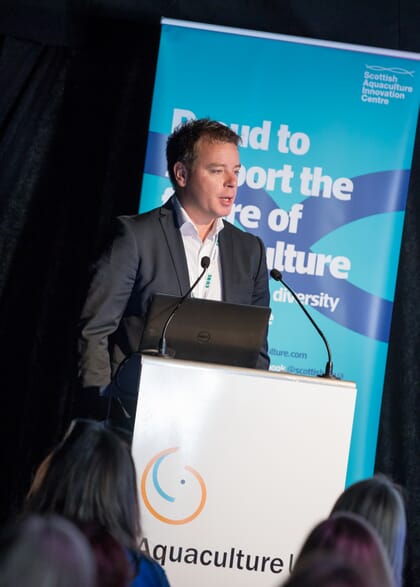 "We need women to enter farming roles, as farm managers, as area managers as production managers and – ultimately – as managing directors of the companies. It's not to say it should be a free ride or an easy ride for women – diversity is no substitute for ability – but if you have diversity and you have ability then it's an open door and I genuinely think the industry would benefit from that in terms of its governance."
He was followed by Ruth Clements, Head of Veterinary Programmes at Benchmark Animal Health, whose talk was titled 'Complex problems and diverse solutions'. She began by emphasing how the diversity of ideas and people involved in Benchmark – combined with common values – were instrumental in the company achieving many of its major animal health breakthroughs over the 15 years since she's been with the company.
"The link between gender diversity and innovation is now well founded and there's not just an ethical imperitive to ensure gender balance, but a strong economic one too," she argued.
The first public presentation made by Julie Hesketh-Laird since taking up her new role as chief executive of the Scottish Salmon Producers' Organisation came next. She reflected both on her own career path and also on her first impressions of the salmon farming sector.
"So far I've been really impressed by the diversity I've seen since joining the industry – my early personal experiences have been really positive," she pointed out.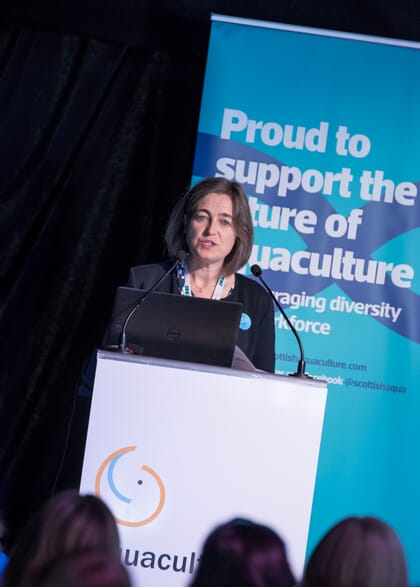 She was also very impressed with one of the first people in the industry she met – Ashley Cummings, "who had moved to Shetland to pursue a career in fish health with Scottish Sea Farms and I hope she won't mind me saying how impressed I was seeing a young woman at the top of her game, with a really can-do attitude towards leadership, a focus on problem-solving, tackling the issues that her company has head-on."
She also was pleased to note in April, when statistics were published, that the gender pay gap in Scottish salmon producing companies was "far better than the UK average... these salmon companies are UK leaders and that's something we can all be really proud of."
She also referred to research from McKinsey which showed that companies with mixed gender boards outperformed all-male boards, while other studies have shown that companies with mixed member boards have better returns on their investments.
"Studies show that homogenous teams don't really recognise minority views, are much more vulnerable to groupthink, to not calling out behaviours that might be inappropriate or challenge biases. If they're more diverse they can solve problems better and diverse teams are more able to adapt to a fast changing environment – and that's really important, because that's what we're in right now," she stressed.
"Diversity makes really good business sense," she concluded.
The talks were followed by a stirring Q&A, led by Heather Jones of the Scottish Aquaculture Innovation Centre (SAIC), who sponsored the event alongside Scottish Sea Farms and Ocean Matters. Before fielding questions from the floor, Heather explained SAIC's plans to establish a talent pipeline to help to attract talented people - both male and female -into the Scottish aquaculture sector.
She also discussed a new SAIC survey which aims to explore the demand from across the UK for an aquaculture network aimed at supporting women. To complete the survey, which closes on 31 may, click here.