The show, which took place in Aviemore last week, did – according to the Inverness-based firm – lead to "an excellent number of customer enquiries into our newly launched products to follow up on, a range of intriguing ideas shared via our innovation station for further exploration, and a new Scottish Marine Aquaculture Award win to celebrate".

Among the highlights they point out was "the amazement, and occasions of amusement" caused by their virtual reality demonstration of the new SeaFeed Steel Feed Barge design.
The demonstration provided users with a virtual reality walkthrough of the new barge design, from the generators and blowers, under the silos, and up through the accommodation areas.
Positive comments were also received for their SeaFeed Pellet Detection software which can be used with cameras to offer both visual and audio indication to the feed system operator to improve response time and to reduce wasted feed.
Meanwhile on the Fusion Marine stand - which now falls under the Gael Force umbrella following its acquisition in March - Technical Sales Engineer Rhuaraidh Edwards was on hand to show off a brand new 3D printed model of the company's new 500mm diameter pen piping.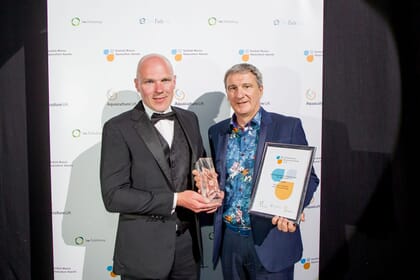 Outstanding
Another highlight for the firm came when Group Managing Director Stewart Graham won the prize for Outstanding Contribution to the Industry at the Scottish Marine Aquaculture Awards.
Stewart was among well-known figureheads of the industry on the shortlist and reacted to his win by commenting: "To be awarded winner of the Outstanding Contribution award came as a huge surprise to me, and I am very humble and grateful for the recognition the award brings.
"I am also grateful for the support our fantastic team at Gael Force has provided which has enabled me to be involved in the progressing of Vision 2030 and for my part in the AILG [Aquaculture Industry Leadership Group]. I do wish to pay tribute to stalwarts of the industry and fellow nominees on the shortlist."