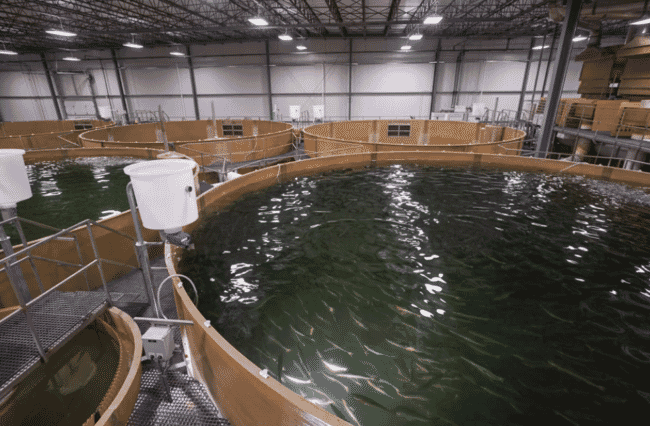 "As we've progressed on the final design for our 10,000 metric ton Ohio farm, we have been able to further refine our expected project cost, which we estimate to be in the range of $290 million to $320 million, including a reserve for potential contingencies of $30 million. The increase from our previous estimates is attributable to several factors, including the cost of building materials and the Recirculating Aquaculture System technology, along with the inclusion of an on-site processing plant and water treatment facility," said Sylvia Wulf, CEO of AquaBounty, in a press release.
In terms of raising the necessary capital, the company is looking for the "placement of a mix of tax-exempt and taxable bonds through the Toledo-Lucas County Port Authority, whose board has approved the issuance of up to $300 million in bonds to support the financing of the project".
"We have also engaged Wells Fargo Corporate and Investment Banking to underwrite and market the bond placement, which we expect to complete in Q1 2022. Though there is still work to be done to close this transaction, we believe that this financing will be a major milestone for the Company," she continued.
The land-based farm is due to be stocked for the first time in 2023 and may not only produce the company's genetically modified salmon strain, as the company is also looking to produce more conventional salmon eggs too.
"To support the egg requirements of the Ohio farm, and future farms, we made the decision to transition our Prince Edward Island, Canada grow-out farm operation to the production of traditional salmon broodstock, eggs and fry, in addition to our genetically engineered salmon eggs," explained Wulf. "This transition is expected to occur over the next two years and increase our egg production capacity from 8 million to 30 million eggs annually. There is an increasing demand for traditional salmon eggs in North America and so our increased egg production capacity is expected to supply both our own needs and create an additional revenue stream from traditional salmon eggs."
"We believe our 25 years of experience and learning from our current operations continues to position us to achieve our goal of profitably producing commodity-priced salmon safely, securely and sustainably," she added.