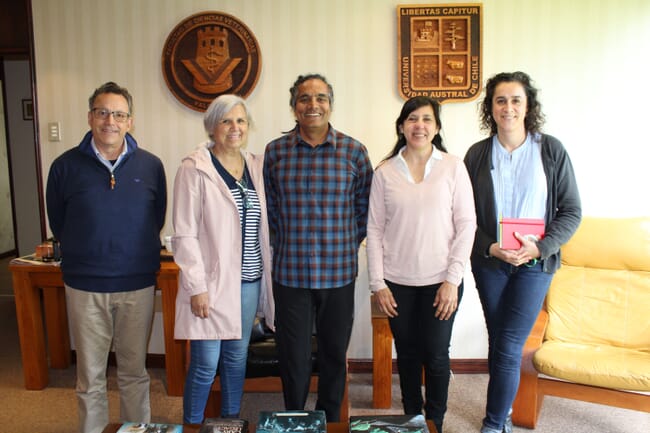 Dr Kadri will be involved in teaching and research activities that will focus on improving the understanding of fish behaviour and welfare in the increasingly technological aquaculture sector.
"Dr Kadri's aquaculture credentials are impeccable. He understands both academia and the industry better than most. His participation will help bring us closer together," said Profesora Marianne Werner, of the Faculty of Veterinary Sciences at Universidad Austral de Chile.
Dr Kadri, who is also an honorary senior lecturer at the University of Stirling and has a PhD in fish behavior from the University of Glasgow, will both teach and participate in fish welfare and behaviour research, in partnership with his fellow academics in Chile.
"We expect our collaborative efforts to enhance our shared understanding of the aquaculture industry's challenges, which in turn will ensure ongoing and future research programmes are developed and designed in ways that also benefit the farmed fish as welfare standards improve," said Dr Kadri, who is also director of international business development at CageEye.
Kadri believes that novel technology applications will disrupt aquaculture and affect the way fish behaviour and welfare are being analyzed and researched.
"On the one hand, innovation can come in the form of digital ecosystems, such as automated feeding equipment governed by artificial intelligence algorithms that are informed by data from sophisticated sensors. Equally, innovation can be more organic and result in the development of new ideas such as the cultivation of microalgae, or modifying standard agricultural crops as alternative sustainable sources of omega-3 for use in salmon feed," said Dr Kadri.
Research about fish health and welfare is becoming increasingly important, as the awareness for animal wellbeing is rising, from a consumer and regulatory perspective.
"Our joint objective is to create a sustainable aquaculture sector that respects the needs of the fish, that minimises or eliminates pollution, and that operates in accordance with ecological principles. This is the kind of aquaculture industry the world will need to maintain," said Dr Kadri.