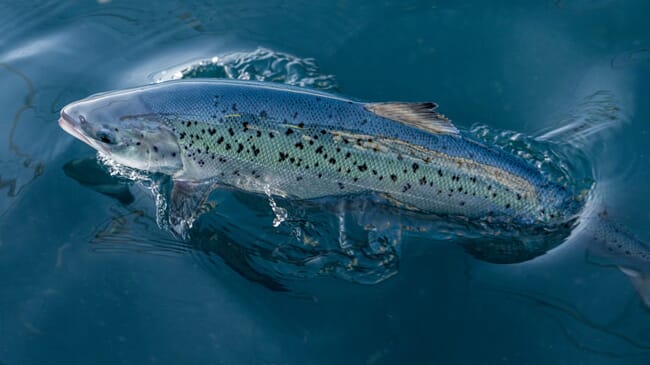 The harvest from Andfjord Salmon's first pool yielded strong results with an industry leading survival rate of 97.5 percent and superior share of 91.1 percent.
The total biomass of Atlantic salmon reached 646,000 tonnes translating to approximately 530 metric tonnes HOG (Head-On-Gutted), with an average weight of approximately 3.4 kilograms per fish. An exit-count in conjunction with transfer of fish from the pool shows that approximately 193,000 salmon were released in the pool a year ago.
"We are elated to achieve such a remarkable survival rate, especially after transportation to slaughter. The fact that 97.5 percent of the fish survived underscores that the fish had excellent living conditions in the pool," said Martin Rasmussen, CEO of Andfjord Salmon, in a press release. "As a consequence of this, we have harvested fish that may not have survived in other fish farming facilities. This has a negative impact on the average weight and superior share, which is still at an impressive level. However, a high survival rate is obviously the most valuable from a financial perspective,"
The harvested fish displayed a diverse range of weights, from 1-2 kg up to 5-6 kg, with approximately 50 percent of the fish falling into the 2-3 kg category, achieving an average price of approximately 67 NOK/kg (€6.02/kg). Additionally, around 40 percent of the fish weighed between 3-4 kg, realising an average price of approximately 80 NOK/kg (€7.19/kg).
"Our main goal for the first batch of fish was to reach the 'right' buyers, not to maximize the average price. Even so, we have seen buyers coming back after the first shipment wanting to pay extra for the next delivery. This has made us even more confident that we will be able to achieve a healthy premium on our product in the future," added Rasmussen.
According to Andfjord Salmon, average slaughter weights will be notably higher in future batches, with the reason behind the earlier slaughter of the inaugural batch being to accommodate the commencement of further expansion construction at the Kvalnes site.