The products are currently being developed Pierre Calleja, Professor Claude Gudin and Dr Alain Guillou, who were all closely involved in the pioneering algae production company Fermentag. Having recently left the firm, they are now concentrating less on ways of producing marine microalgae and more on the means of making it directly palatable to consumers. In the process that've founded a company called Odontella SAS, after the genus of algae in question.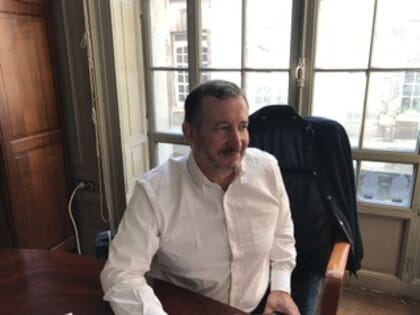 "After we left Fermentag in 2016, the next challenge for us was to bring marine microalgae directly to the plate of the consumer," he says. "We realised that only Spirulina and Chlorella species were being used for human consumption – no marine microalgae at all, despite the fact it forms the base of the whole marine food chain. It provides all the healthy proteins and lipids that fish do, so why don't we eat it directly?"
Pierre's concept is compelling – eating organisms further down the food chain has long been seen as being more sustainable. What's more, despite a background as one of France's pioneering farmers of marine finfish, he believes that it's a much more sustainable – and healthy – alternative to eating farmed fish.
"I was the first farmer of seabass and sea bream in France and, working for France Aquaculture, helped to set up the first marine fish farming operations in Greece, Turkey, Italy…all over the Mediterranean," he recalls. "But what we have created is not so beautiful – the marine fish farming industry grew very, very quickly without looking at the quality of the product. The quality of farmed fish can be really poor – there's a risk of it accumulating toxins such as PCBs and the quality of feed in their diets has declined, with more and more vegetable oil being used, so the levels of DHA and EPA have declined, the use of artificial pigments and so on."
Marine microalgae strikes Pierre as a logical, sustainable, healthy alternative to farmed fish – all the more so as the leading lights of Odontella have 35 years of algal production experience to bring to bear.
"We took some time to settle on the species of algae to use, but over a coffee decided it would be stupid to use anything other than odentella – it had regulatory approval in the EU, it's easy to produce via autrophy and can be found all over the world. It also has a better amino acid profile than most fish, and its omega-3 levels are always incredible."
The company is now trying to concentrate on presenting the Odontella in appealing and palatable forms.
"We're mainly looking at how to develop Odontella products, and how to create the right textures with it," Pierre explains.
"We've already obtained patents relating to make products – both foods and drinks – from Odontella. We're the first people to look into developing foods from marine microalgae. After 10 years developing new algae growing technologies at Fermentag it's our next step and our next challenge," he adds.
Product development
Odentella's team is currently developing a series of products from their base, near Bordeaux.
"We have developed three ranges," Pierre explains. "The first is a selection of Odontella-based drinks, which aim to bring the product to a wide range of consumers, from children to adults."

"The second is an entirely new, patented pending concept which will – we hope – be used mainly by chefs, but I'm not yet able to go into more detail about this, as it could affect our patent application," he continues.
"And the third part will include products such as our veggie marine salmon and veggie marine tuna – products that we want to look, taste and have a texture very similar to conventional versions of these fish," he concludes.
It's an ambitious selection – not only for including an entirely new culinary concept, but also for the variety of properties the products will have to cover.
"The salmon will be eaten, uncooked, like cold smoked salmon, while the tuna will designed to be cooked," he explains.
All three parts of the range will present new challenges – both to create and to market – but Pierre believes all three will be ready to launch in the course of 2018.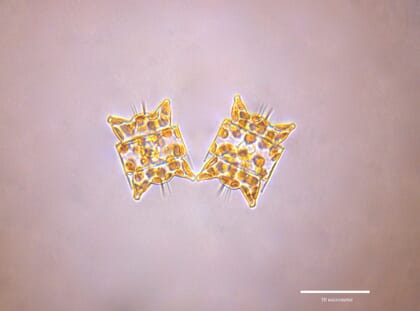 As for the price, Pierre sees them as being comparable to their fish-based equivalents.
"We plan to sell the veggie marine salmon for a similar price to conventional smoked salmon – ie around €50 per kilo," he reveals.
Raising funds
Pierre now plans to raise around €600,000 by the end of October, in addition to the €300,000 already raised through investment funds, in order to develop the company's sales force. However, having had a bad experience of working with investors at Fermentag, he refuses to cede control of the business in the process.
"We have already had quite a lot of investment proposals but we are looking to only select investors, such as industrial companies, who will be able to help us commercialise the product," explains Pierre. "We are also determined not to lose control of the company. At Fermentag Claude, Alain and myself saw all our work go to finance people, who made too many decisions based on short-term views, but this time we want to ensure that we can bring marine microalgae to everyone, not just for our profits, and we will not lose control of our work or our company."
Odentella is currently only approved for human consumption with the EU, but Pierre is now looking to lobby for this to change, with Japan and North America his other key target markets.
"We are planning to register small companies in Canada and Japan as a means to present our products in these markets too," he concludes.