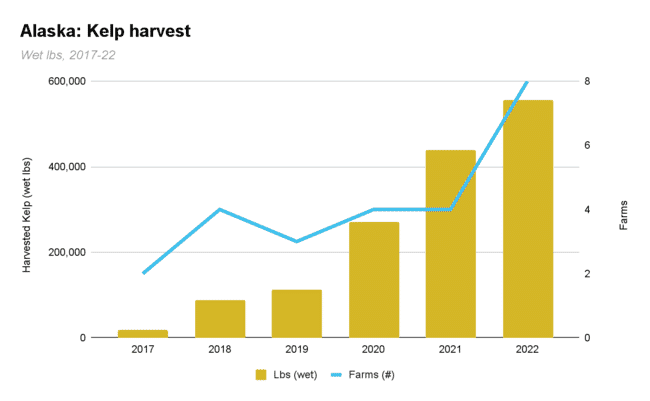 Undertaken by Macro Oceans and McKinley Research Group, the study includes data from six of the state's eight leading seaweed farmers. Between them they reported 556,750 wet lbs (253 tonnes), up ~27 percent from 2021 and more than 30 times production five years ago.

"This rapid growth reflects both the entry of new growers as well as much improved yields on existing farms over the past few years as growers optimise their operations," Macro Oceans explains.
Source: Macro Oceans AK 2022 Survey, McKinley Research Group
Over 80 percent of farmers are growing sugar kelp (Saccharina latissima), whil the remainder favour Alaria esculenta. Post-harvest, most of the seaweed was frozen before being sold on to food-focused customers for further processing. There was, however, a noticeable uptick in volumes going to animal feed (reportedly ~80,000 lbs) and biostimulant fertilisers.
"Although the Alaskan seaweed industry is still small-scale (>95 percent of all cultivated seaweed is produced in Asia), it is worth remembering that there are currently only eight active farms out of 24 fully permitted with an additional 23 under review. That means we're likely to see a further rapid increase in Alaska production, especially as new farmers put gear in the water and existing farms improve their yields. And there is great potential for further expansion given Alaska's enormous coastline, established fishing industry and its supportive regulations," Macro Oceans explains.

"Last week the EDA announced a whopping $49m grant to promote seaweed and shellfish mariculture in southeast Alaska. This was a huge effort led by the Southeast Conference bringing together all of the important players. It's a big vote of confidence in Alaska's potential to be a major seaweed producer and we are proud to be lending our support to this important initiative," they add.