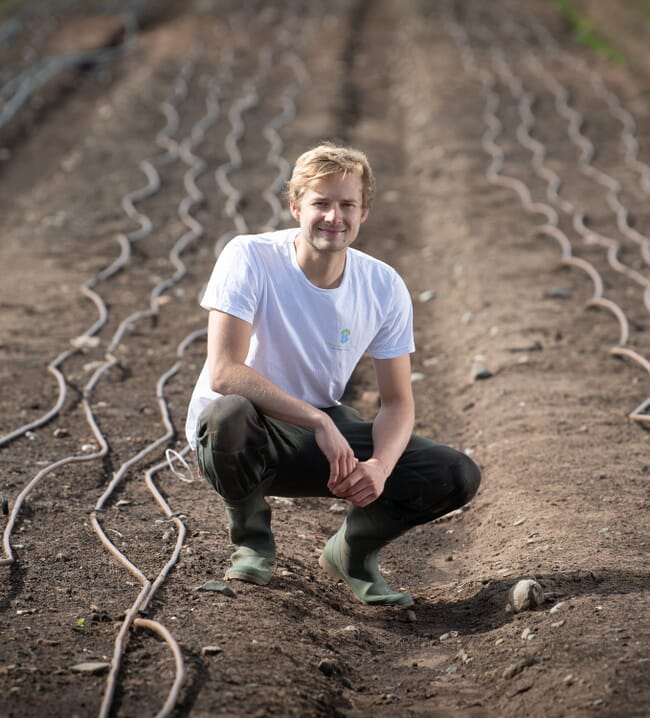 What inspired you to investigate growing high value crops in saline water?
I came across a project in Eritrea in the 90s which turned the desert green with seawater. This touched on many development targets, including food security, carbon capture, wildlife promotion and job creation. The problems of salinisation and soil degradation are faced all over the world, and represent the most pressing issue in agriculture and conservation, with little coverage in media.
What sort of aquatic plants and animals are you looking to produce in your systems?
These include reeds, samphire, sea aster, mangroves, succulents, barley, seaweed, finfish and shellfish, like tilapia and mussels.
How does your system work and how easy is it to integrate with more conventional forms of aquaculture / agriculture?
Simply put, our systems pump seawater onto degraded land with automated and renewable irrigation systems, allowing for easy and low-cost introduction of wetlands. We are able to introduce these ecosystems within a single month onto conventional farms, with little input.
Do you not risk degrading valuable farmland further by drowning it in saltwater?
Yes, the soil chemistry changes, but the ensuing soil is transformed into a functioning saltmarsh that has significantly increased organic matter content. After a single year of wetland cultivation, conventional agriculture can resume with far greater yields and soil health. This short-term approach was successfully trialled and implemented in Ayrshire in 2019.
How does it compare to existing wastewater treatment strategies?
Seawater Solutions' approach rests on ecosystems-based approaches, using plants to treat water. This is much cheaper and can produce bioproducts at the same time, making it a more profitable strategy in both the short and long-term.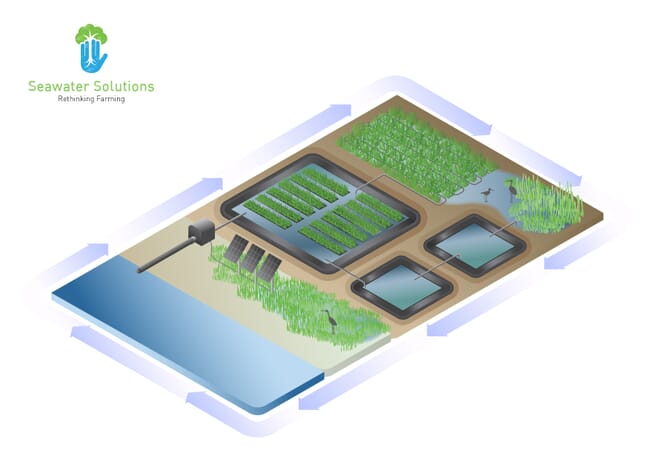 What are the main benefits – both for the farmers and for the environment?
Across the board, this approach benefits farmers and the environment. It generates much higher revenues per hectare, added-value crops, water remediation and carbon sequestration that can be monetised. It also mitigates soil erosion, disease and pollution, along with promoting wildlife and holistic farm practices.
What sort of interest have you had from the aquaculture sector to date?
We now operate projects globally, with partners including the Vietnamese government and DFID, and are engaging with partnerships with UK-based aquaculture companies looking at regenerative and integrated approaches.
What experience do farmers need to adopt one of your systems?
We offer training and onsite management in the first couple years to farmers, to mitigate any risk and make sure that they are given the knowledge and tools to make their farms succeed. No prior understanding of aquaculture or agriculture is required, as these systems are easy to use and work autonomously in year two.
What does the company provide for farmers?
We invest in these joint ventures and provide everything needed, from farm to fork, including routes to markets and ongoing monitoring and site management.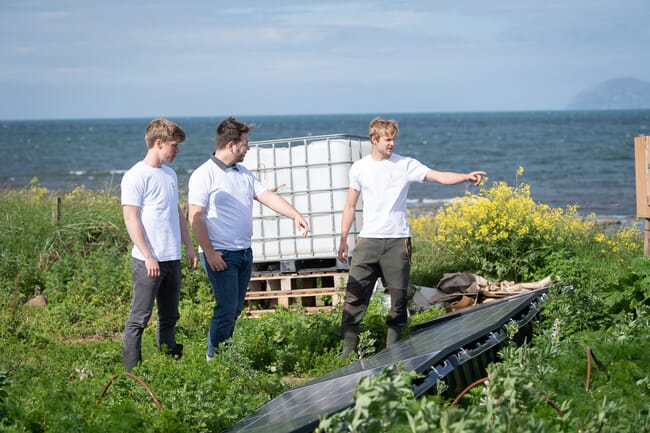 Why is salt water farming not practiced more widely?
The field of saline agriculture is very young, and we are currently one of the only players globally. Developed by the Regenerative Resources Co team in the 1990s, this form of aquaculture/agriculture is growing in popularity. With these partners, we are the only ones in the world currently practicing this form of agriculture with a focus on knowledge sharing and scaling to other farms.
What have you learned from establishing a startup to date and are there any recommendations you can provide for others considering a similar pathway?
The startup journey has a steep learning curve. We were fortunate to have had many mentors and industry partners who helped us shape our approach along the way. Much of what we learned has come from trial and error, and having a mindset that encourages and welcomes creativity has been crucial in getting us to where we are. We would highly encourage anyone going down the startup journey to explore all avenues and reach out to other creators and innovators – collaboration is key to success.
How has the company been funded so far and are you still looking for investors?
We have been lucky to have access to public funding from different places such as universities, development organisations, and startup funds. We are looking for investors in the coming months to join our seed round, both UK-based and internationally.
Which regions / countries are you concentrating on and why?
We have projects running in the UK, Bangladesh, Ghana, Malawi, Vietnam, and Hawaii. Each country and region represents a different challenge and opportunity. For instance, in Bangladesh flooding and salinisation are key threats that can be mitigated through wetland creation. In Vietnam, pollution from shrimp aquaculture is a pressing problem that we can use to our advantage in growing crops. The nutrient-rich wastewater can be effectively taken up by halophytes, which are among the best plant bio-remediators.