A progressive approach to shrimp health management
How water quality management, low stocking densities and the use of specialised feeds can consign the use of antibiotics in shrimp farming to history.
The 400-hectare Sanolmedo shrimp farm in Ecuador ha been antibiotic-free since its inception over a year ago.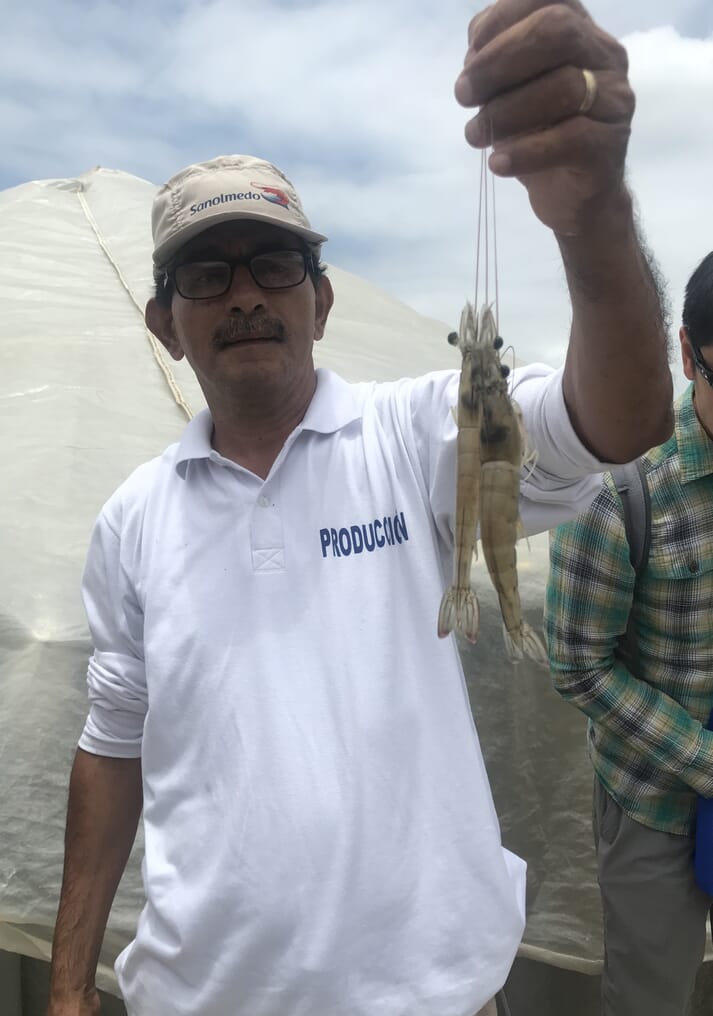 The farm, located at the end of a long jungle road in Taura, is Corporación Lanec's newest and most ambitious project to date and a select group of delegates from the nearby GOAL conference were able to visit this week to find out more about Lanec's plans to sustainably step up their production of whiteleg shrimp (Litopenaeus vannamei) at the site.
Shrimp farming began in Ecuador in 1968, and the country is now one of the main producers of farmed shrimp in Latin America. Efforts to increase production in recent years have been made possible in part by advances in technology and the development of immuno-stimulants in functional feeds.
The country's efforts to maintain shrimp health and intensify production have also called for an increased focus on water quality management and a preventative – rather than reactive – approach to disease management. It appears to be working so far, the employees at Sanolmedo have been successful in preventing any disease outbreaks in their ponds since production began last year. They attribute this success to their rigorous management of water quality, their low farming density and their use of specialised feeds that stimulate the shrimps' immune systems.
The ponds are part of a semi-closed recirculating system, with water from the local river only being pumped in to top up the system when needed. This allows Sanolmedo to maintain a controlled environment - improving production totals as well as biosecurity. After making its way through the ponds where the shrimp are grown, the water is pumped into a sedimentation plant, where it snakes through an S-shaped pond to allow organic matter to settle before the water is filtered and re-enters the shrimp ponds. These sedimentation systems, with the help of aeration and bacterial treatments, keep water treatment costs down, while ensuring a supply of good quality water for the ponds.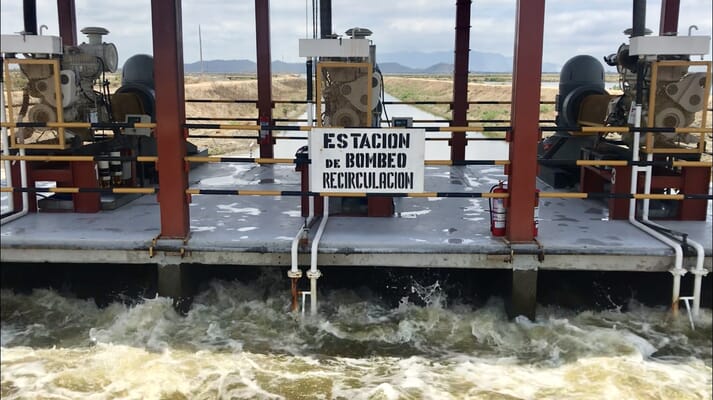 Sanolmedo's water has relatively low levels of salinity – averaging three to eight parts per 1000. This lessens that chance of evaporation during the hot season (January to May) increasing salinity to levels that compromise the immune system of the shrimp. The combination of the recirculation system and the low salinity levels of their source water is unusual in Ecuador, and may - delegates were informed - be a contributing factor to Sanolmedo's success to date.
The semi-intensive production facility also boasts a low stocking density of about 26 shrimp per m2. This number may be low compared to more intensive forms of shrimp farming elsewhere in the world, but it is still well above Ecuador's national average of 12-15/m2. The shrimp are trucked in from hatcheries along Ecuador's coast about 10-12 days after they reach their post-larvae (PL) stage and spend 32 days in Sanolmedo's raceway and nurseries before being transferred to the earthen ponds. They are ready to be harvested at about 20-28 grams, reaching this size in 100-120 days, allowing the farm to complete three production cycles in each pond per year as well as implementing fallow periods following each harvest for the sake of disease prevention.
Samolnedo's survival rate is 68-75 percent and their current feed conversion ratio (the ratio of feed input versus growth output) is 2.-2.3: 1 though they are ultimately aiming for 1.8: 1 once they're running at full capacity. They source their feeds from BioMar and these include yeast, vitamins, probiotics and nucleotides and are formulated according the season and the organism's size, in order to strengthen the shrimp's immune systems.
Corporación Lanec is part of Ecuador's Sustainable Shrimp Partnership – a relatively new initiative among shrimp producing companies with a mission to showcase Ecuadorian shrimp as a premium quality, sustainable, and socially responsible product.