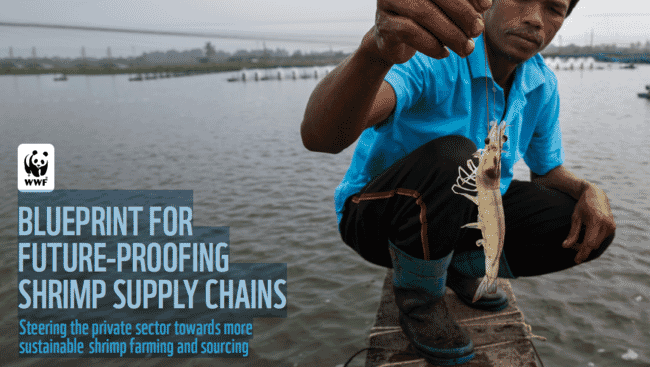 The organisation's Blueprint for future-proofing shrimp supply chains is a challenge to businesses that buy, sell, produce, or benefit from farmed shrimp to achieve the following by 2025:
Ensure the traceability of their farmed shrimp and the feed ingredients used in the production of those shrimp.
Do not convert natural ecosystems post-1999 levels.
Achieve a 30 percent decrease in the use of natural resources required to produce both the shrimp and their feed.
Secure human and labour rights throughout the value chain.
Instigate transparent reporting to track progress toward these goals.
"We have passed the stage of a learning curve on these topics. It is now time for the industry to demonstrate results," said Aaron McNevin, vice president of aquaculture, WWF.
"For too long we've given the food sector a pass on accountability in their supply chains, which has led to the destruction of our few remaining natural ecosystems and food produced with forced, bonded, and child labor. This can't be the future of food, and it doesn't have to be. The farmed shrimp industry - emblematic of so many other food commodities - could be on the cusp of a major transformation. Success here will give us proof-of-concept that a sustainable, ethical food system is achievable."
Globally, shrimp is the most valuable traded seafood by volume, representing $32 billion in annual trade. According to WWF, controlled intensification gives shrimp aquaculture the potential to sustainably support the growing global demand for animal protein by using resources more efficiently, maximizing yields and reducing inputs.
As the report explains: "Even though farmed shrimp has been characterized as one of the most environmentally and socially destructive commodities, major industry actors have recently made progress working collaboratively to address sector-wide issues. The challenges and opportunities in farmed shrimp are emblematic of many food commodities. Thus, transforming shrimp supply chains offers an opportunity for businesses to apply learnings—in principle and practice—to other commodities," the blueprint explains.
"Investing in more sustainably farmed shrimp can help companies demonstrate leadership and produce results that will change the future course for the better. Addressing the persistent issues in shrimp production isn't just good for the environment; it's also smart for business.
"In our current economic climate, companies have substantial opportunity to show progress and action on the issues outlined in this Blueprint. Proactive steps can de-risk suppliers, ensure reliable supply and markets for shrimp, increase efficiency, and improve profitability over the long-term - all while protecting people and the planet.
"It's time businesses respond to this critical inflection point by moving beyond targets and commitments towards progress and accountability. A step-change that demonstrates and quantifies improved shrimp production is an immediate requirement. This means producing shrimp in a way that preserves natural resources, protects natural climate mitigation systems - particularly mangrove forests - and improves conditions for workers throughout the supply chain."