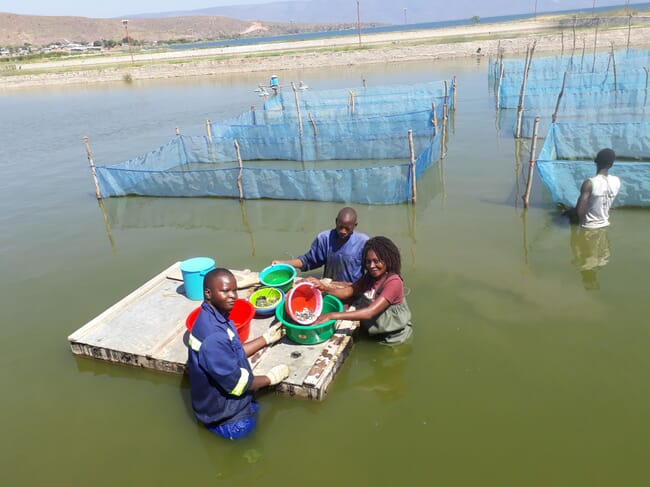 The latest FAO report on The State of World Fisheries and Aquaculture 2020 (SOFIA 2020), which was launched on World Oceans Day, reveals that 82.1 million tonnes of aquatic animals, 32.4 million tonnes of aquatic algae and 26,000 tonnes of ornamental seashells and pearls were produced.
In 2018, inland aquaculture produced 51.3 million tonnes of aquatic animals, accounting for 62.5 percent of the world's farmed food fish production. This refers to aquaculture produced either from inland natural water sources, such as rivers and lakes, and fish farms.
World aquaculture production of farmed aquatic animals has been dominated by Asia, with an 89 percent share in the last two decades or so. Among major producing countries, China, India, Indonesia, Viet Nam, Bangladesh, Egypt, Norway and Chile, have consolidated their share in regional or world production to varying degree over the past two decades.
In total, about 20.5 million people were employed in aquaculture and 39.0 million in fisheries, a slight increase from 2016.
The FAO figures suggest that women account for just 14 percent of the 59.5 million people engaged in the primary sector of fisheries and aquaculture in 2018. However, when considering both the primary and secondary fisheries and aquaculture sectors, this is closer to 50 percent. Moreover, as the report notes, gender studies and approaches have shown how women are often assigned the most unstable roles, or poorly paid or unpaid positions that require lower qualifications – most often in the secondary sector – and are often under-recognized or not recognized at all in the sector.
Reduction fisheries
A significant but declining proportion of world fisheries production is processed into fishmeal and fish oil. Fishmeal and fish oil are still considered among the most nutritious and most digestible ingredients for farmed fish, and fish oil represents the richest available source of long-chain polyunsaturated fatty acids (PUFAs), which perform a wide range of critical functions for human health. However, their inclusion rates in compound feeds for aquaculture have shown a clear downward trend.
How much is lost or wasted?
A large proportion of fisheries and aquaculture production is either lost or wasted - 35 percent of the global harvest.
The report notes that this must be reduced to improve the efficiency and sustainability of the sector, through appropriate policies, regulatory frameworks, capacity building, services and infrastructure, as well as physical access to markets.
Global consumption
Fish is crucial to a nutritious diet in many areas across the world. Fish and fish products are recognized not only as some of the healthiest foods on the planet, but also as some of the least impactful on the natural environment. For these reasons, they are vital for national, regional and global food security and nutrition strategies, and have a big part to play in transforming food systems and eliminating hunger and malnutrition.
Fish provided about 3.3 billion people with almost 20 percent of their average per capita intake of animal protein. In 2017, fish accounted for about 17 percent of total animal protein, and 7 percent of all proteins, consumed globally.
In the period 1961–2017, the average annual growth rate of total food fish consumption increased by 3.1 percent, outpacing annual population growth rate of 1.6 percent.
In per capita terms, food fish consumption rose from 9.0 kg (live weight equivalent) in 1961 to 20.3 kg in 2017 (Figure 26). Preliminary estimates for per capita fish consumption in 2018 currently stand at 20.5 kg.
Aquaculture has expanded fish availability to regions and countries with otherwise limited or no access to the cultured species, often at cheaper prices, leading to improved nutrition and food security. At the global level, since 2016, aquaculture has been the main source of fish available for human consumption. In 2018, this share was 52 percent, a figure that can be expected to continue to increase in the long term.

Total fish production is expected to expand from 179 million tonnes in 2018 to 204 million tonnes in 2030. Of this aquaculture production is projected to reach 109 million tonnes in 2030, an increase of 32 percent (26 million tonnes) over 2018.
Regional outlook
Asia will continue to dominate the aquaculture sector and will be responsible for more than 89 percent of the increase in production by 2030. The sector is expected to expand most in Africa - up 48 percent - driven by the additional culturing capacity put in place in recent years.
In nominal terms, prices in the fishery and aquaculture sector are expected to rise in the long term up to 2030.