Sponsor message
New 100% online training course from FishVet Group and Benchmark Knowledge Services on The Health and Welfare of Atlantic Salmon
A global alternative to net pen aquaculture
FishGlobe, a novel fish farm design that is also "the largest construction ever made in polyethylene", is showing early signs of promise.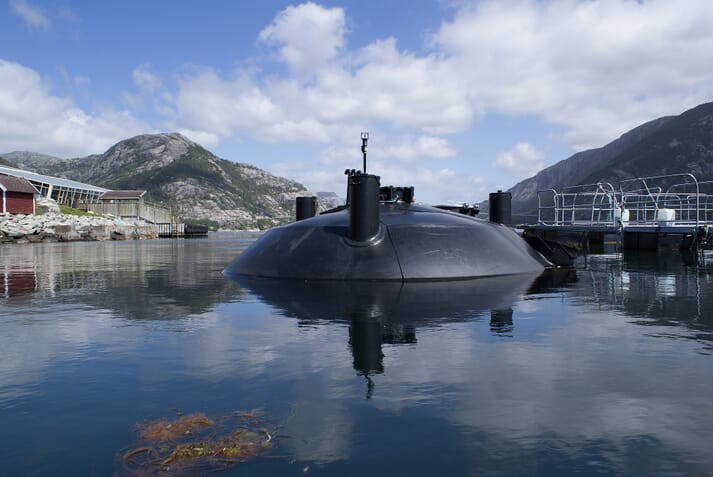 FishGlobe's Tor Magne Madsen presenting data on the performance of the first generation of this semi-closed containment system at this week's Smolt production in the future conference.
he explainned that the current model has a 3,500 m3 capacity, with a built-in feeding system, and the sphere draws in water from a depth of 15-16m – in theory deep enough to avoid parasites such as sea lice.
"At the moment we're working on commercial sales of this 3,500 m3 unit and we also have on the design board a 10,000 m3 unit which we are looking for commercial sales for further development. We also have two development licences for a 30,000 m3 system, with which we'll produce [salmon] up to commercial harvest size," explained Madsen.
The data Madsen presented at the were based on the performance of the first two generations of post-smolt in the system.
The first cohort consisted of around 200,000 post-smolts and, according to Madsen, the fish in the sphere outperformed the reference fish that were retained in a land-based system before being transferred to sea at the same time as the post-smolts from the FishGlobe.
"There are two reasons for this – one is that we have extremely good control… so we can really, really go in with precision feeding when we are in operation. We also see we are picking up good growth rates after the post-smolt goes out to sea, which could be because [the fish] are already in a seasalt environment," he reflected.
The FishGlobe currently contains 71.5 kg of fish per cubic metre of water – with the individual fish averaging 917 g. One of the advantages of the system is that – due to the fact that it sources water from deep in the fjord – water temperatures, and thus feeding levels, remain very similar throughout the year.
"Data from our reference fish show that spring and autumn have different feeding levels, but [in the FishGlobe] we see that we have a stable environment through the year," said Madsen.
"We think the good growth rate is because of precision feeding, but also because we have a large [rate of water exchange] … we change the water three times an hour, which creates really, really low CO2 levels, we have a good oxygen level of 90 percent, even with 70 kg of fish per m3. We have a good stable growth summer and winter," he added.
He also noted the ease of transferring the fish to wellboats, by slowly raising the system. This gradually and gently crowds them into the bottom, where they can be easily pumped aboard the vessels.
Despite being a semi-closed system he did admit to some health issues caused by parasites, with one sea lice treatment required in the first cohort and an amoebic gill disease (AGD) treatment needed in the second. However, he stressed the ease of dealing with the latter, purely through the influx of comparatively low salinity water taken from the surface of the fjord.
"After one week of treatment we were down to a gill score of 0.6. So, without any wellboat or treatment, we could keep the AGD down by using local brackish water from the top layer of the fjord," he explained.
An earlier speaker at the event, Harald Sveier from Lerøy Seafood Group, had told delegates that regulations were making such semi-closed systems a "dead case". However, Madsen stressed that this was not the case as far as he was concerned.
The Health and Welfare of Atlantic Salmon course
It is vital that fish farm operatives who are responsible for farmed fish are trained in their health and welfare. This will help to ensure that fish are free from disease and suffering whilst at the same time promote good productivity and comply with legislation.
Find out more
"We need to build more globes, so we need to find more clients to develop the technology further. But I don't think semi-closed is a dead case at all, I think it's a matter of time and if you look at the growth in production in Norway we need to have both onshore and closed-containment in the sea to keep that growth. We've also had a lot of issues with the government and with regulations but I think we'll see in the future that we're not moving fish around but we can deploy in different places in order to keep inside the regulations," he explained.