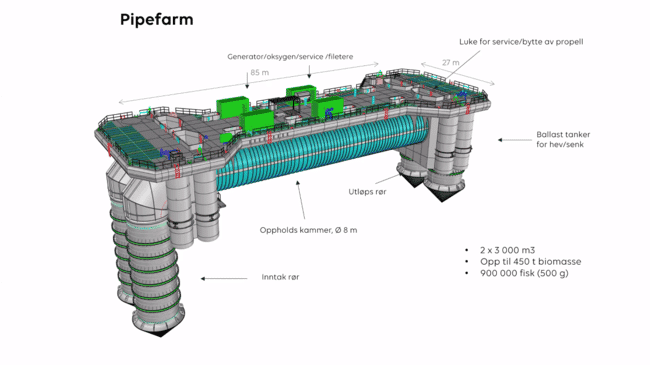 This was the core message provided by Harald Sveier, from Lerøy Seafood Group, at the Smolt production in the future conference, which is taking place virtually today.
Sveier used the occasion to explain how Lerøy's "Pipefarm" concept had been working since its development, and despite his gloomy conclusion, there were plenty of positives to be taken from the results delivered by this innovative design to date.
The concept, which is designed to grow post-smolts from around 100g to 600g, consists of a tube, just beneath the surface of the sea in which the young salmon are held for 5-6 months prior to their transfer to conventional net pens.
The design – previously known as Preline – has now held 11 cohorts of salmon. While Sveier admits that it "had been a steep learning curve" he noted that data gathered for the last six cohorts, by which time they had overcome many of their teething problems, was very positive.
Indeed, he explained to delegates, that a comparison of the post-smolts in the Pipefarm with reference groups in net pens, showed that the former had 23 percent fewer sea lice, a 6.7 percent decrease in feed conversion ratio (FCR) and a 3.5 percent reduction in mortalities. They were also, on average, 800g grams heavier by the time they were harvested.
Other positives included the comparatively economical performance of the Pipefarm compared to keeping the post-smolts in land-based recirculation systems (RAS), with savings including a 44 percent reduction in power required to maintain the fish in the Pipefarm compared to in an RAS.
However, he added despairingly that – despite these positive – he felt that the Pipefarm, and other closed containment systems, were essentially doomed to fail, unless changes in the regulations are made.
"Today's regulatory structure is based on open net pens. Now that we are launching new technology and new ways of addressing these problems the regulatory conditions need to be rethought and adapted to state-of-the-art technology that we are designing. We keep on being encouraged by a variety of licences to develop new technology but, having said that, we are faced with a lack of willingness and ability to think innovatively in relation to new technology and this lack of will we find in the Norwegian government.
"Again and again we find that we're faced with different operative criteria than open net pens. Of course we collect feed and faeces – that was included in our development goals when we developed the new technology from scratch. The Norwegian Food Safety Authority has created incredible problems about approving this system. The whole concept here is that the fish is moved to open net pens when it is 600-700g but there's nothing about this in the textbooks and the Food Authority are applying the precautionary principle.
"The fact is it's very difficult for us to move the fish from this closed facility, even though there's less illness, less disease – all because of the Food Authority's very strict regulations. So, for us, closed containment floating production is a dead case unless of course the regulatory authorities change their attitudes," Sveier concluded.