The latest edition of FAO's annual report on The State of World Fisheries and Aquaculture, notes that the total number of commercially farmed species items recorded by FAO increased by 26.7 percent, from 472 in 2006 to 598 in 2016. This number consisted of 369 finfish species (including five hybrids), 109 molluscs, 64 crustaceans, seven amphibians and reptiles (excluding alligators, caimans or crocodiles), nine aquatic invertebrates and 40 aquatic algae. These numbers do not include those species produced from aquaculture research experiments, cultivated as live feed in aquaculture hatchery operations, or ornamental aquatics produced in captivity.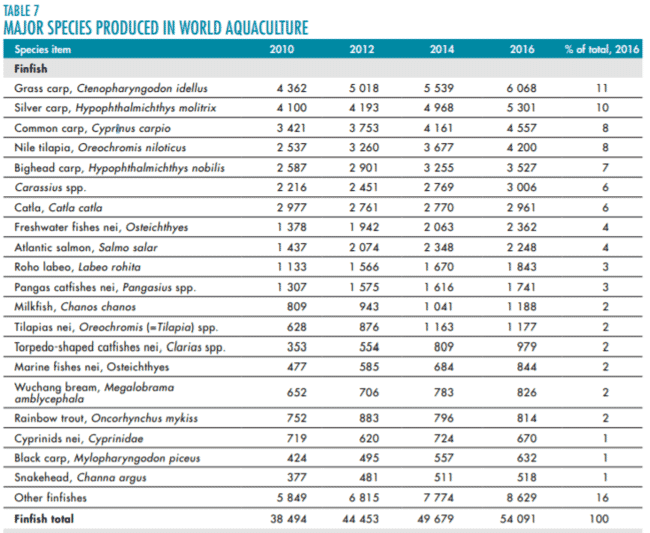 While they note that this increase was a combined result of FAO's investigative efforts and improvement in data reporting by producing countries, they add that the diversification of the FAO data does not keep pace with the actual speed of species diversification in aquaculture.
Equally, the report continues, "numerous single species registered in the official statistics of many countries consist in reality of multiple species and sometimes hybrids. While FAO has recorded only five finfish hybrids in commercial production, the number of hybrids farmed is much greater".

Nevertheless, despite the increasing diversity, the main volume is still dominated by a small number of staple species or species groups at national, regional and global levels. Finfish farming, the most diverse subsector, relied on 27 species and species groups over 90 percent of the total production in 2016, while the 20 most produced species items accounted for 84.2 percent of the total production. Compared with finfish, fewer species of crustaceans, molluscs and other animals are farmed.
Overall, according to the report, global aquaculture production (including aquatic plants) in 2016 was 110.2 million tonnes, with the first-sale value estimated at $243.5 billion. Annual growth declined to 5.8 percent during the period 2001–2016, although double-digit growth still occurred in a small number of individual countries, particularly in Africa from 2006 to 2010.