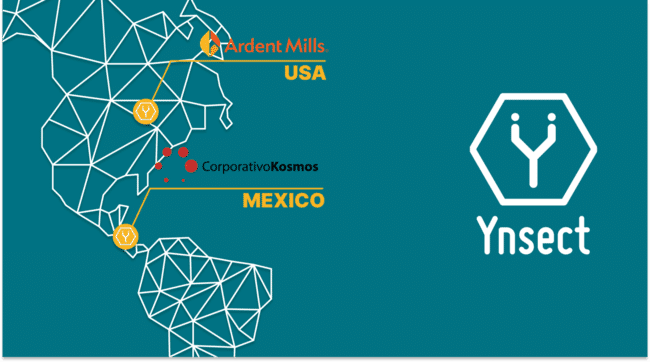 These agreements were signed just as Ÿnsect launched the world's largest insect farm in Amiens, France, with a height of 36 m and a building surface area of 40,000 m2. With the arrival of the first insects on site in recent weeks, the livestock's growth phase has already started. The operation of the facility will be rolled out over the next few months, with each site's remaining workshops to be phased into operation.

With Ÿnsect having already sold more than the capacity of the Amiens site in the coming years, taking on new projects is key to matching the growing demand from its customers. This will also allow Ÿnsect to build on the momentum for its premium ingredients while fostering a positive impact on ecosystems.
The partnership announcements in the United States and Mexico reflect Ÿnsect's development ambitions, with plans to build 10 to 15 farms worldwide by 2030. Ÿnsect plans to expand its activities on all continents to help meet the challenge of feeding more than 8.5 billion people in a healthy and sustainable way by 2030.
In order to do this, Ÿnsect is focusing its developments within the heart of agricultural areas to increase easy access to raw materials used to feed the insects, such as agricultural co-products from the cereal industry. The choice of these strategic locations, with close proximity to resources needed, reflects the company's commitment to limit the impact of its activity on the environment, including CO2 emissions and water consumption. Ÿnsect has adopted a circular economy model based on its vertical farms to create value chains aligned with the Paris COP21 agreements.
US expansion
Ÿnsect will explore synergies with Ardent Mills, the leading supplier of wheat flour in North America, with the aim of starting the construction of a new site in 2023. This agreement follows the acquisition of Jord Producers, the group's first farm on US soil, in Nebraska in March 2022.
"We have many synergies with Ÿnsect in the sense that both our companies are striving to help positively transform the way in which the world is fed. We are excited to explore sustainable food and ingredient production opportunities with Ÿnsect, which has unique expertise in producing insect-based ingredients," said Angie Goldberg, director of development at Ardent Mills, in a press release.
"Ÿnsect wants to help reinvent the global food system with a focus on sustainability. That's why we are very excited about this agreement with Ardent Mills, the leading North American milling company. This marks the beginning of potential exciting collaborations between two key players in the global food industry," added Antoine Hubert, CEO and co-founder of Ÿnsect.
Moving into Mexico
Ÿnsect's agreement with Corporativo Kosmos, a leading provider of food and general services in Mexico, is to jointly establish and operate a first insect farm in Mexico, with construction also aiming to start before the end of 2023. This agreement marks the culmination of a year-long collaboration between these two companies. Mexico is the leading country in the world in terms of human consumption of insects and insect-based proteins. In addition, this insect farm will bring Ÿnsect closer to the United States, by far the largest future market for insect proteins.
"We are particularly pleased with our continued collaboration with Ÿnsect, a company that has developed unique expertise in insect production. The future Mexican production site will allow us to combine the best of our expertise to provide a quality and sustainable product offering," said Jack Landsmanas, president of Corporativo Kosmos.
"The association with Corporativo Kosmos will enable Ÿnsect to accelerate its development by leveraging its leadership in food service provision and its expertise in real estate development," added Hubert.