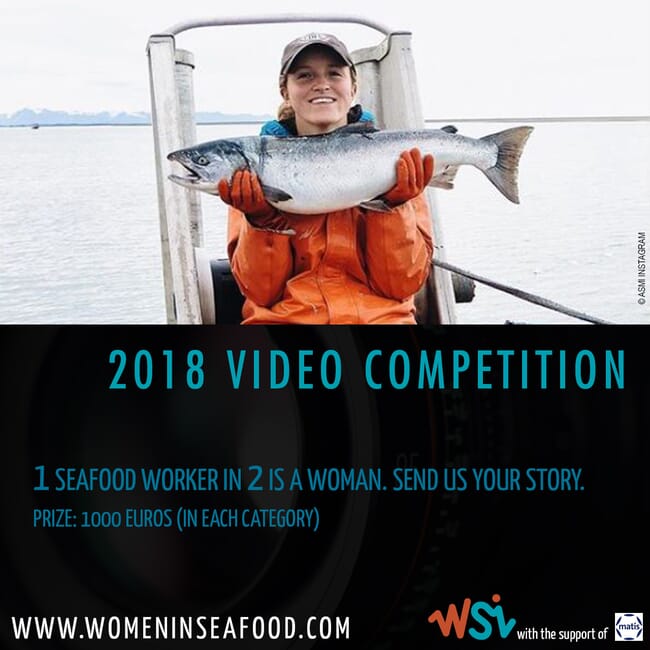 The sub-4-minute films document lives of women in several segments of the seafood industry, with aquaculture features including one on a family-run Mexican trout farm, produced by the Global Aquaculture Alliance, and one on the success of the bivalve farming sector in southern India.
Due to the quality of the videos, the jury decided to pick four winners - from Spain, Mexico, Canada and India.
Puntada Invisible did, according to the judges, bring "out the most clearly how women play important but undervalued roles in the fishing industry, and are affected by health hazards in these roles – as well as being affected by the decline in the industry".
Meanwhile the judges praised Mujeres del Mar del Cortés, which is narrated by a selection of women, for bringing "to life the underlying values and motivating principles behind a women's co-operative" in Mexico.
Girls who Fish in Petty Harbour, was noted for "challenging male-dominated stereotypes and the need to encourage women to participate in fishing" in Canada, while The Invisible Hands shows how Indian "women with imagination, and courage are paving new ways to mitigate their financial troubles".

The films were assessed by a 7-strong jury consisting of:
North America: Laine Welch – journalist, expert in fisheries.
South America: Dr Carmen Pedroza-Guttiérez, winner of the inaugural WSI contest and a social science researcher based in Mexico.
Europe: Dr Fenella Porter, Senior Gender Advisor Oxfam UK.
Oceania: Loata Leweniqila, coordinator Women in Fisheries Fiji.
North Africa: Lamia ZNAGUI – Fishing Processing Federation in Morocco, General Manager.
Sub-Saharan Africa: Baliaba Beyene Ateba Epse, president RAFEP, Africa association of women in the seafood industry.
Asia: Mohammad Nuruzzaman, Fisheries Specialist Krishi Gobeshona Foundation.
Dr Fenella Porter, one of the members of the jury, stated: "The competition is an excellent way to communicate the real issues that are faced by women in the seafood industry, without getting too buried in theoretical text. It is effective and informative, and an enjoyable way to get this kind of insight. The voices of these women are authentic, clear and must be heard."
Marie Christine Monfort, WSI co-founder and president, is already looking forward to next year's competition.
"After such a good 2018 'harvest', we are happy to announce that the competition will be re-conducted in 2019," she said.