Can you briefly describe your aquaculture career?
After graduating from university, I spent six months working at the Smithsonian Tropical Research Institute in Bocas del Toro, Panama. I was investigating the effects of hypoxia on various marine invertebrates, and although it certainly was not aquaculture, it introduced me to the technicalities of small-scale marine animal husbandry.
I am currently based in Seychelles, where I lead the Seychelles Fishing Authority's Aquaculture Research division and manage the Sea Urchin Research Facility (SURF).
What species have you been working with?
I mainly work on invertebrate species including the gatherer urchin (Tripneustes gratilla) and green mud crab (Scylla serrata). I am also working with several species of algae like sea lettuce (Ulva rigida) and sea grapes (Caulerpa racemosa).
What drew you to aquaculture in the first place?

I was particularly intrigued by the breadth of opportunities in the industry. If I want to study salmon genetics in a high-tech lab in Norway I could head in that direction, but if I want to harvest oysters from longlines in Kiribati, that is also an option. The opportunities in aquaculture are limitless for a versatile scientist.
What does a typical day in your current role consist of?
I start the day with morning routine at SURF taking water quality measurements, fertilising the algae, and feeding the crabs and urchins. I usually have another practical activity planned for the rest of the morning: I might be snorkelling the flats to collect food for the urchins, preparing crab feed, performing urchin dissections, or collecting benthic samples from the boat. In the afternoons, you can usually find me writing reports or analysing data in the office.
What work-related achievement are you most proud of?
I am extremely proud of leading a cohesive, hard-working, all-female research team. Leadership has been a tough learning curve for me, but seeing my team thrive has made the challenge worth it. Being a manager was not in my job description and I think I would have never applied for a leading role, but now that I have it, I am so glad I got the opportunity. I have learned so much and it has given me the confidence boost that I needed to grow as a professional.
What is your favourite part of working in aquaculture?

In my current role, I enjoy that I can take immediate action based on the results of my research. If I run an experiment and the results indicate something, I can apply the relevant changes the very next day. I do not have to wait for publication or someone else to act on my results – I can just go for it. Although I appreciate the pursuit of knowledge for the sake of knowledge, I prefer doing research with applicable results.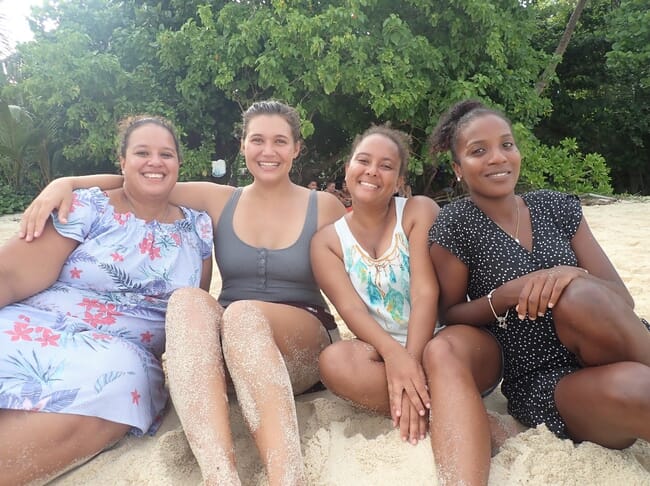 What challenges have you encountered working in the sector?
The public perception of aquaculture in Seychelles is not very good. Fishing is a huge part of the local culture and economy, and many fishermen regard aquaculture as a threat to their livelihoods and heritage. A widespread opinion is that aquaculture will compete with or replace the artisanal fishing industry, when the intention is rather to complement it by relieving pressure on dwindling fish stocks. The local scepticism could probably be assuaged with greater public awareness of the stringent environmental standards we adhere to, so a marketing campaign should be implemented as soon as possible.
More broadly, I find a lot of misconceptions about aquaculture have permeated into the general public. I get a lot of judgment from people who have based their opinion on the entirety of aquaculture on a handful of biased or exaggerated articles.
Do you think a small island state such as the Seychelles can benefit from aquaculture?
Absolutely. The Seychelles is massively reliant on tourism and fisheries. Diversifying the economy in a sustainable way is vital to ensure food security.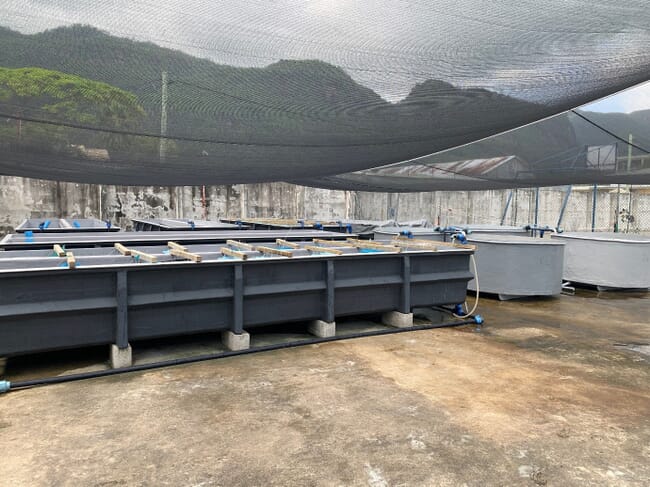 Have you encountered (or heard of) any gender-related challenges in the sector?
Some of my colleagues have spoken of sexism at previous aquaculture jobs, but I have never experienced gender-related challenges specific to the industry. I think that gender-based discrimination here in Seychelles is a product of the culture rather than the industry I find myself in. In fact, because aquaculture is so new here, it does not have the old-fashioned, male-dominated culture that older industries may have.
Has the Covid-19 situation had any impact on your work?
Up until about a month ago, when community transmission started here in the Seychelles, life went on like normal, with the exception of a small lockdown in March last year. The only thing I was not able to do is travelling, but being in a paradise with minimal impact of Covid, I consider myself very lucky. At the moment, things are different and we are in lockdown. At work, we only maintain the cultures and do not start new experiments, which is frustrating for me because I like to work at full speed. I am implementing the [lockdown] measures very strictly, hoping the situation will improve soon.
Are there any individuals or organisations in aquaculture that you have found particularly inspirational?
Devis Monthy, our assistant manager of operations, inspires me daily. He manages his team with as much kindness and humour as authority, and his passion is a real driving force for our project.
What advice would you give to women who are considering joining the aquaculture sector?
Be prepared to work extremely hard and get your hands dirty. I am incredibly lucky to be in a role that allows me to go snorkelling regularly, but not all aspects of the job are as glamorous: there is an amount of tank scrubbing that is inevitable in this line of work.
If you could solve one issue in aquaculture what would it be?

I would develop a sustainable and economical plant-based alternative to fishmeal. Eating farmed fish is not a great alternative to eating wild-caught fish if the farmed fish are being fed with wild-caught fish anyway.
Which species you have worked with do you think is the most promising for aquaculture?
I am particularly excited about sea grapes. I think that algae is a very promising source of food, and it is currently extremely under-utilised. Although we have had limited success cultivating them in Seychelles so far, algal crops generally require few resources to maintain and can be quite robust against environmental changes, so they have the potential to be a safe and accessible entry-level crop.
What would you like the next step in your career to be?
A very relevant question! My contract here in Seychelles expires at the end of March, so I am actually looking for new opportunities at the moment. Although part of me would love to deepen my knowledge of species I am already familiar with, I am also tempted to foray into the world of finfish. In the long term, I would love to unite my background in genetics with my passion for marine biology.