Briefly describe your aquaculture career
In 2004 I started my career as aquaculture researcher in the Aquaculture Research Group and by 2011 had concluded my PhD thesis on the effects of polyunsaturated fatty acids (PUFAs) on sea bream and red porgy. I employed different biochemistry, histological, immunohistochemistry and electron microscope techniques, as well as molecular biology, to study the effect of long-chain PUFAs on different tissues in relation to fish health and behaviour.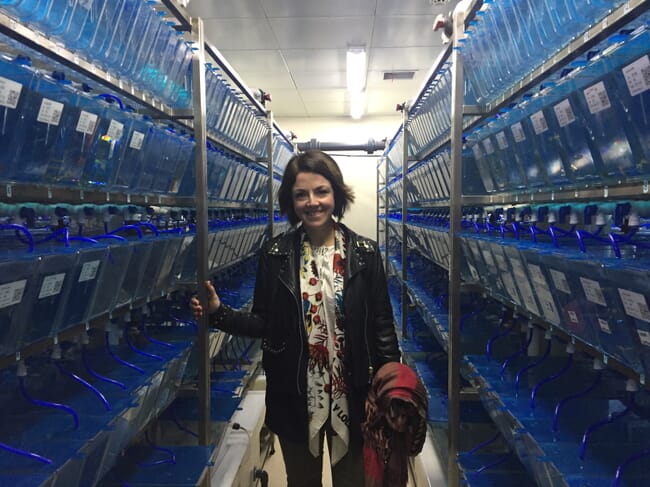 In 2013 I moved to Paris to become a postdoctoral research assistant in the Neurobiology and Development Research Unit at the French National Centre for Scientific Research (CNRS) and French National Institute for Agricultural Research (INRA). The main objective of this project was to study the effect of food availability and lipids/long-chain polyunsaturated fatty acids on neural stem cells in zebrafish.
In 2015, I joined the Schlegel Laboratory at the University of Utah, working as a postdoctoral research assistant. In this project I worked on the role of liver X receptors in intestinal lipid handling and this included designing and performing experiments to assess the effects of dietary manipulations on the various knock-out and transgenic lines in the development of metabolic derangements and atherosclerosis in zebrafish. Fast forward to September 2017 and I joined Aker BioMarine as an aquaculture scientist.
What inspired you to study aquaculture?
I am from Gran Canaria, and grew up swimming and scuba diving, so it seemed very natural to have a career connected to the sea. I was fascinated by marine biology and chose to study marine science, which is where I met Marisol Izquierdo. She inspired and indeed encouraged me to continue my studies and move in a slightly different direction, and so I started my Masters in aquaculture. I quickly discovered how interesting it was to care for marine fish larvae, by understanding the lipid metabolism. I was hooked, and still am.
After your initial forays into fish nutrition what drew you to neurology?
The results of my PhD thesis opened the door to fish neurology. I was granted the AgreenSkills fellowship to work in France with Jean-Stephane Joly (CNRS), Françoise Médale (INRA) and Genevieve Corraze (INRA). The main objective of this project was to study the effect of food availability and fatty acids on neural stem cells in zebrafish. Zebrafish were chosen as they are a great model on which to study human diseases (lipid metabolism is more similar between humans and fish than humans and mice). In this project we used an innovative hypothesis-driven multidisciplinary approach that aimed to explore the links between lipids/fatty acids, neural stem cells, and their regenerative capacities, and behaviour.
You've worked with a huge variety of species – would you like to see the aquaculture industry diversify further?
Absolutely, the industry has enormous potential. We have a way to go before we can realistically consistently produce farmed octopus for example, but it is important to at least begin to look at a wider variety of species. Different cultures and communities prefer different species; not everybody in the world is drawn to salmon in the same way as we are in Norway.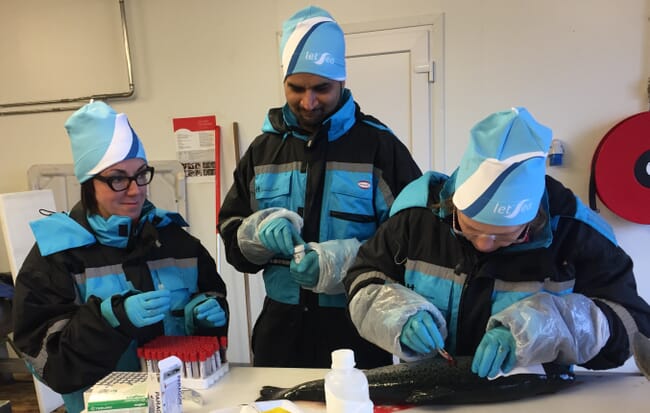 How have you found the transition from academic research to working for a commercial company?
To be honest it has been very easy for me as Aker BioMarine is a company driven by science, which is why I took the position. I've always believed we must constantly look for new ways and new technologies to better understand how nutrition and metabolism can improve sustainability and productivity in aquaculture research. Aker BioMarine lives this idea 24/7 and the science team plays a fundamental advisory role in almost every facet of the business. My role includes setting up research projects and designing methodology with third-party companies and research centres and sponsoring other academic work. While I don't spend each and every day in the lab any more, it's still an integral part of my job.
What makes krill oil and krill meal such a good substitute for the fishmeal and fish oil that has traditionally made up the bulk of aquafeeds?
We are in an era where we need to find sustainable sources for fish meal and fish oil, and one of them is the krill. It is rich in omega-3 phospholipids (PL) which are going to be used directly by the body cells. However, when you use fish meal and fish oil rich in triglycerides (TAGs), the liver has to transform those in PL. The TAGs are used for energy and fat accumulation; therefore only a little bit will be used by the cells in PL form.
What species provide the main market for krill oil and meal?
Salmonids, marine and freshwater fish species and, of course, shrimp.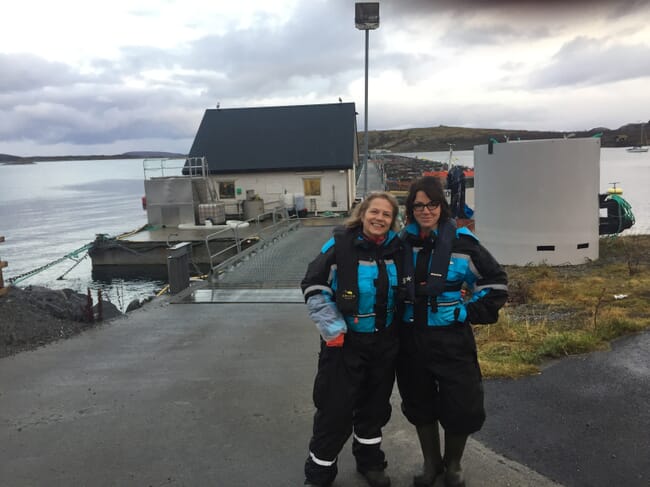 Do you think diets can help to combat the recent run of health challenges experienced by many species?
Yes, it seems obvious, but one way to boost the immune system is by designing a diet packed with good ingredients. There is an undisputed correlation between feed and health. This is receiving increasing attention from feed producers, who are striving to offer feed that has both general and specific effects on health.
The majority of farmed fish are exposed to seasonal variations in environmental conditions. Important production parameters such as appetite, feed utilisation, growth rate and immune system are modulated by temperature and photoperiod, and by a wide range of other internal and external factors such as genetics, health status, dietary composition and feeding regime.
Dietary lipids are considered a key source of energy, which also contribute essential fatty acids (EFAs) and phospholipids for cell-membrane synthesis and gene expression. The role of the EFAs in promoting growth, survival and stress resistance has been well documented. For instance, omega-3 fatty acids have a pronounced effect on immune functions through the generation of inflammatory mediators of the eicosanoid family, including prostaglandins; leukotrienes and related metabolites that regulate the activity of inflammatory cells; and the production of cytokines and various defence factors. Thus, dietary lipids may have a significant impact on the immune system and the health status of fish.
Are there any individuals or organisations who you've found particularly inspirational?
There are many, but two really stand out for me. The first is Albert Tacon. Not only because he is a great scientist, but also because I admire the fact that he is raising awareness about climate change, food security and aquaculture. He always talks about "the right to food" which cuts across the entire spectrum of human rights. Its fulfillment is essential to the fight against poverty, and to ensure a world free from hunger. Sadly, hunger and malnutrition remain among the most devastating problems facing the world's poor and needy, and continue to dominate the health and well-being of the world's poorest nations.
The second is my friend Monica Betancor, who I had the good fortune to do my PhD with. Currently a lecturer in nutrition at Stirling's Institute of Aquaculture, she is one of the world's most promising lipid scientists. A qualified veterinarian, she has considerable experience in fish nutrition and metabolism, particularly lipids and the development of sustainable feeds. She's a star.
What advice would you give to women looking to start a career in the sector?
Fifty percent of my colleagues have been women so, in the lab at least, gender equality hasn't been a big issue. However, when you venture out of the lab into the corporate environment, the age-old problem of gender bias and sexual discrimination sadly still exists and women are still woefully underrepresented in the boardroom. However, things are slowly changing and I am optimistic, so my advice to women is don't think about your gender at all when considering a career in aquaculture. Frankly, if you are motivated, you can do anything. Show initiative, speak up, enjoy your research and take your own path.
What would be your dream role in aquaculture and do you think it's realistic to achieve?
I am very fortunate to be working in a role I never could have imagined existed when I started my academic studies, so you could say I am living the dream right now. But, looking ahead, a personal ambition would be to somehow help enable and promote the growth of aquaculture in developing countries. Providing a much-needed lipid-rich food resource in the places which really need it is an important and logical next step for the aquaculture business. I would love to be a part of that.