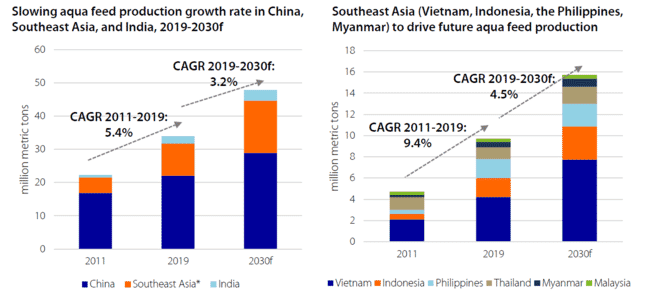 Future Asian aquafeed consumption growth will be constrained, according to Rabobank's report, 'Swimming in a Crowded Market', due to the reduced growth of regional aquaculture production – which they predict will slow to a combined annual growth rate of 2.3 percent between 2018 and 2030, compared to 5.3 percent for the previous 18 years. This is due, the report argues, to the limited natural resources in the region and the stricter environmental regulations being enforced by many key producing nations.
However, the report also notes opportunities for growing the value of the formulated feed sector – not least as more farmers move away from using trash fish – which are increasingly seen as pollutants and as vectors of disease and are therefore being eased out by environmental and food safety regulations.
Moreover, according to the report, demand for extruded feed is on the rise. Not only because it's pathogen-free but also because it's better suited to be used in automatic feeders, which are increasingly being adopted.
The authors also note that the functional feed market is also likely to grow, due to the ability of these feeds to combat pathogens and reduce antibiotic inputs – with the overuse of the latter being one of the largest barriers to exporting products to the EU and the US.
"This provides opportunities for industrialization and innovation along the value chain, in which aqua feed players can play a crucial role and achieve value growth," says Lief Chiang, grains and oilseeds analyst at Rabobank.
Driving value growth
Asian countries, which have traditionally benefitted from low production costs, are losing ground to Central and South American ones, mainly due to the high occurrence of disease and rising labour costs. And, as a result, the report argues that improving the efficiency of production is important, as is increasing the value of the produce.
"Asian aquaculture needs to offer more value-added options. Quality, food safety, and traceability will be increasingly emphasised, thus [stimulating] functional feed and the utilisation of advanced digital technology," according to Chiang.
Rabobank projects an increasing use of plant protein meals and other protein sources to replace fish meal in aqua feed formulas, with demand for crude protein from the sector predicted to increase by 5.6 million tonnes, to reach 15.8 million tonnes between 2018 and 2020.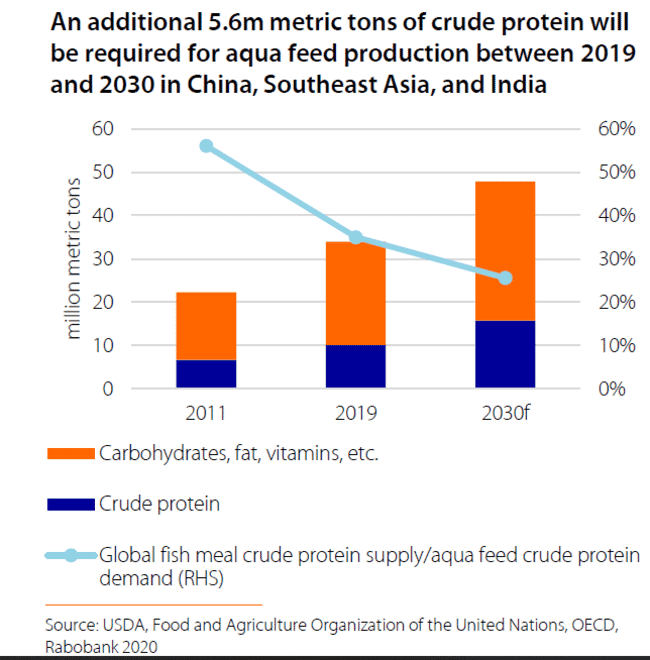 To achieve more sustainable, but cost-effective aqua farming, more R&D efforts are needed on feed formulation, genetic improvement and animal health.
Exports vs domestic consumption
Although demand in traditional export markets has been stagnant, the authors note that intra-regional trade within Asia has been on the rise. Driven by a growing middle class, China is now demanding imports of high-quality aquaculture products with food safety and traceability. Other countries in the region, such as Vietnam and Indonesia, will be direct beneficiaries. Domestic consumption of seafood is also likely to increase in Southeast Asia, which is expected to boost domestic aqua feed use, particularly in Indonesia, Vietnam, and Myanmar. More outbound investment and M&A activities are also expected in these countries.
Conclusions
"The Asian aquaculture industry is continuously moving from a backyard operation to an industrialised supply chain. Rabobank expects that aqua feed players, especially leaders in the industry, are in a good position to benefit from downstream dynamics and reach new levels of sophistication. Balanced nutrition, a sound business model, regional co-operation and sustainability are essential for success in the Asian aqua feed industry," the report concludes.