This is the conclusion of a new study into the role of the extension system, which can be traced back to the 1950s, when the government required aquaculture experts to study technology for seaweed farming and fish farming in ponds, and provided technical guidance to aquaculturists through state-owned aquaculture farms.
After the Reform and Opening Up of the Chinese economy in 1978, the central government issued a series of policies and administrative pronouncements to promote the construction of a multi-faceted, nationwide aquaculture extension system. The five-level state-owned extension organizations are currently the main body, while research institutions, universities, social organisations, and aquatic enterprises are also important segments. Technical extension programmes, demonstration zones and technical consultation are the three popular aquaculture extension models.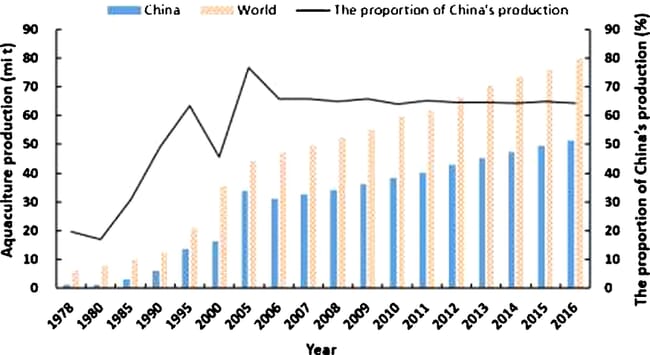 Achievements

Under the guidance of the extension system the area of aquaculture in the country increased from 3.21 million hectares in 1978 to 7.45 million hectares in 2017. Even more impressively, production output increased by 41 times – from 1.21 million tonnes in 1978 to 51.42 million tonnes in 2016 – accounting for 20 percent and 64 percent of the world's aquaculture production respectively. And, the authors note, farmed aquatic products have become not only an important part of China's food supply, but also a key source of aquatic products globally. These achievements have been brought about, say the authors, by improvements in production capacity, extension programming, and access to information and training.
Since 2006, the authors of the study explain, China has developed "an established and comprehensive aquaculture extension system where advanced technologies are successfully transferred to industry participants. The result is that Chinese aquaculture is better promoted and producers are more efficient, which has increased their incomes."
Challenges
However, they add that the system "continues to face huge challenges. This is especially true for the organization and management of rural aquaculture extension efforts, where problems include insufficient funding and antiquated staff structures."
As a result, the authors conclude that: "The aquaculture extension system needs to be reformed. Such changes should be based on the current aquaculture extension situation, with a focus on building cooperation among agencies, changing the purpose of extension activities, and upgrading the capacity of the extension workforce. China should learn from developed countries, develop innovative management mechanisms, and give more capital support to extension stations. An aquaculture extension system with sufficient funding, effective management, and an efficient staff structure will promote the prosperity of the aquaculture industry."
Further information
The full study, which was published in Aquaculture Reports, under the title, "Aquaculture extension system in China: Development, challenges, and prospects", can be accessed here.