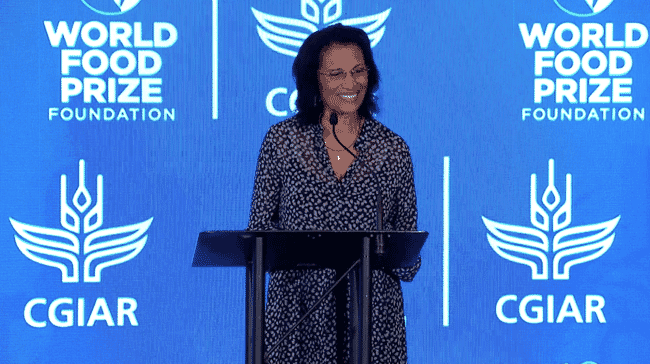 So said , the 2021 World Food Prize Laureate, who recently called for CGIAR to harness the unmatched potential for aquatic foods in sustainable development.

Dr Thilsted made the speech at an event that took place as part of the World Food Prize Borlaug Dialogue in Des Moines, Iowa, which marked the 50th anniversary CGIAR, the world's largest agricultural research and innovation network.

Thilsted, who is WorldFish's global lead for nutrition and public health, joined other distinguished speakers, including Víctor Manuel Villalobos Arámbula, Mexico's secretary of agriculture, Peter Mcdougall, the assistant deputy minister for global issues and development at Global Affairs Canada, Rodger Voorhies, president of global growth and opportunity division at the Bill and Melinda Gates Foundation, and Jim Barnhart, assistant to the administrator in the USAID Bureau for Resilience and Food Security.

"During my career, and as a WorldFish scientist in the CGIAR, my work at the intersection of nutrition, fish, and aquatic food systems has enabled me to examine the multiple benefits of diverse aquatic foods for sustainable development," she said.
Focus on nutrition
Thilsted urged more people to think of the role of aquatic foods in nourishing, rather than feeding the growing global population.
"It has pressed me to advocate for greater support and funding for research and innovation in aquatic food systems. It has compelled me to talk about the need to shift away from the limiting discourse of 'feeding' a growing global population towards that of 'nourishing' billions of people, nations and the planet. For decades, the global agricultural research agenda and policies on agriculture, food and nutrition security, and even food aid have primarily focused on solutions related to staple crops and livestock," she observed.

"Historically, aquatic foods research has accounted for only 3-4 percent of the total CGIAR annual budget but consecutively returned significant gains across the sustainable development goals. The world is finally waking up to the unmatched potential of aquatic foods, the fastest growing food sector globally," she added.
And she also reflected on the role that overlooked aquatic species can play.
"Pelagic small species, such as sardines, mola, anchovies, bivalves, and seaweeds, are micronutrient powerhouses. Their harvesting and production have significantly lower impacts on the environment than most food production activities on land."

"Moreover, consumption of diverse aquatic food can help avert some 166 million micronutrient deficiencies worldwide, improve the health of women and children, and prevent diet-related diseases in many low- and middle-income countries."
The future
Thilsted went on to make some suggestions for the evolution of CGIAR.
"Looking ahead to the future and the next 50 years for CGIAR, a sustainable food systems transformation will not be possible without due attention and investment to aquatic food systems, alongside crops and livestock.

"To capture their full potential, aquatic food systems, including capture fisheries and aquaculture, must be prioritized and placed higher up in the new One-CGIAR agenda, its structure, and more importantly, donor commitments."