In a presentation by Pete Southgate, Fish Vet Group, at VIV Asia, Aquatic Asia 2013, Mr Southgate noted that fish are constantly exposed to changing environmental conditions and bacteria present in the intimate aquatic environment.
For good health management, the fish, pathogen and environment balance must all be taken into account. It is only when this balance is upset that disease occurs.
Pathogen increases can be due to poor biosecurity and exposure to disease. Even if the environmental and fish condition is good, an increase in pathogens can lead to disease.
Holistic approach
Farmers need a holistic approach to health and should aim for high tolerant fish, optimum environmental conditions and minimal disease challenge. All this can be done through good veterinary management. Good health planning must be in place in order to prevent and treat diseases.
Veterinary health planning requires:
Management
Biosecurity
Vaccination
Recognising disease
Investigation
Actions feedback and review
Good management requires thought to be given to genetics, nutrition, welfare, handling and environment.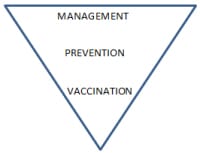 In terms of prevention, farmers should make sure that they have good biosecurity, disease free stock, movement controls, nutraceuticals to boost immunity and good water conditions.
It should be remembered that vaccination is not an alternative to having good management and prevention. Vaccinations should be administered correctly in the right dose and for the right disease, it should not be done routinely.
Hatchery
Fish still in the hatchery tend to be less prone to disease as they are not in the open environment. There also tends to be better biosecurity in place, as juveniles are more sensitive to water quality changes and disease.
Despite biosecurity in hatcheries being quite strong, if disease does get in it is likely to be quite devastating. Problems that are often seen in the hatchery are bacteria/viruses, parasites/fungi and genetics and hatching problems.
Cages
In cages, fish are directly exposed to environmental changes and bacteria. This poses biosecurity challenges.
Recognising Diseases
It is very important that diseases are detected early. In order to look out for diseases, farmers should do frequent monitoring, looking out for:
Changes in water quality, smell and colour
inappetance of fish
swimming at the surface or sides
changes in behaviour
changes in appearance
moribund fish
Investigation
Knowing the history of the fish and farm is very important. It is good to know where fish are from, their vaccination status, any previous problems or illnesses and any significant events that have occurred.
Record keeping is also a useful on site management technique that helps identify problems. Records should be kept on feeding, mortality and water quality.
Other forms of investigation include post mortem and lab analysis. Thought should be given as to which fish should be sent for sampling or microscope examination. Fish which are already very sick or dead may be unsuitable for some examination tests.
Actions Feedback and Review
If disease outbreaks do occur then actions need to be taken. These could include treating sick fish, harvesting and culling.
In order to prevent similar disease outbreaks from happening again, it is important to look at what you have done and what actions were taken. A good review of actions taken can be helpful in the future for deciding if actions taken should have been different and also where they can be improved.