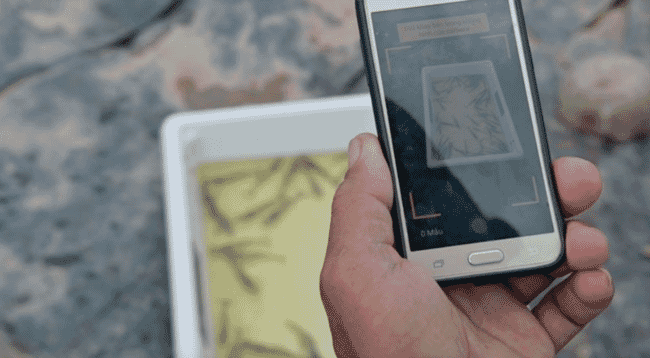 Developed by XpertSea, the app builds on the success of the XperCount, a connected "smart bucket" that lets farmers count, size, weigh and image animal samples in seconds. After months of research and in-field testing, XpertSea* engineers reduced these 5 kg of hardware to a feature-enhanced app that runs on a shrimp farmer's Android or iPhone.
"Too many shrimp farmers operate without the benefit of accurate, standardised data, and this hinders their operations and hurts their bottom line," said Valerie Robitaille, CEO and co-founder of XpertSea. "We wanted to create an easily accessible, ultra-portable tool that would make data collection fast, easy and reliable so that any farmer can unlock better crops and financial outcomes. With our mobile app, farmers of any size and means can use their phone to monitor pond growth and make better decisions, which improves profitability and sustainability."
With the app and a picture of their shrimp, farmers gain instant, easy access to transparent and reliable information such as average body weight, growth rate and weight distribution, according to XpertSea. This enables them to adjust feeding regimes, identify anomalies in animal growth, and make better decisions on how to grow their crops and transact business.
Case study in the Mekong
To back up their assertions, XpertSea has put together a case study featuring some of the producers currently using the app, including members of the Tan Hung and Bac Lieu Shrimp Cooperatives in Veitnam.
These consist of 37 small-scale vannamei farmers who have been operating in the Mekong Delta for more than 15 years. Leveraging economies of scale, the cooperatives boost their members' negotiation power with suppliers and provide access to new information to expand production capabilities.
As shrimp production systems in Vietnam intensify to keep up with growing export demands, farmers are faced with new management challenges. Higher pond densities generate greater profits but also increase system sensitivity that if not managed properly, can lead to greater loss.
Nguyen Van Truc is the leader of the Tan Hung cooperative. He started farming in 2013 with two earthen ponds and today has grown to 14 intensive ponds. While scaling his farming business, both he and other managers in the cooperative faced challenges assuring the accuracy of new crop stockings, and the accuracy of weight sampling data, starting from the nursery tanks through the grow out ponds. This information, if not accurate, can negatively impact pond performance and feed conversion ratios (FCRs), according to XpertSea.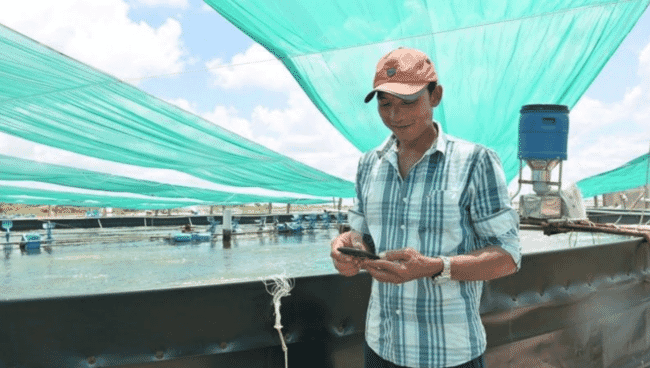 Traditional monitoring methods are manually performed and include taking a sample of shrimp, placing it on a weighing scale and checking the average body weight (ABW). If the technician wrote down in the logbook that a pond's ABW was 0.5 grams, as an example, but did not mention that the sample had a high distribution or maybe a high percentage of discolouring, it would not be possible for the manager to use this information to optimize feeding rates or probiotic treatments for the following day.
"To make the best decisions for your farm you must be detail oriented. Checking shrimp health by using a weighing scale and keeping written notebooks was only providing a small piece of the information needed to understand pond performance," explains Mr. Nguyen Van Truc, leader of the Tan Hung cooperative
Digital tools play a critical role in reducing uncertainty and improving the decision-making process. XpertSea's new mobile app makes it easy for farmers to use their smartphones to monitor pond growth by simply taking a picture of their shrimp. With only a few pictures, farmers can assess the ABW and individual weight distribution of a sample of shrimp. The data is standardized and always records a photo of the shrimp, making it easier to compare information between technicians and crops.
"Using the app to measure shrimp growth is very useful. The number of samples taken is higher, faster and more accurate than conventional manual shrimp sampling. Shrimp are healthy when sampled, free from injury and the data is stored and managed on a real-time online database," says Nguyen Van Teo, manager of a high-tech farm in the Bac-Lieu Cooperative.
While change is never easy, 100 percent of the cooperative members have successfully transitioned from traditional growth monitoring practices to using XpertSea's digital tools and Nguyen Trung Truc plans to continue encouraging technology adoption to improve his fellow farmers' productivity and welfare.
"Production management technique is one aspect of farming that we can control and is crucial to our success. Farmers must always make the effort to improve their practices in order to effectively adapt to industry changes, or else will face greater risks unnecessarily," he says.
The app is currently available on the Google Play and Apple Store for all farmers in Ecuador and for farmers working with XpertSea's enterprise partners across the world.
*Aqua-Spark has invested in both XpertSea and Hatch, which owns The Fish Site, but we remain editorially independent.