X is for X-ray - By Dave Cockerill, the Fish Vet Group - In recent years spinal deformity has become an increasingly important condition for salmon producers and especially processors. Some populations are virtually unaffected, but the incidence of deformity can be above 30%, which is certainly a significant welfare and economic factor.

Fortunately the number of dramatically malformed fish is usually limited. Their presence is a welfare concern and they act, as reservoirs for sealice and infectious agents, but it should be possible to remove these with a hand net and euthanase individually. Of far greater welfare and economic importance is a relatively larger number of more subtly deformed fish. These stumpies vary greatly in the severity of their deformity (see image).

Being slower swimmers, they too act as easy hosts for sealice. They may grow well, but will be downgraded due to unacceptable body shape that precludes sale as whole fish. In addition spinal thickenings cause downtime for filleting machines and blunting of blades. They require hand filleting, which is more costly.

There is increasing use of X-ray radiographs to visualise these skeletal deformities well before they are externally obvious. Knowing that a population of growers has a problem before gross deformities arise may help to reduce some of the processing losses.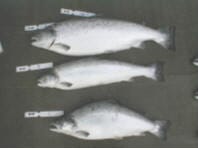 Processors can be prepared with more staff for hand filleting. It should also be possible to harvest problem populations earlier, where deformities are significant in number but not yet advanced in severity.

It is possible to detect early spinal bony lesions in fish as small is 5 to 10g in size. This helps producers and purchasers of smolts to determine whether their fish have a significant problem prior to sea transfer, and earlier.
What can we visualise?
Bones may look more dense (whiter), or less dense (darker), or may have a patchy or moth-eaten appearance. This may indicate compression, uneven mineral deposition, demineralisation, or extra bone formation. In small fish (<10g) individual bones may be difficult to distinguish, but variations in bone density may be the earliest sign of a problem.


See below a more obvious lesion in a 10 g fish.

As fish get larger, the shape of the vertebrae can be seen more clearly.
Normal vertebrae are cylindrical with conical hollows on either end, which meet in the middle. Viewed from the side using X-rays, they should appear virtually square with a symmetrical "" shape linking the corners of the square.
Deformed vertebrae often appear shortened or thickened (rectangular in shape on the lateral view) or if growth has occurred asymmetrically they can appear wedge-shaped. The "" shape can appear distorted.
Adjacent deformed vertebrae may also fuse. In an effort to support an unstable joint, additional bony tissue is created to bridge the gap between two affected vertebrae, forming the spinal thickenings that are so troublesome at processing.
How do we prepare fish to be X-rayed?

A representative number of fish should be selected randomly to assess a population. Ideally 150 fish should give good statistically meaningful results but unit costs for X-raying larger fish will be greater due to their higher individual value and the fact that less fish can be X-rayed on one plate. As a result we will often chose a smaller number as an initial indicator.

Fish can be preserved in transit by freezing. This should preferably be done while the fish lies flat on a board so that post-mortal spinal deviations are not induced. They will be completely defrosted before X-raying.

X-ray radiography is a vital tool in the ongoing research into the causes and prevention of spinal deformities, but also provides valuable information for making commercial decisions.

Source: Fish Vet Group - July 2005