An innovative new method of indoor shrimp production – which uses a novel method of stacking pools to increase yield – could have the potential to revolutionise the industry.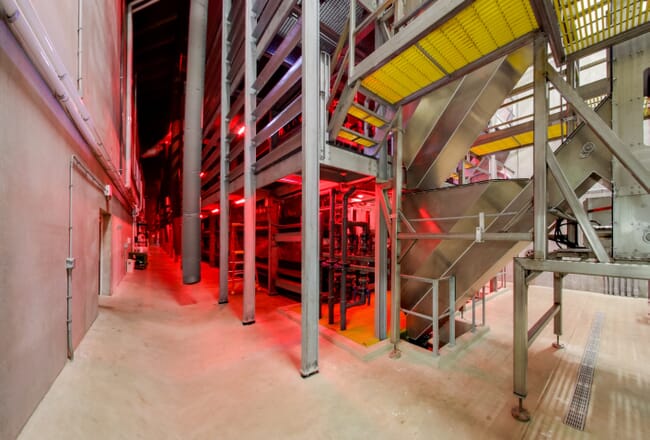 The developers of a pioneering facility that aims to produce over 3,700 tonnes of shrimp per year in the US is currently raising capital. With options on a 43-acre site in Madison, South Dakota, to house the operation, trū Shrimp believes that its novel system can help meet its ambitious goals, which – if achieved – would double the reported volume of Litopenaeus vannamei (whiteleg shrimp) produced domestically in the US.

"It's based on an indoor, shallow-water production technology, which we call a 'tidal basin'" explains Michael Ziebell, president and CEO of trū Shrimp. "The foundation technology was developed by Texas A&M University and after bidding, involving many companies, we managed to acquire the licence to use the patented technology."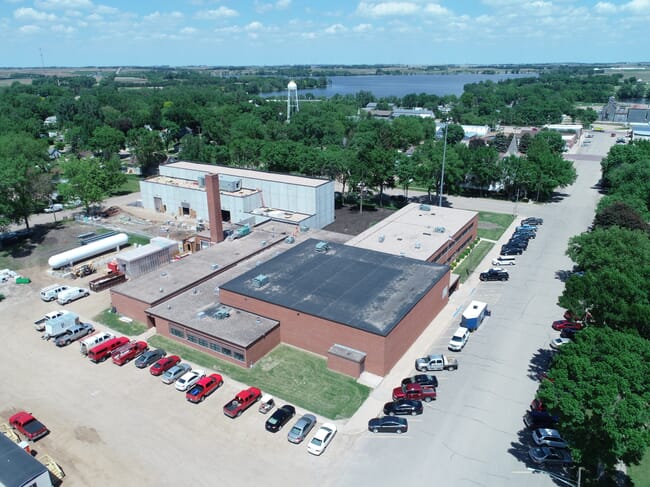 That was back in 2014, and since then the company has been working to fine-tune the system.
"First, we established a lab in order to validate the technology on a commercial level," Ziebell explains. "Then we scaled up the tidal basins in our pilot scale production facility, Balaton Bay Reef; the tidal basins are now 12 feet wide and 150 feet long and are stacked eight high."
"We've validated and improved the technology – adding one patent of our own, two more pending and an additional one that's about to be filed," he adds. "And every day we are learning to grow the shrimp healthier and faster so we plan that by the time the site is completed we will be able to produce more than the 8.3 million pounds [3,764 tonnes] each year."
The system is designed in such a way that the tidal basins can be stacked on top of each other in a structure they call a "reef", and multiple reefs are housed within one harbour – which allows for maximum production levels. And Ziebell is intent on ensuring the finished facility produces shrimp on an unprecedented scale by US standards.
"No one has ever scaled up US shrimp aquaculture, but you have to go big to have a big impact," he says. And his plans support this ambition.
"There will be nine acres under one roof, but – because the tidal basins are stacked on top of each other – there are actually 48 acres of water surface in the building," explains Ziebell.
Production densities are very high, but there are fewer disease risks compared to some hyper-intensive production models, while the constant flow of water in each tidal basin means that faecal matter, uneaten feed and moulted shrimp shells are moved on quickly. According to Ziebell, the flow also helps to ensure a consistently high quality of shrimp.
"We've had exceptional survival and growth rates," he says.
The company plans to be increasingly vertically integrated. "In five years we will have our own multiplication centre," says Ziebell, "and plans to include a hatchery, broodstock facility and processing facility." He adds that trū Shrimp has a multi-year agreement for broodstock and genetic development with the Oceanic Institute in Hawaii, which has an enviable record in terms of shrimp health.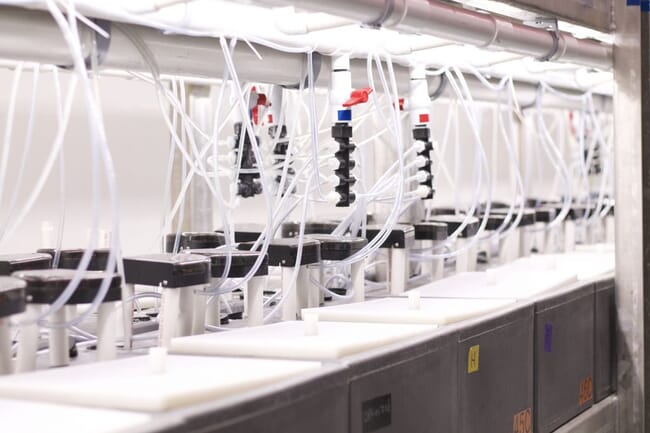 The company has plans to raise $300 million to build the harbour complex, and this significant sum should be more realistic, according to Ziebell, now that Balaton Bay Reef not only validates the technology, but also has started marketing the shrimp to retailers and the food service sector.
"We'll be marketing a premium shrimp, and the beauty of our system is its consistency, and consistency is the foundation to build a brand," he says.
"We're looking to sell our shrimp through multiple channels – which will include both fresh and frozen product. In terms of sizes we plan to sell a large range, varying from 60 count to 15 count [ie number of shrimp per pound], but with 60 percent of the production at 30 count or larger," he adds.
Ziebell says that the future site, when built, will be a "faithful, enlarged version of our existing Balaton Bay Reef facility – it's all computerised, the automation systems and robotic feeding systems are all in place, and we also have a saltwater production and reclamation centre. We've added a great deal of technology to make the entire system work."
Ziebell hopes to have the necessary investment by the end of Q1 2020, and to break ground in Q2. "It's a lot of money to raise but we're well on our way and have a lot of interested parties that see the differentiation and quality we can bring with a domestically grown and processed shrimp," he concludes.