Hoopers Island developed the second-generation model was in collaboration with Backbone Mechanical Design with lead engineer Richard Jiranek and manufactured at Hoopers Island's Cambridge headquarters under the direction of master equipment fabricator John Tall.
Pearlception 2.0 automates oyster sorting previously done by hand. Using a touch-screen to drive the "OysterLogic" system, operators can specify speed, grading size (length/width or length/volume) and number of oysters per box. The system is capable of processing up to one million bushels of oysters annually.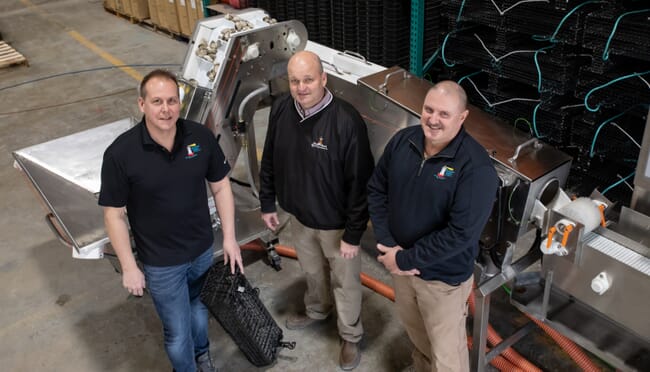 "As oyster aquaculture has become a recognised source of delicious, sustainable seafood worldwide, Hoopers has focused our considerable experience on creating equipment and systems to strengthen oyster farming's infrastructure," said Managing Partner Ricky Fitzhugh. "Using real time data and predictive modelling, Pearlception 2.0 is the first "smart system" processor designed to grade, sort and package up to 20,000 oysters an hour allowing farmers to increase the quality and quantity of seafood sent to market."
Pearlception 2.0's automated handling process eliminates chipping and waste caused by hand-sorting. A vibrating, self-loading up-feed quickly moves oysters on a conveying elevator with staggered flights. The cross-feed then delivers oysters to a singulator tube where they are turned on two points and accelerated onto the conveyor for precise laser grading. Six air nozzles then move oysters quickly and gently to one of six pre-set stations for boxing or bagging.
The system is accurate and easy for oyster farmers to operate, according to Tall.
"We designed a large touch-screen monitor and intuitive interface with seven distinct screens to configure, operate and manage processing," he said. "The laser scanner precisely grades oysters and is capable of storing up to 20 oyster configurations with three grades each."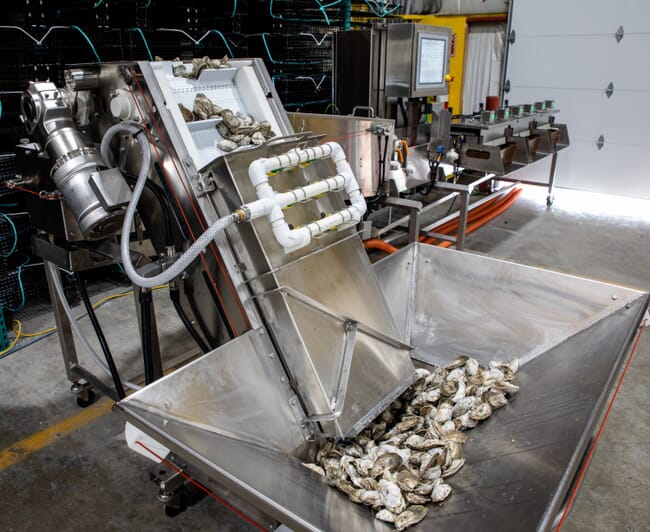 Pearlception's prototype was developed by Backbone, a Baltimore-based engineering company renowned for equipment design and production. Fitzhugh selected Backbone based on its reputation for successfully integrating ergonomic requirements, safety standards, and lean manufacturing concepts in high volume automotive production environments.
"The design process started with defining customer requirements. Using our background designing automotive machinery, we transformed the requirements into performance criteria for oyster handling, oyster grading, hygiene, safety, quality, durability, throughput, maintenance, and cost," said Jiranek. "Pearlception 2.0 has satisfied our performance criteria, passed rigorous testing, and it is ready for market."
The growth in the US and global aquaculture market has increased demand for equipment and gear. According to a 2017 NOAA report, bivalve shellfish production represents a large and growing segment of the United States and global seafood industry. In 2016, U.S. shellfish farmers produced 37 million pounds of oysters.
The East Coast Shellfish Growers Association (ECSGA) anticipates the demand for high speed, resilient equipment to support oyster farming will continue to grow.
"Over the past five years, aquaculture has enjoyed impressive growth in oyster production and as firms grow in scale it will be important to be able to mechanise some of the more menial tasks like sorting and counting," said ECSGA Executive Director Robert Rheault. "The development of innovative tools like Pearlception is critical to the maturation of our industry."
Also key to aquaculture's technological growth and capabilities is the need for rapid, responsive service to the mostly rural areas where farmers operate.
"As an oyster farm, we understand growers' needs, the desire for more innovative equipment and the importance of customer service," said Chris Wyer, Hoopers' senior manager for equipment and sales. "Whether a farmer needs trouble-shooting, programming or technical support, we can respond immediately and have an equipment specialist on site within 24 hours at most locations in the United States."