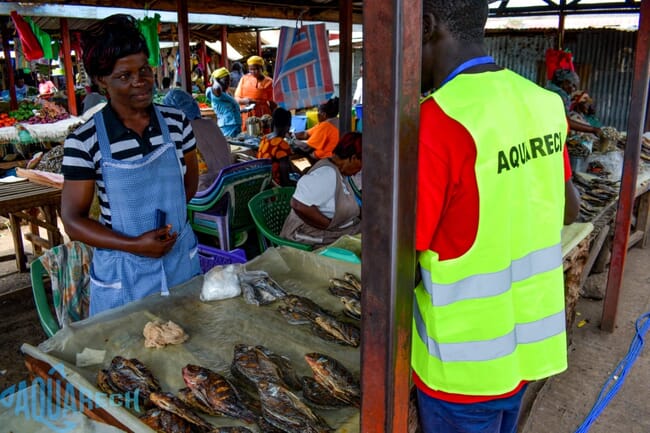 In order to achieve he has set up a company – Aquarech – that offers a sensor, linked to an app, that is helping fish farmers reduce their grow-out cycles, source quality feed and find new routes to market – all for under $50 a year.
How did you get into aquaculture?
I was previously an animal feed manufacturer, a job which included producing quality fish feeds. Part of the role involved establishing my own demonstration fish farm in order to illustrate the difference in performance levels between fish fed low quality and high quality feeds.
Interacting with fish farmers made me realise that feed wasn't the only problem – others included poor farm management, the difficulty of accessing markets and the shortage of good quality fingerlings.
Can you tell us a little bit about your own fish farm?
The demonstration farm, which consists of 10 cages on Lake Victoria, has grown over the last four years and we now produce about 150 tonnes of tilapia a year, as well as sell another 200 tonnes a year from local smallholders. We have 14 employees at the moment and have the capacity to double our own production to 300 tonnes a year. However, we don't currently have the resources, and my business model's main aim is to help smallholders improve their farming.
Why did you decide to develop your own sensor and app?
I came into aquaculture at a time when many Kenyan smallholders were leaving the sector due to diminishing returns. These were largely due to management issues – one of which was that they were not regularly using thermometers to assess water temperatures.
We are all lazy from time to time and I decided to develop an automated system for measuring the water temperatures, linked to an app tells them how much to feed, according to the water temperature, which means that less feed is wasted and the fish are never underfed. It also ensures that they use the right feed for the fish.
How did you transform an off-the-cuff concept into a fully-functioning sensor?
The first sensor was developed with engineering support from the University of Iowa, while an IT expert friend from Lake Hub in Kisumu helped me to establish a partnership with Liquid Telecom, which provides the IoT Sigfox Technology that powers the app. The first models of the sensor were produced in China but hopefully we will build the next ones locally.
What sort of feedback have you had from users to date?
347 fish farmers – both pond-based and cage-based farmers – are now using the system and it has helped them to reduce their costs of production. Those who've started using the system have moved from non-technical farming to technical farming – and their production cycles [the time it takes to on-grow the tilapia from 1g to 350 g] have been reduced from 11 months to a few as seven.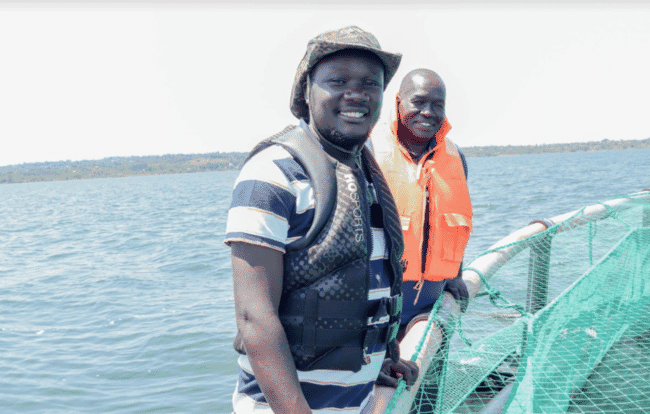 What's the cost for fish farmers to use the system?
The sensors cost $45 each and run on AAA batteries, while Liquid Telecom are providing the internet connection. We will look to monetise this in the future, but we need to show it is saving money and will probably only look to raise a small amount – perhaps $1 per user per year. The app is free, but we take a commission based on the quantity of feed and fish traded on the platform.
For temperature, only one sensor is needed per farm, but I'm also looking to include pH levels in the next sensor, and – in time – dissolved oxygen (DO) levels too. As DO and pH levels are more variable between ponds and/or cages on any one farm more sensors will be needed on each farm. However, we don't want farmers to have to buy a separate sensor for each pond/cage if possible as it's a big expense for smallholder farmers, so I'm looking into these issues at the moment.
How does the app help farmers connect with feed producers and fish traders?
The sensor helps with farm management but the app also has modules for fish traders and feed suppliers. The trader module is a mini e-commerce platform, a bit like Alibaba, where farmers post their future harvests and traders can bid for them. This gives farmers access to multiple traders and vice-versa. Previously the traders would turn up to a beach and look for fish, but now they know in advance what weight and size of fish will be there. We must guarantee that all farmers on the platform produce good quality fish, by adopting best practices and using quality feed.
The supplier module, on the other hand, allows farmers to combine orders and have the feed delivered to a feed aggregation centre, making it more worthwhile for the feed providers to deliver feed to remote areas.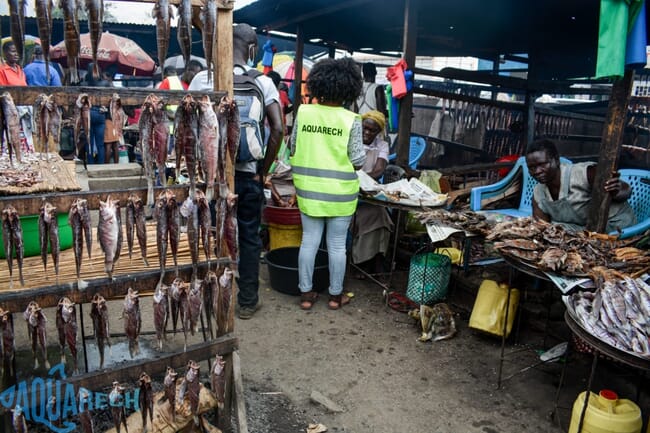 Is there more to the business than making a profit?
Yes indeed. I'm a social entrepreneur and believe in inclusive business models and in helping the community – Luo community – where I was born and raised and now farm. It's a community that's always relied on fish, but Lake Victoria's wild fish stocks are now depleted and it has particularly affected women – who account for most of the fish traders – and youth – who used to do most of the fishing – in the area.
HIV is spread through the sex-for-fish trade [in which fishermen favour selling their catch to those female traders who grant them sexual favours], but we can ensure the production of fish without the need for this dehumanising behaviour. I have a personal incentive to see aquaculture grow and to provide quality food. I also want farmers to access tech, enjoy it and grow – if they grow it's good for everyone.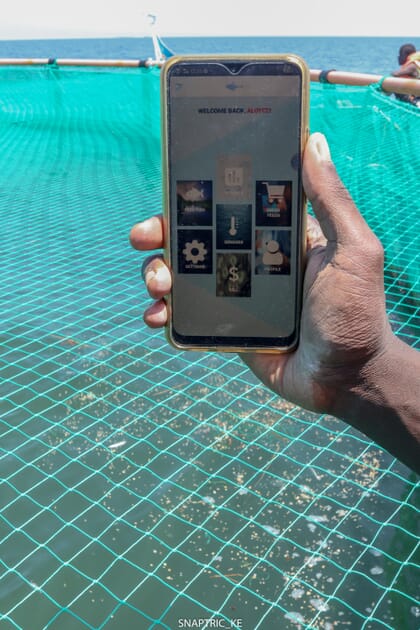 What's the market for locally produced fish in Kenya?
There's a demand for 450,000 tonnes of fish in Kenya and there's currently less than 35,000 tonnes produced by aquaculture. Around 50,000 tonnes of tilapia are currently imported from China, but consumers have a preference for local fish.
There's a huge potential for the aquaculture sector to grow in Kenya – both in terms of meeting the fish deficit and in terms of natural resources. If all our resources were utilised we could produce 11 million tonnes in Kenya a year.
How have you funded the business to date?
I've funded the development of the mobile app myself but I'm now looking to raise about $150,000 in funding to build physical infrastructure for vertical integration; training and capacity building; and a logistical framework. I have offered equity to technical people who are now part of my team and are helping build the company.
It will also be used to promote the vertical uptake of the app, and promoting usage of the app by traders. The funds will also be used to set up cold units in strategic areas for the fish to be aggregated, and for purchasing refrigerated trucks for transporting and delivering fish to the traders. We also need to train more leading farmers on the use of the app, so they adopt the technology.
Where would you like the business to be in five years' time?
With the next five years I'd like to see the platform available across Sub-Saharan Africa. I've already had enquiries from Uganda and Tanzania and I'm targeting 100,000 farmers in five years.
I'd also like to see the system replicated across the globe – after taking part in a Global Farmer Network fellowship event in Mexico earlier this year as well as an Aquaculture Small Holder Business Development programme run by Wageningen University, I now have links to farmers in India, Bangladesh and Myanmar. In Myanmar there's an organisation that represents 10,000 smallholder farmers looking to use the system – once we have an MOU with them we will then be able to deploy the system and train support staff.