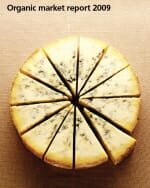 Statistics published in February and March 2009 show no let-up in the financial downturn that has gripped the UK economy since last summer. In the past year GDP has fallen by 1.9 per cent, unemployment has increased by 1.3 per cent, and retail sales have dropped by 1.8 per cent.

Against this background it is encouraging to report that sales of organic food increased by 1.7 per cent last year – in marked contrast to the prophecies of doom made by some. This growth points to some underlying resilience in the organic market, suggesting that it has the potential to grow dynamically once the economy picks up.
Aquaculture
Salmon
Last year's UK harvest of organic salmon was approximately 5,500 tonnes, an increase of 12 per cent since 2006. The increase was due to new farms harvesting rather than increases in production by existing farmers. Some planned annual tonnage increases have been inhibited by Pancreas Disease, sea lice and stock losses to the sea.

Current organic salmon production is approximately 4 per cent of total UK salmon production. This is expected to remain relatively unchanged through 2009, as one farmer is ceasing organic production while others intend to increase their output.

In early 2008 demand from the UK, European and US markets remained consistent. Towards the end of the year, however, there was a slight reduction in demand due to a combination of the normal seasonal gap, some volume restriction due to size, and the downturn in the economy.

As a result of the changing market, prices fluctuated throughout 2008. Prices have ranged from £4.60/kg to £2.60/kg but average prices have remained between £3.50 and £4/kg. It remains to be seen what impact shifting exchange rates will have on sales and prices.

Good industry data – from ova 35 figures to smolt 36 placement, through the growing cycle, and harvest tonnages – allow the prediction of future harvests. However, a lack of centralised data is still a shared complaint in the UK, the rest of Europe and the United States.

Existing farmers are expected to maintain stable production levels in 2009. However, a slight decrease in the number of organic farms – combined with previously mentioned challenges – means that a harvest of 6,000 tonnes is predicted for 2009. While Irish production is thought to have been approximately 7,000 tonnes during 2008, this could increase to 8,500 tonnes from 2009 into 2010 as more farms move into organic production.

There is a concern that there may be an oversupply of organic salmon in 2009, as Norway is expected to treble its production to approximately 3,000 tonnes. This may have a negative impact on price and market stability.

Many farmers who have reliable partnerships with processors and retailers remain confident about the prospects for 2009. But there is some concern that not as many organic salmon smolts as budgeted will be put to sea during 2009, and farmers are concerned about the current recession affecting future sales.

The organic salmon market has shown resilience throughout previous recessions and economic downturns. There has been some evidence to suggest that the economic downturn has affected sales and that some organic tonnage fed on phaffia pigment 37 has been sold onto the non-organic salmon market. An emerging debate among producers is whether full phaffia-pigmented organic salmon now outnumber shrimpshell/phaffia-fed organic salmon. The pale organic salmon market is still active but it is a niche market. At a time of market uncertainty, phaffia-fed organic salmon may offer a more reliable income base as a result of its aesthetic compatibility with non-organic salmon.
Trout
Demand remains strong, and a number of farms are planning to expand to new sites or increase biomass within current farming operations. However, some farmers are experiencing resistance from environmental bodies. Consistent reports are emerging that a number of small trout producers in Europe are looking to switch into organic production of trout.
Cod and carp
Last year saw the closure of farmed organic cod production in the UK. The last fish were harvested in October 2008.

There is one Soil Association-licensed organic carp farm, and the Soil Association is working with that producer to further develop the potential of carp as a freshwater food fish in the UK.

May 2009