In the forward to the report Turning the Tide: The State of Seafood, Julie Packard, Executive Director of the Monterey Bay Aquarium says: "Twenty-five years ago, the Monterey Bay Aquarium invited visitors to peek below the surface of the ocean and discover the marvels of the sea. Since then, we've opened the eyes – and hearts – of millions of people to the incredible marine life found in our oceans.

"The Aquarium recognised the warning signs more than a decade ago, and shared the story with visitors in a special exhibition called 'Fishing for Solutions: What's the Catch?'. We addressed issues of inadequate fisheries management, overfishing and the bycatch of unwanted animals, destruction of marine habitats by fishing gear and aquaculture operations, and skyrocketing demand for seafood from a larger, more affluent global population.

"We offered solutions, too: notably a new programme launched in 1999 called Seafood Watch. Seafood Watch has grown considerably from its modest beginnings. To date, we've distributed nearly 32 million consumer pocket guides with seafood recommendations covering the entire United States. We've put Seafood Watch on mobile devices such as the iPhone, and partnered with the largest food service companies in North America to help shift millions of pounds of seafood purchases to more sustainable sources.

"Backed by a team of fisheries and aquaculture researchers, Seafood Watch has become a recognizable standard and reference point for millions of conservation-minded consumers and restaurateurs in the United States.

"Our efforts and those of others are beginning to turn the tide, as you'll read in Turning the Tide: The State of Seafood," said Ms Packard.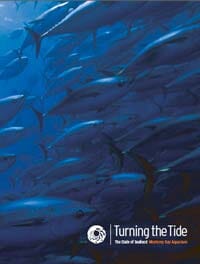 Executive Summary
The health of the oceans is directly connected to the way people catch and farm seafood.

For millennia, we have depended on the oceans for food, livelihoods and the very air we breathe. This dependence carries with it a responsibility to safeguard the living systems that support us. Numerous scientific studies show that despite the enormous size and scale of the Earth's oceans, they are increasingly affected by human activities. Most commercially important populations of ocean wildlife have been in decline for decades. Food webs are becoming less robust, and marine habitats are continuously being altered and degraded.

While many human activities strain the marine environment, the primary factor in the oceans' decline is our demand for seafood. The science is unequivocal and for the most part the news is not good. Through the combination of industrial-scale fishing and ineffective management, a significant number of major commercial fisheries are in need of rebuilding and many have collapsed. Other populations of ocean wildlife, from turtles to seabirds, are imperiled. As a result, total global landings of wild-caught fish have slowly declined over the past two decades. In parallel, aquaculture – the practice of farm-raising fish and shellfish – is growing rapidly and will soon eclipse wild fisheries as the main source of seafood for the world. Aquaculture poses its own set of challenges for the marine environment.

A milestone is approaching:
This year, humans will eat more farmed seafood than wild seafood for the first time in history
Yet there are new signs of hope: we appear to have reached a turning point. On many fronts, new data point to a brighter future thanks to the actions of informed consumers, businesses, fishermen, fish farmers and governments.

Through better science and monitoring, we understand more fully the effects that fisheries and aquaculture have on the marine environment. In several regions of the world, proactive fisheries management is preventing overfishing and allowing marine ecosystems to recover. Better fishing practices and effective regulations are rebuilding many fisheries, and stopping an underwater 'tragedy of the commons'.

The trend is being buoyed by growing public awareness of the need to act. From consumers, chefs, retailers and food service operators to fish farmers and fishermen, people are expressing a shared commitment to sustainable seafood – a commitment that has grown considerably over the last decade. Initiatives now underway are helping to turn the tide in favour of ocean conservation.

Consumers are more aware than ever of the environmental and sustainability issues associated with seafood, and are willing to pay more for sustainability. A recent survey revealed that Americans believe their seafood purchasing decisions impact ocean health, and they are willing to buy and pay more for seafood that is healthy and sustainable.

The media is raising these issues with the public on a regular basis. This is true in both mainstream and trade publications. As a proxy for this expanded coverage, a simple survey of the frequency of the phrase 'sustainable seafood' in the print media shows more than an eightfold increase between 2002 and 2008.

Leaders within the conservation community have developed a common vision for a future with sustainable seafood – a vision that major seafood buyers are embracing. Mainstream companies have removed unsustainable seafood items from their shelves. Others are asking their suppliers where their seafood comes from and how it was fished or farmed. Some of the top grocery retailers and food service operators have recently developed sustainable seafood sourcing policies or guidelines that dictate from which fisheries and farms they will buy seafood.

At the same time, forward-thinking fishermen, fish farmers and seafood processors are advocating for public policies concerning fisheries and aquaculture that take the long-term view on conserving ocean resources. Innovative new technologies are emerging that can reduce the damage from destructive fishing gear or aquaculture practices.

And public health officials, as they encourage people to eat more seafood for its health benefits, are taking environmental considerations into account in recommending which seafoods are best to consume.

Turning the Tide: The State of Seafood offers an overview of the status of global seafood – wild-caught and farmed – and its connection with ocean health. The trends are clear. Marine ecosystems have been substantially impacted by human activities across the globe. Many populations of commercially valuable fish and other ocean wildlife are poorly managed. Yet there are a growing number of exceptions in cases where governments, businesses, the seafood industry and consumers have taken significant steps to guide us toward a better future. By documenting these trends, we offer a benchmark for progress on the road to a future with healthy oceans.
Major Trends Discussed in the Report
Ocean Resources are Declining
No area of the oceans remains unaffected by human activities
According to a recent study, no area of the oceans remains unaffected by human activities, which range from commercial fishing to global climate change. More than 40 per cent of the ocean is highly affected by human activities (Halpern et al., 2008).

Most regions of the world lack effective fishery management
Worldwide, only seven percent of coastal governments employ rigorous scientific assessments as the basis for their fishery management policies. Only 1.4 percent of coastal governments use a transparent process to convert scientific recommendations into policy, and less than one percent provide for robust enforcement of fisheries regulations (Mora et al., 2009).

Many marine species are now endangered or threatened
The International Union for the Conservation of Nature (IUCN), the world's main authority on the conservation of species, lists many marine species as endangered. Interactions with fishing gear are the principal threat to at-risk marine vertebrates, including many species of sharks and rays, seabirds, marine mammals and sea turtles (Finklestein, 2008).

Overfishing remains a serious problem
According to the Food and Agriculture Organization of the United Nations (FAO), the number of commercial fisheries that are overfished, depleted or recovering has steadily increased over the past several decades. A recent landmark review concluded that 63 percent of assessed stocks are in need of rebuilding (Worm et al., 2009). While there are differences of opinion about the exact numbers, the trend is clear: the number of overfished stocks is on the rise. These fisheries cannot be expected to significantly increase their landings in the near future (FAO, 2008).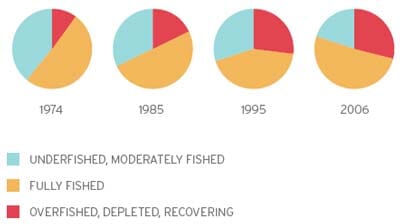 The number of overfished stocks is on the rise
Aquaculture management lags behind its explosive growth
Aquaculture management varies widely by country, and there have been no global assessments of management effectiveness. Historically, where aquaculture development was profitable, governments found it difficult to control or stop runaway growth until a catastrophic mass mortality or other major problems occurred (FAO, 2006). Today there is consensus on the need for global standards and regulation to assure responsible aquaculture practices.
The Tide is Turning
Despite the pervasiveness of overfishing, wild fisheries in some regions of the world are improving
Using a combination of approaches, some regions around the world have largely prevented fishery collapses, providing a clear roadmap forward. Strong, science-based catch limits combined with better management and economic incentives can prevent overfishing and restore marine ecosystems. For example, overall landings in Alaska and New Zealand have increased substantially over the last 50 years and neither region is considered overfished (Worm et al., 2009).

People are increasingly carrying Seafood Watch consumer pocket guides and are willing to pay more for sustainable seafood
Sustainable seafood pocket guides, produced by the Monterey Bay Aquarium's Seafood Watch programme, help consumers make informed decisions about their seafood choices. Pocket guides provide information to evaluate the sustainability of fisheries worldwide. Since 1999, the Monterey Bay Aquarium has distributed nearly 32 million Seafood Watch pocket guides along with resource materials for chefs and businesses. Recent surveys have revealed that Americans believe their seafood purchasing decisions impact ocean health, and they are willing to buy and pay more for seafood that is healthy and sustainable (The Ocean Project, 2009; Edge Research, 2006).

Fishery eco-certification is on the rise
The Marine Stewardship Council (MSC) has developed standards for sustainably managed and traceable wild-caught seafood. The number of fisheries that meet MSC eco-label standards has steadily increased. Today, 51 fisheries are MSC-certified, representing more than 3.8 million tons of seafood with an estimated retail value of nearly $1 billion. Additionally, 112 fisheries are engaged in the assessment process to become MSC-certified (MSC personal communication).

Environmental groups are teaming up to help businesses find solutions
A collaboration of more than a dozen leading US and Canadian organisations, called the Conservation Alliance for Seafood Solutions, has developed the Common Vision for Environmentally Sustainable Seafood to chart a realistic path that companies can take to develop a comprehensive, corporate policy on sustainable seafood. Since its launch in 2008, more than 20 companies have signed on in support, including some of the largest retailers in the United States.
---
*
"Americans believe their seafood purchasing decisions impact ocean health, and they are willing to buy and pay more for seafood that is healthy and sustainable"
---
Progressive companies are making responsible seafood purchasing the norm rather than the exception
Sustainably caught and farmed seafood has moved from a niche market to a priority of mainstream retailers, restaurants and food service operators. Restaurants, retailers and wholesalers anticipate significant growth in the percentage of their seafood coming from sustainable sources within five years (Seafood Choices Alliance, 2007). Two of the largest food service companies in the US, Compass Group North America and ARAMARK, have made sustainable seafood commitments through agreements with the Monterey Bay Aquarium. Several leading supermarket retailers in the US now have sustainable seafood sourcing policies in place; others will likely follow suit.

Sustainable seafood issues are increasingly making news
There has been substantially greater media coverage of the issue in recent years. This is true in both mainstream and trade publications. As a proxy for this expanded coverage, a simple survey of the frequency with which the phrase 'sustainable seafood' has appeared in the print media shows more than an eight-fold increase between 2002 and 2008.
Further Reading
Further Reading
October 2009