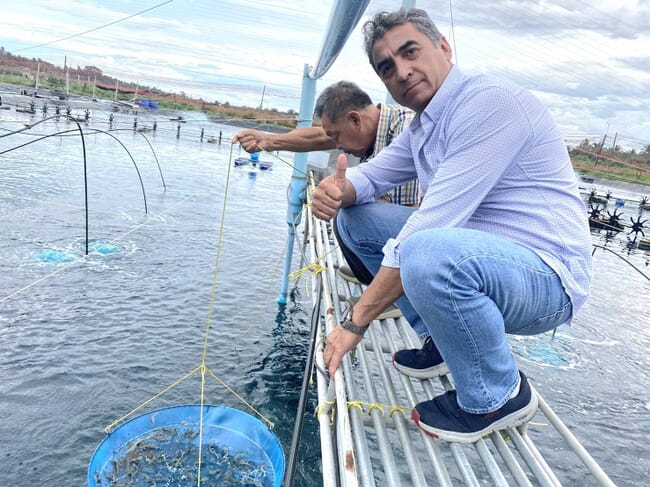 Can you tell me a bit about your background?
I've worked internationally since 1997, starting up a range of agro-businesses which now have millions in revenue. I'm from Ecuador, where I started a genetics company in 2005, called Topigs-Norsvin, to improve the performance of the pig industry. In 2015 I moved to Ethiopia to start a flower company focused on quality and sustainability – bringing water, work and economic stability to villages in East Africa. Blue Pond* aims to create economic prosperity through agro-business in South East Asian countries.
What drew you to the aquaculture sector?
Aquaculture presents an opportunity to meet the world's rising food demands sustainably. Developing an organic seaweed-based disease treatment can increase shrimp production and yield, whilst also helping shrimp farmers fight and control primary diseases. This incredible potential for sustainable solutions is what makes aquaculture so uniquely alluring.
What does your current role involve?
As the founder and CEO I constantly visit shrimp farms throughout South East Asia to directly assess our treatment as well as treatment opportunities from issues faced by farmers, feed companies and aquaculture conglomerates. This keeps me in contact with my clients directly and through my local team in Thailand and Vietnam.
Can you give an overview of your key aquaculture product?

Our treatment, AquaFix, is based on extracts of three different seaweed species grown in Southern Thailand [the precise details remain a trade secret] which allow farmers to fight and control primary diseases plaguing the shrimp industry: EHP, WFD and EMS. Having completed the pilot and trial phases, our product reliably reduces mortality, reduces FCR by at least 20 percent, and improves overall shrimp quality and health to reduce production costs while increasing profits.
We currently have permanent sales teams in Thailand and Vietnam, with our own factory in Thailand. Client feedback has been consistently good, with many farmers being able to restore lost and unprofitable farms because of our solution.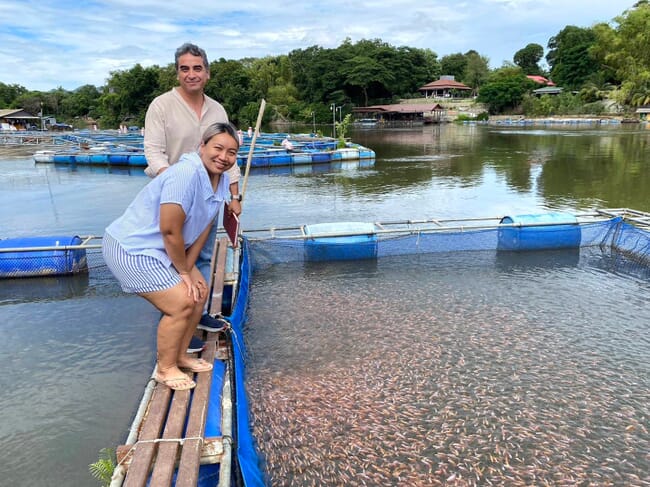 How do farmers apply the product?
Our treatment is a liquid product that the farmer has to apply in the feed every day. It is very easy to do, as the most farmers are used to incorporating additives in their feed. The treatment should be applied in the feed for the first six weeks of production, this guarantees that the crop will be protected for the entire cycle.
How do these compare to traditional methods of reducing the impact of shrimp diseases?
Traditionally, products targeting shrimp disease were preventive measures unable to actually control the disease in already infected shrimp. These faced an issue as the majority of post-larval shrimp and shrimp ponds are already infected with EHP in South East Asia. Our product not only improves shrimp size and quality in general, but also controls and fights EHP in infected animals, ensuring quality shrimp regardless of the presence of EHP. Moreover, our product is organic, meaning it doesn't include polluting chemicals that are present in most traditional products for disease control.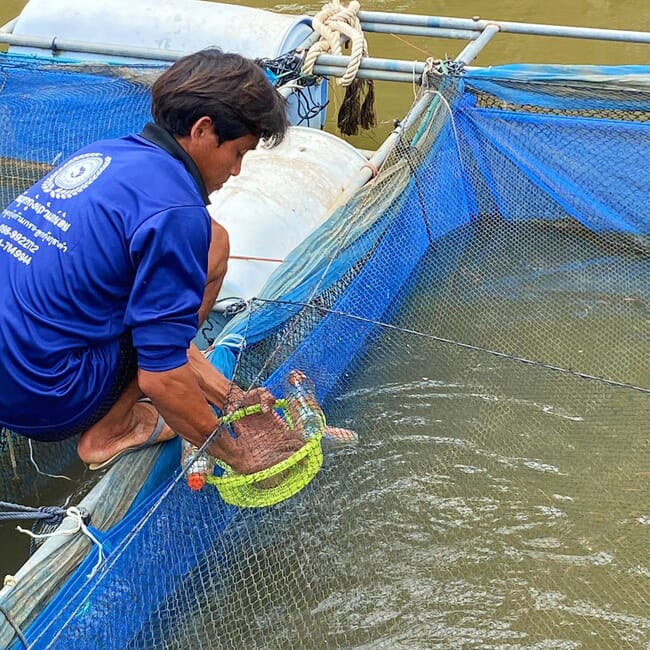 What are the main milestones achieved to date?
The first milestone was developing a treatment for EHP that is actually capable of fighting the disease. This involved first scientific discovery and subsequent innovation to make it commercially viable.
The next hurdle was establishing a factory in Thailand to reduce the cost of our treatment and to increase production to meet demand. We are currently doing B2C sales, but have begun trials with B2B sales, which will soon become another significant milestone. Finally, our participation in Hatch's accelerator 5.0 has been another incredible achievement and growth opportunity.
What challenges still remain?
The main challenge remaining is scaling up production to reduce costs, and make the treatment available to more shrimp farmers. This challenge is also intertwined with our plans to expand our reach to more farms around South East Asia.
Do you think AquaFix could be applied to species other than shrimp?
Of course. Blue Pond is currently testing AquaFix with farmed fish, including salmon and tilapia. Moreover, we are developing more seaweed-based organic treatments for most primary diseases.
Why did you apply for the Hatch accelerator programme and what have you learned from it so far?

To fulfil Blue Pond's mission "to advance sustainable aquaculture and nourish the world". Working in close collaboration with Hatch's team and nine other aquaculture companies, the accelerator has taught me how to raise funding and investments to accelerate our growth. With Hatch being the only fully aquaculture focused accelerator, they granted invaluable access to industry contacts. This has helped Blue Pond expand from just a company to an industry leader in sustainable disease treatment.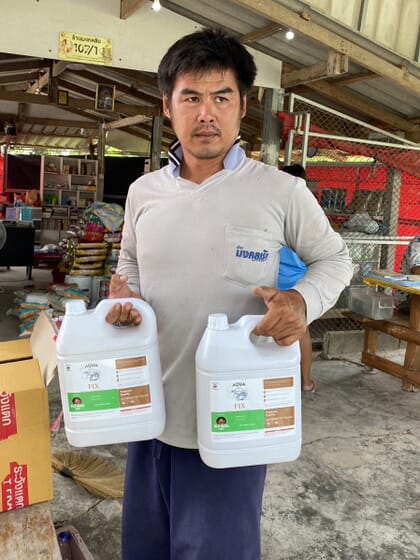 How do you see the company and its products developing in the coming years?
I envision Blue Pond Group and our seaweed treatment playing a pivotal role in revolutionising the aquaculture industry and promoting sustainable food production worldwide. Our journey has been marked by significant milestones, from the development of AquaFix to securing investors and participating in the Hatch accelerator. These achievements have positioned us as a leader in sustainable disease treatment within the aquaculture sector.
With testing already taking place for a treatment of white spot syndrome in shrimp and on the application of our treatment to other aquatic species, I hope to diversify the treatment range of our solution. I also hope to expand the market share of our company by growing in size. Currently, we have permanent sales teams in Thailand and Vietnam, but hope to grow out to all of South East Asia in the coming years. This would also allow us to focus on transitioning to more B2B partnerships, in collaboration with feed companies and aquaculture conglomerates. Ultimately, Blue Pond aims to be an advocate for sustainable aquaculture practices, in our mission "to advance sustainable aquaculture and nourish the world".
*Blue Pond Group is part of Hatch's investment portfolio, but The Fish Site retains editorial independence.