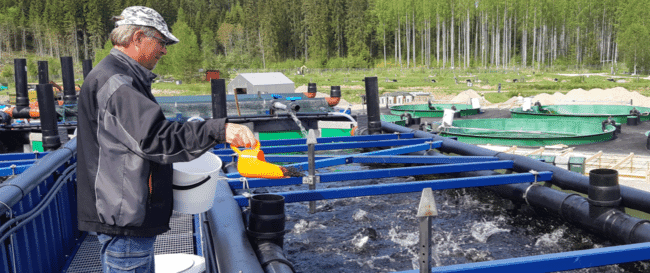 The unit includes both a fish tank and the necessary water recycling technology. The container-based modular solution enables scalable plug-and-play farm solutions.
LUKE has applied for a patent for the technology, while Business Finland is providing €378,000 in funding to help to commercialise the project. The core idea of concept is modularity and the utilisation of multifunctional technologies in water treatment.
"The modular concept brings savings in design costs, component manufacturing and procurement costs, and farm set-up costs," said Tapio Kiuru, the project leader, in a press release.
A prototype is now being tested in Laukaa to ensure the economic feasibility of the concept and create the conditions for its commercialisation.
"The project will also bring together the necessary collaboration models and networks and will result in a business model and commercialisation plans that will lay the groundwork for new business, whether in a start-up or existing company," Kiuru explains.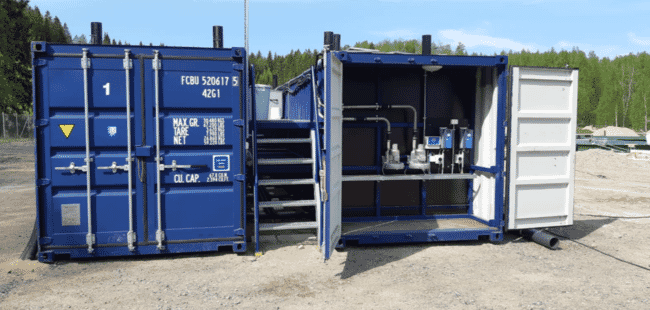 The system can be rapidly assembled, production can be phased and it can be flexibly scaled. The modular fish farm concept and the possibility of a simpler partial re-use of water instead of full recirculation also makes the implementation of new technology easier, according to the researchers. The modules can be easily transported to any location, whether indoors or outdoors, due to the shape of the units and above the ground piping system. Simple and reliable partial recirculation process reduces risks of farming and investment costs. Ultra-low pumping head makes the process very energy efficient.
"Luke's method can meet several of the current key challenges in recirculating aquaculture, such as high investment costs and, for example, high feed and labour costs," adds Kiuru.
Despite the high and growing interest in recirculation aquaculture systems (RAS), the developers note, biological problems and technical risks have not been solved completely in RAS. Also, high investment costs are still a challenge and the grow-out recirculation farms have not yet proven their profitability.
Luke's modular shipping container concept uses a "mixed-cell raceway principle", while "novel water circulation and treatment technology supports high feeding levels and fish densities," according to Luke. Each container tank is a complete plug-and-play fish farming unit; only electricity and water connections are needed on-site. No underground piping is needed and all water treatment processes are done directly in the fish tank, which allow effective process and space utilization. Modular units can be used as partial recycling units or as full RAS units depending on client's needs.

"Modular Shipping Container Concept for Landbased Fish Farming by Natural Resources institute Finland".