In May 2018, less than five years after she first encountered a live salmon and in front of 600 aquaculture luminaries, Sarah Last collected the award for the UK Finfish Farm Manager of the Year. But her path to becoming one of the most admired fish-farm managers in Scotland was by no means conventional.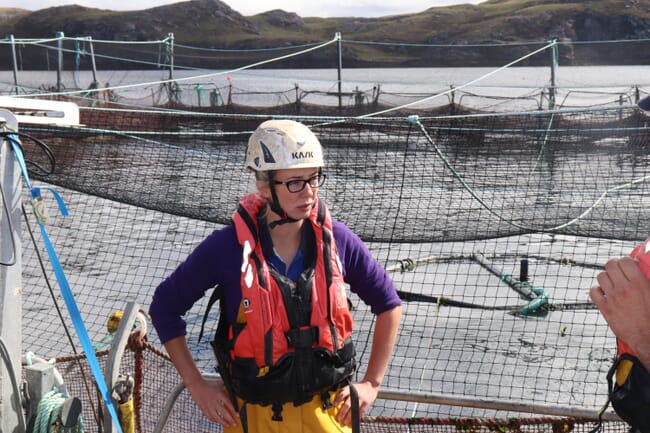 "I'd been working in construction, pouring concrete floors, for six years but returned home to Achiltibuie to recover after a pretty major kidney operation and decided I didn't want to travel so much for work. I knew some of the guys who worked at the Summer Isles farms and thought it would be brilliant to do something completely different," she explains.
While most of Scotland's salmon farms are in spectacular locations, the Summer Isles, which is operated by Scottish Sea Farms, are particularly well known for their scenery – the currently uninhabited archipelago lies scattered along the southern coast of Coigach, with a backdrop provided by Stac Polly and the other the bizarre inselbergs of Assynt.
"The quality of life here is much better than it was in my old job and it's great to be able to work at sea. I was mesmerised by the chance to drive boats and within the first year I had my day skipper's ticket, having not really been at sea before, which was brilliant," Sarah reflects.

Despite the spectacular setting, Sarah was well aware that the farm was seen as somewhat of a challenge back in 2013. Producing 1,800 tonnes of salmon per cycle from its 18 cages – a dozen 80m circles moored in two groups at Tanera and six square steel cages at distant Fada – it's hugely testing from a logistical perspective. And it's not helped by the fact that it's two and a half hours from the nearest Scottish Sea Farms location, down at Loch Kishorn.
"There are 18 units to net wash, 18 to gill score, 18 to lice count every single week – and you've got to put feed out everywhere. You're not just looking after salmon, you're looking after cleaner fish too – both wrasse and lumpsuckers – and there are fuel runs to top up the two generators too, so it needs plenty of planning," she explains.
The farm was notorious for having a more labour-intensive feeding set up than most.
"When I first started on this farm nobody wanted to come to the Summer Isles because of it," Sarah reflects. "You have to physically deposit feed from the barge to every single hopper on the cages. There's triple the amount of handling of each bag of feed and we need to feed all 18 cages. At Tanera, the hoppers have a 4-tonne capacity and need to be filled twice a week; at Fada they need to be filled every day."
Despite this she thinks the system, which is ideal for feeding little and often, and is also able to recycle uneaten pellets, has its advantages. "It's hard work, but I do think it's a really good system: it's such a natural way of feeding – and the results show how good it can be for fish performance," she says.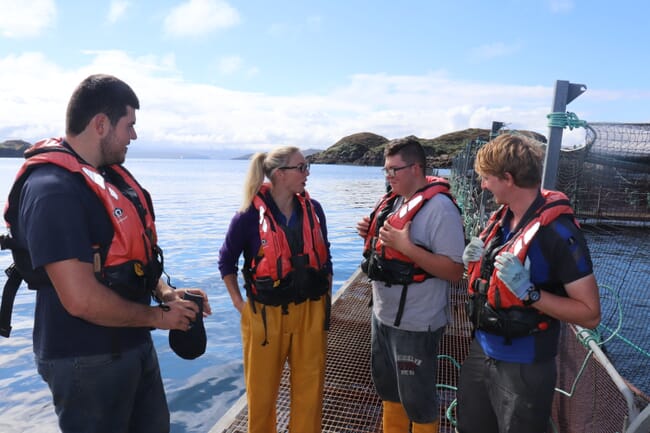 Transforming the fortunes of the Summer Isles has required not only getting to grips with the feeding regime, but also taking a zealous approach to long-term lice- and plankton-related issues. Sarah's philosophy has been to focus on the people around her, combining attention to detail with forging a team that works well together.
"Managing the people can be harder than managing the fish and the first thing was to try to change the dynamic of the team. Needing to have some honest conversations is never easy, but if you don't do it then you're letting the rest of the team down. Scott, the net-washing specialist, and myself are the only two left from the original team that was here when we arrived in September 2013. But I'm delighted with the team that we've got at the moment – we get on so well with each other both in and out of work and there's now a real sense of lucidity to how we operate," she says.
Sarah is also a big believer in the company's policy to give people particular areas of responsibility – with each of the 10-strong staff being given a focus on feed, boat or health-related activities.
"We've got the biological team led by Tom, who's a Jedi when it comes to plankton, and looks after the cleaner fish, while Seamus is incredible with the feed – we've got the right people in the right positions. If you put people in the positions where their skillset is, they naturally flourish and are accountable for their specific roles," she says.
In her first cycle as manager Sarah achieved a 95 percent fish survival rate at both the Tanera sites, taking them from bottom to top of their class; ensuring lice levels were within the SSPO's code of good practice threshold for 95 percent of the cycle; and recording the site's highest fish growth rate and lowest feed conversion rate on record – all of which made her a strong contender for the UK's Finfish Farm Manager of the Year category, which she went on to win in May.
"To be nominated was brilliant, to be shortlisted was 'Wow!' and when they announced my name I was stunned for quite a while. Everyone was congratulating me and I was trying not to cry – it's not been an easy journey and it felt like huge recognition, which was why I was so emotional," she says.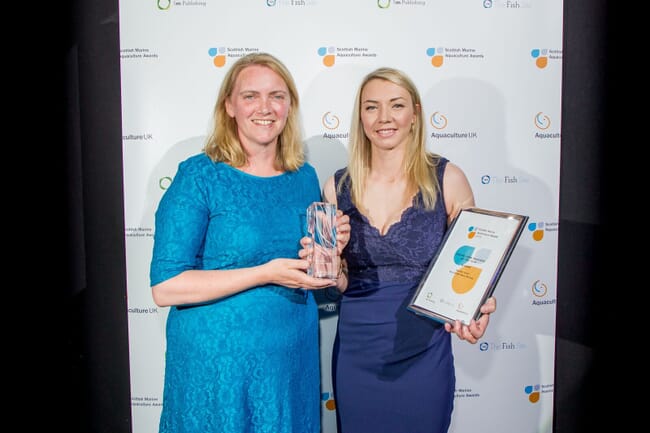 Sarah is currently midway through the company's harvest plan for her second cycle and, despite facing the occasional biological challenge, the farm may even be on course to supersede the previous record-breaking performance.
"I hate to say it, because I don't want to jinx it, but it's been a really, really successful crop so far – mortalities have been minimal and it's looking even better than last year," she says.
As well as the team ethos, Sarah ascribes the impressive performance to the meticulous net-washing regime and the introduction of more cleaner fish.
"After we got the lumpfish in at Tanera B and started feeding them regularly, our sea lice levels dropped to virtually nothing – it shows that they do work. If you look after your cleaner fish and we ensure we wash all 18 nets every week they do the rest of the work for you," she explains.
"We've been good about controlling AGD too. We've done a couple of treatments which have been hugely successful and gill health has been pretty amazing, other than a few recent problems with PGD due to the plankton in the water," she adds.
While Sarah might have to contend with a more time-intensive feeding system, she has been impressed by the level of investment elsewhere in the farm.
"Being such an isolated farm means that we often get the best new equipment – we have a great new oxygen monitoring system, made by BB Aqua, which does 24-hour monitoring of the oxygen and temperature levels. It plots the levels so you can see clearly what's been happening during the night too. We had no way of monitoring that before and it helps us to plan our feeding," she explains.
The gender agenda
Although she's only the company's second female farm manager, Sarah's not found life too challenging from a gender perspective – thanks in part to her previous role.
"My whole career I've always been in a fairly male environment and it's never really been a problem for me, but I suppose I've had to prove myself with a different group of men. Everyone does in a new job – be they a man or a woman – but luckily I found I could pick things up quite quickly," she says.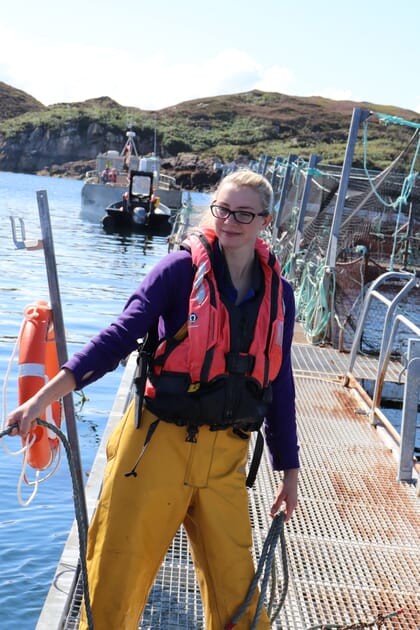 It is, according to Sarah, mainly a question of temperament, with most people – regardless of gender – able to succeed if they are determined enough.
"[Construction was] obviously a pretty physical job, so it wasn't too difficult to convert, although this job probably can be more physical overall, and there are some very intense spells. When it comes to doing harvesting or treatments it's a pretty long, gruesome shift and you can feel pretty broken by the end of it, but if you don't have that physical strength to begin with you just have to build it. Once it's there it's easy to keep given the nature of the work," she reflects.
Community ties
Having lived in the area since the age of 10, Sarah appreciates local politics and the need to retain close ties with a community in which all the site staff live and work.
"One of my values is to always hire locally wherever possible – we're a small community with big values and we can offer the chance for young people to build a career without leaving. But to do that, it's important that they realise aquaculture's changed so much – even in the five years I've been involved and it's really a sustainable way of feeding the planet. Not enough people realise our carbon footprint is so tiny compared to most types of [terrestrial] farming or appreciate all the different regulations, such as the RSPCA Assured standards, involved in salmon farming.
"Where we come up against challenges we get a hard time but other sorts of farming seem to be more acceptable even when they are hit by epidemics like the foot and mouth outbreak," she observes.
As a result she's keen to reverse some of the misconceptions that people have about the sector.
"Information is key to change the way that they see it and it would be nice to have an open day on the farm. We had one at the village hall recently, to talk a little bit about what we do and our potential plans for the future. We were listening to what the community thought before we did anything. We got a lot of great feedback and people were genuinely interested.
"We could maybe bring out some kids from school – take them onto the net-washing boat for example and show them the cleaner fish so they can see the efforts we go through to control lice and take care of the fish," Sarah adds.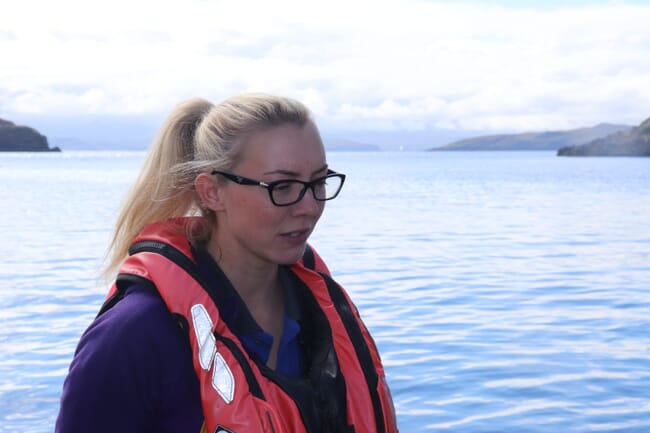 Looking ahead
As well as showcasing her own farm, Sarah has ambitions to broaden her own horizons, having only had a handful of opportunities to share her experiences with those working in other locations.
"I learnt a lot when I spent five weeks at Kishorn in the fallow period before the previous crop – you do things a certain way then you go to another farm and see they do things a little differently, which might work on your own farm. But it's difficult for me to leave this farm because it's so demanding and we only had six and a half weeks to get the site ready before this current crop," she explains.
Her trips to management meetings have, however, enabled her to appreciate the context of her day-to-day work.
"The business side to what we do isn't really promoted enough at farm level, but that's starting to change and I'd like to take one member of staff to the monthly management meetings so they can see what we're growing the fish for – it's important to see the bigger picture," Sarah reflects.
Ever the perfectionist, however, her top priority is to improve the performance at the Summer Isles even more.
"Progression is a big thing for me, but this farm still challenges me enough and I still think I can improve things here. It's not till I can work it inside out that I'll start thinking about the next step," she says.
In the meantime, the fortunes of the Summer Isles farms are in good hands and – much like Tanera Mòr itself, whose crumbling cottages are currently undergoing a major upgrade – pride in the farm has been restored.