Marine Harvest Chile underwent major changes in 2008 as a consequence of the continuing presence of the disease known as Infectious Salmon Anaemia (ISA), caused by the ISA virus.
Social Impact
The disease led to a substantial restructuring of the business in Chile. Six freshwater sites, 21 sea sites and two processing plants, Teupa (primary) and Chinquihue (secondary), were closed. That is two of the five plants in operation at the beginning of the year. As a result, 1,866 employees were made redundant. Where possible, employees were offered alternative employment at other Marine Harvest locations.

Redundant employees were given one month's severance pay and 30 days notice. The legal requirement is either the pay or the notice. Programmes were set up to help redundant employees find new employment and a list has been kept of those employees that wish to return to Marine Harvest if the plants are brought back into action. Marine Harvest also paid more than the legal minimum of one month salary for each year of seniority by waving the 11-year limit and the US $3,148 cap on this amount.

Marine Harvest instigated several redeployment initiatives to help redundant employees find other employment. These began with a social characterisation study in which people could identify their interests, abilities, ambitions and their needs. It then led to three possible actions.
People were relocated to other companies in the region. The high level of competence of Marine Harvest employees is recognised and over 25 companies offered a total of 714 job positions.

Alliances were formed with government institutions to provide training in new skills.

More than 70 ex-employees were interested in forming their own small business and a programme called The Beginning of an Entrepreneur was created to help them, including training in business planning and finance. As a result, there are now 14 companies employing 35 ex-employees that are providing services to Marine Harvest Chile.
Additionally, Marine Harvest has moved the smokery from Santiago to Puerto Montt in Region X, making Puerto Montt the centre for all its activities in Chile. The relocation has created almost 300 additional workplaces in Puerto Montt.
The Development of ISA in Chile in 2008
ISA was first declared in salmon farming in Chile in 2007, with a few notified outbreaks in July and August. These were in Region X, the main salmon farming region of Chile. After a brief respite, further outbreaks were declared in the final months of the year. Outbreaks continued in 2008 at a relatively low level until mid year. At that time, Marine Harvest Chile had four farms on the official ISA outbreak list, as published by Sernapesca, Chile's national fishing service. In addition, there were six Marine Harvest farms on the official suspect list. In third quarter (Q3) 2008, there were 32 confirmed outbreaks in the industry and by the end of the fourth quarter (Q4), there were confirmed another 44 cases for that quarter. In Q3, the disease also appeared in Region XI, to the south of Region X. Region XI was seen as a potentially ISAV-free zone and the Marine Harvest strategy to expand in Region XI was partly halted as a consequence of the disease spread.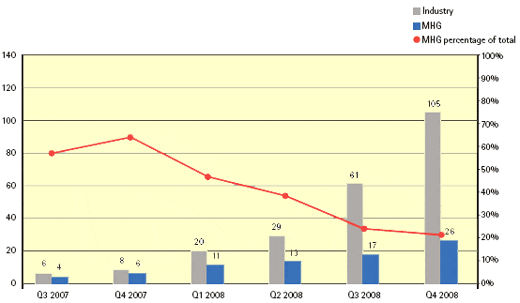 Accumulated number of ISA declarations in Chile from mid-2007 to mid-2009.
The chart shows the accumulated number of outbreaks in each quarter; combining existing outbreaks with those that occurred during the quarter.
Source: Sernapesca, Marine Harvest
At the end of the year the total number of sites in Chile officially confirmed with ISA was 105 and 26 (25 per cent) belonged to Marine Harvest. There were 44 suspect sites, five of which were Marine Harvest (11 per cent).

As a consequence of the legal measures applied, the disease led to early harvesting, reduced production and a downscaling of activities by Marine Harvest. These measures included the closure of the farm sites and processing plants, as described above, to bring capacity in line with the reduced production.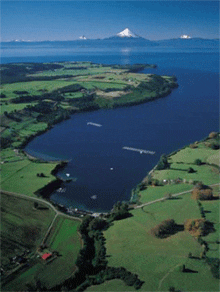 Marine Harvest believes that the elimination of ISA as a threat to production in Chile can only be finally achieved through full cooperation between all salmon producers, together with the authorities and relevant legislation. Therefore, Marine Harvest openly shares its knowledge and experience with all parties. To that end, Marine Harvest organised and held several open seminars in 2008 with the rest of the industry to present its scientific findings, experiences and practices to mitigate ISA in other territories.

In 2008, the authorities in Chile developed new laws and regulations to bring the outbreak under control. These include a proposal for introduction of zones in which all production is coordinated to reduce the risk of infection between generations of fish and between zones, synchronised fallowing and stocking, along with continued surveillance of all sites. Additionally, and throughout 2008, Marine Harvest continued to apply the strict vigilance, monitoring, contagion and risk management tools at its disposal. Marine Harvest's cautious approach, together with the new controls and regulations, should eventually lead to a profitable future for salmon production in Chile.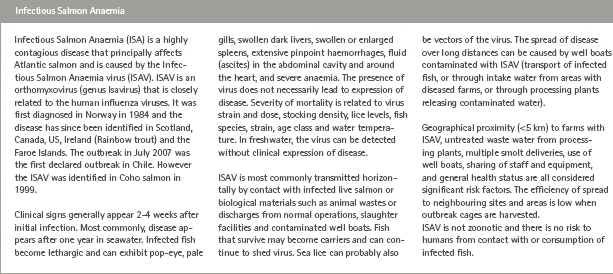 Further Reading
| | | |
| --- | --- | --- |
| | - | You can view the full Sustainability Report 2008 from Marine Harvest by clicking here. |
September 2009