The drive to develop more sustainable aquafeeds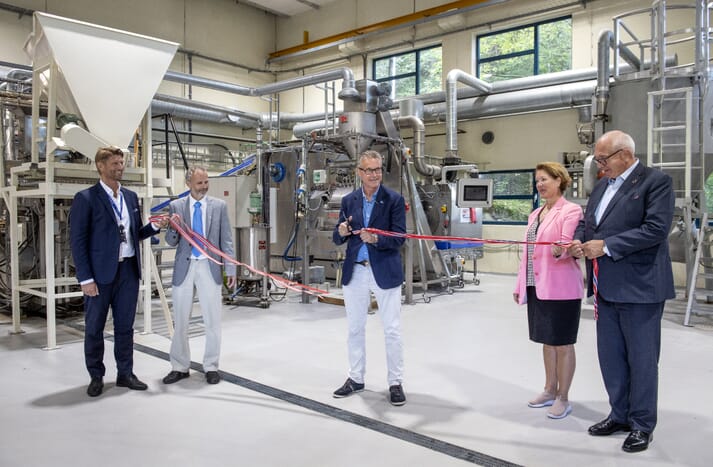 The Aquafeed Technology Centre (ATC), where researchers and the aquaculture industry will work together towards producing more environmentally friendly fish feed, has been officially opened by Norway's Minister of Fisheries
More than 70 percent of the greenhouse gas emissions produced by farmed salmon comes from fish feed. Every year, the Norwegian salmon industry uses 1.6 million tonnes of feed and 90 percent of the raw materials are imported. The industry is calling for more environmentally friendly feed, and this will be one of the main tasks for the research centre in Bergen.
In 2015, Nofima, the University of Bergen (UiB) and Norce received funding from the Research Council of Norway regarding an application for infrastructure funding. The infrastructure is now pretty much complete and a total of NOK 33.9 million (€3.2 million) has been spent. NOK 32.8 million has been granted by the Research Council of Norway.
"Today, researchers and the industry have received the instruments they need to develop the feed of the future," said the minister Odd Emil Ingebrigtsen before cutting the ribbon.
The minister made it clear that the work conducted at the centre has been based on open research. This means that all industry actors will have access to the results and therefore the pace of innovation can be increased.
Open international research
"This world-class centre is the result of targeted investment over many years. The centre will be made accessible to researchers from all countries. Open research forms its foundation. Access to this type of state-of-the-art research infrastructure also makes Norwegian research communities attractive partners for leading international research communities," Ingebrigtsen said in his opening speech.
"The aquaculture industry is completely dependent on access to more feed containing sustainable raw materials," Ingebrigtsen said. "There are many initiatives, and several raw materials are being discussed that originate from, for example, krill, bacteria, mesopelagic species, tunicates, microalgae, kelp species, grasshoppers and soldier fly larvae."
Mari Moren, research director at Nofima, is pleased with all the initiatives, but realistic about the challenges that still need to be overcome.
"It is not as simple as just removing soy and then adding a new raw material. Firstly, research must be conducted on the suitability of raw materials in the feed pellet, because feed production is rather complex. We have to start in the right place. Sustainable raw materials must first be processed in the correct manner before they can be used in salmon feed. Once this is in place, suppliers can start large-scale production of these," she said.
The main section of the ATC is located on Nofima's premises in Bergen and contains state-of-the-art equipment.
"This centre provides us with a complete infrastructure that benefits both research and trade and industry," said Øyvind Fylling-Jensen, CEO of Nofima.