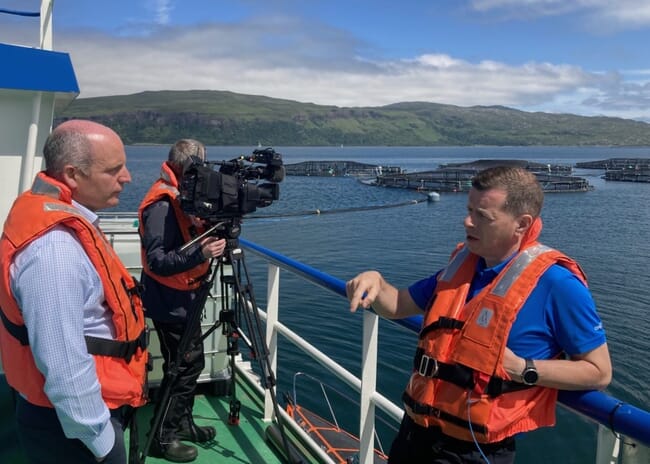 Gallagher, who is currently celebrating 25 years with the company, spoke at length about how the benefits of the salmon farming sector were underappreciated in an interview with company magazine, The Source.

"As a company and as a sector, we are clearer than ever about our purpose: producing high quality, nutritious food in a low carbon way. In fact, with the global population continuing to grow and climate change showing no signs of slowing, I'd go one step further and say it's our responsibility. Factor in job creation, supply-chain spend, support for local communities and export revenue, and however you look at it, salmon farming is good news for Scotland," he observed.
However, he added, that there are several factors holding the sector back.
"One, we lack regulatory understanding of what we do, why and with what impact. By that I mean proper, robust, science-based understanding," he noted.
"Two, stemming from this lack of understanding, we lack a proportionate, balanced regulatory regime," he added.
Gallagher pointed to other countries which have been quick to recognise the benefits of the sector and are now reaping the rewards.
"I'm not referring simply to Norway and Chile, which have long been the leaders in terms of harvest volumes, but also to the likes of the Faroes and Iceland which are amongst the fastest growing globally," he explained.
"In each of these countries, salmon farming faces the same challenges as in Scotland in terms of the complexity of the species and the changing environment, yet it is recognised as a sustainable form of food production and, as such, is supported at a political and regulatory level," he added.
Such political support is, according to Gallagher, not present in Scotland, despite positive government rhetoric, and he noted that Scotland's share of global salmon production has declined since he joined the sector.
"In the interim, demand for farmed salmon has grown dramatically. So too have global volumes, with 2.9 million tonnes now produced annually – that's more than double the tonnage since I first started. Yet Scotland's market share has fallen, dropping from 10 per cent to six per cent over the last decade alone," he pointed out.

And he is keen to reverse this trend.
"Give us the right regulatory framework and we will step up and deliver. We have a proven track record of finding solutions to challenges: new vaccines, novel feed ingredients, high-tech environmental monitoring, multi-million-pound recirculating aquaculture technology, to name a few. Advances we couldn't have imagined when I joined the sector 25 years ago.
"Just as importantly, we have funded these advances ourselves, with every pound of profit made by Scottish Sea Farms having been reinvested in the company, and next to no funding required from the public purse."
"Since day one, the Scottish Sea Farms philosophy has been to do the best job possible, whilst always looking for new ways to do better. We'll continue to do that, but to really gather pace and fulfil our potential we need a regulatory framework that is open to us trialling new approaches and solutions. A framework that is both evidence-based, to help build trust and confidence, and enables innovation and responsible growth."
In order to achieve this, he argued that the right people are needed to educate others on the benefits of salmon farming.
"We are more transparent in our reporting than any other farming sector, yet we are the least well understood. We also have one of the lowest carbon footprints of all the protein-producing sectors, yet it's the least well recognised. To reverse this, we need to invest the time in inviting more people into our business – whether that's to a farm, facility, or round-table discussion – so that they can see for themselves the care, consideration and commitment being put in," he explained.
"Keeping lines of communication open is the single most effective way to bring about the changes we so desperately need: better understanding of our sector, greater recognition of our low carbon credentials, and more balanced, proportionate regulation and policy making. Achieve those and the benefits both to Scotland's blue economy and the green agenda will be huge," he concluded.