Due to the difficulty of closing their breeding cycle in captivity juvenile mangrove crabs are widely caught in the archipelago for ongrowing in ponds and tanks. However, distinguishing the three main species is notoriously difficult and many farmers end up growing a mixture of the species in the same ponds – a factor that greatly undermines the efficiency of the sector.
Background
"Mangrove crabs are one of the mainstays of the Philippines' seafood sector, generating about 5.2 billion pesos a year," explains Dr Chona Camille Vince Cruz Abeledo, of De La Salle University (DLSU).
"Of the 15 million or so people in the archipelago's fisheries sector 10-15 percent grow mangrove crabs as part of their operations," she adds.
"The current crab stocks for ongrowing are limited by the low number of existing hatcheries for these species. Fishermen who don't have access to these hatcheries, or who don't have the resources to purchase from them, capture stocks from wild populations in their areas," she explains.



Three mangrove crab species (Scylla serrata, Scylla tranquebarica and Scylla olivacea) are widely distributed in the Philippines, while a fourth (S. paramamosain) – thought to have become established following illegal imports of the species from China – has also been found in some areas. All four look nearly identical as juveniles, prompting farmers to keep everything they catch for ongrowing without separating them by species, despite the fact that S.Serrata – the giant mangrove crab – is much the most desirable, due to its rapid growth rate and overall size attained, reaching up to 2 kg in three months.

"Since fishers are aware that if they don't get the target species to maximize grow out, they often over stock their ponds or over harvest to compensate for projected loss – this is a losing scenario both for the fishers and the environment as they waste their resources in the process, while also overburdening the environment," explains Dr Abeledo.
Farming methods
"The juvenile crabs are usually caught for ongrowing when their carapaces are about 2-4 cm across. They are all grown together in a single system which leads to high mortality rates – the crabs are cannibalistic, so will eat each other, as soon as they moult, in particular in a mulit-species growout system where the crabs can be an increasingly wide range of sizes as they grow. So, if you start with 1,000 crabs of mixed species, only about 200 are likely to be left by the time of harvest," explains Karen Perez, research assistant at DLSU.
"On the other hand, if the farmers focus on growing a single species – ideally S. serrata – they can maximize income from limited resources as these can grow bigger and faster compared to the other species, with the same amount of feeds and space," she adds.
"There is also a growing market for soft shell crabs, which S. olivacea seem to be better suited for, so there's also demand for growing this species on its own too," continues Perez.
"With a means to identify species at the early stages of grow out, they can opt to adjust their production scheme that best suits the species they have dependent on what's available, the season, and the demand from the market."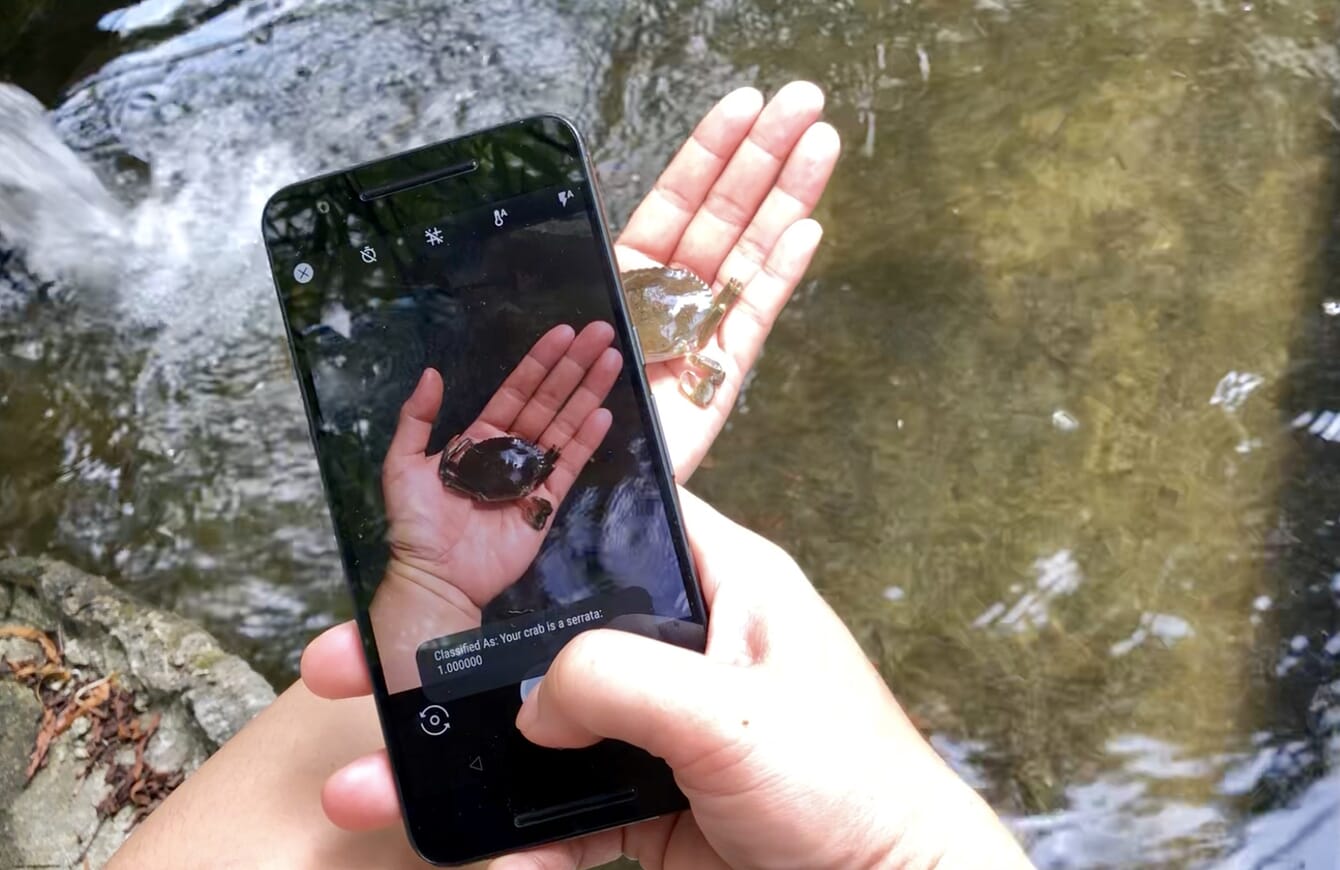 Developing technology to improve crab production
In order to improve survival rates, growth rates and the value of the farmers' final product, the researchers – led by Dr Abeledo – decided to use novel techniques to distinguish the different species, so that the farmers could focus on growing S. Serrata.
"We wanted to help the farmers to identify the right species. We used DNA barcoding and checked if these barcodes matched with physical characteristics on the crabs. We found that the biggest differences are in the shape of the frontal lobes on the carapace," says Dr Abeledo.
Once these physical markers had been identified, Dr Abeledo handed over to Courtney Anne Ngo, an assistant professor at DLSU, who was able to start developing an app using a convolutional neural network, that becomes more accurate as it was fed more validated images of crablets from each species – essentially a type of machine-learning algorithm that recognises the shape of the carapace of the crab. Called Crabifier, it is now available for free on android, it can differentiate between the species in real time, albeit on an individual basis.
"The fishermen want the system to be automated – ideally they can feed crabs into a machine, which can then sort them according to their species. We're starting to develop that, but the project keeps getting delayed, due to restrictions brought on by the Covid-19 pandemic, so it's now scheduled to take place in 2022-2023," says Dr Abeledo.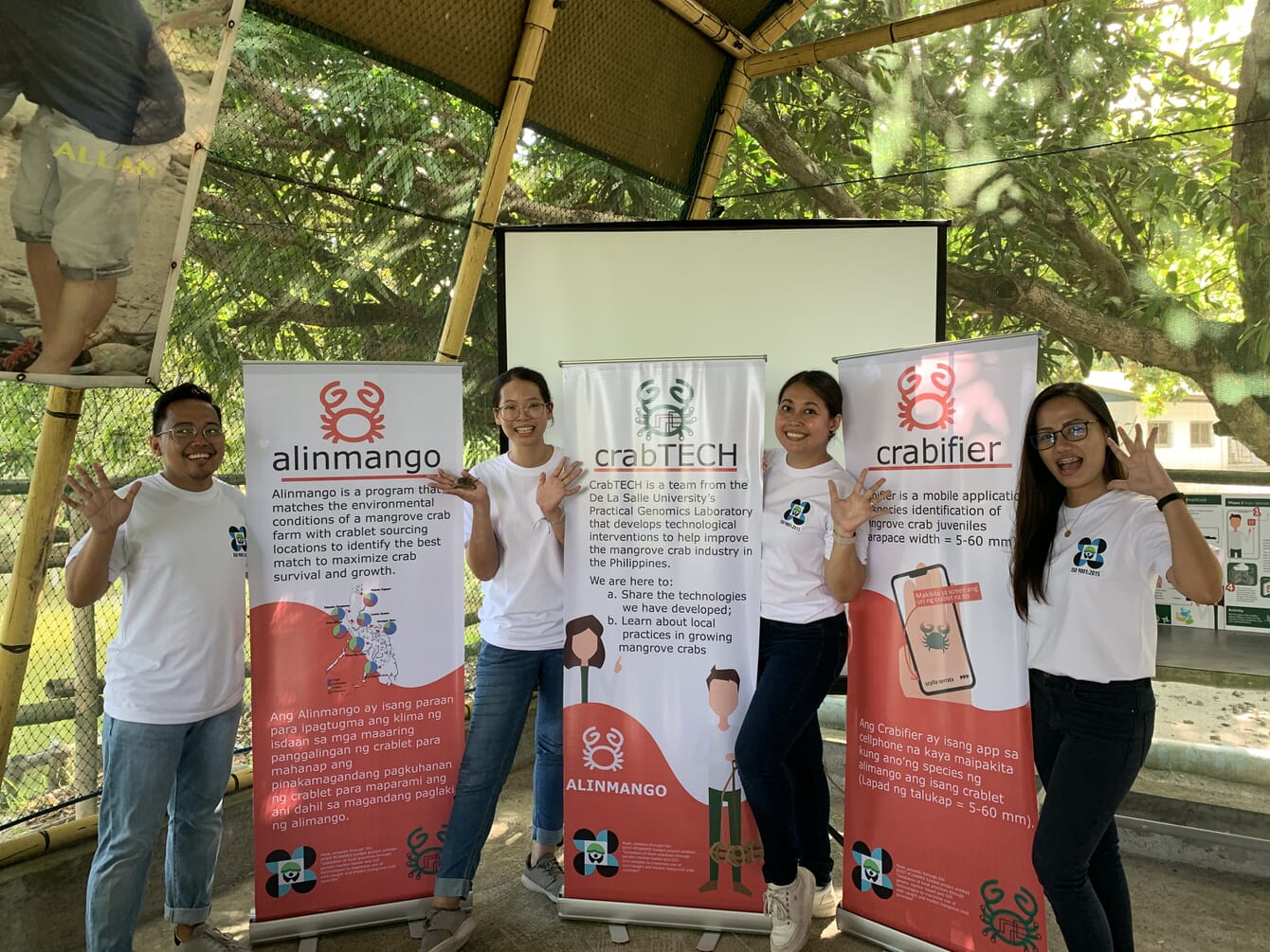 Successful trials
The app has been successfully trialled by farmers in Luzon, but the team are looking forward to trialling it in other areas, once restrictions have eased. They also want to compare it with unique, traditional regional methods for differentiating the mangrove crab species.
"The app uses the frontal lobe shape to differentiate the crabs, but we're also going to see if there are signs related to the colour and texture of the carapace too," explains Hilarie Orario, another of the DLSU researchers.
Reducing mortalities
The team is also in the process of developing a second app, called Alinmango (which means sea witch) which is designed to ensure that farmers source crabs from areas of the coast that have similar environmental parameters to their ponds, thereby reducing mortalities at the time of transfer.
"We've been creating maps, based on existing databases of sea surface temperatures around the Philippines, highlighting the temperature ranges from 1981 to the present day. We're also hoping to map out the pH and salinity levels and are using modelling to establish an automated map, so crab growers know which areas they should source their juveniles from," explains Marcos Ramos, another DLSU researcher.
If successful this could also help to reduce mortalities, making for another important gain in this vital part of the fisheries and aquaculture sectors in the Philippines.