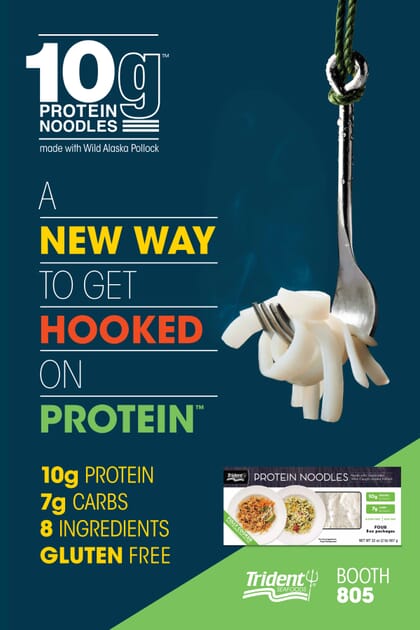 Because we all have that gluten-free friend
Trident Seafoods Protein Noodles: The noodles are made from wild-caught Alaskan pollock and are gluten and GMO-free. Despite being pure fish, they're flavour neutral, meaning they can be a high-protein alternative to pasta or other noodles. You can finally have your coeliac friend over for dinner.
Craving something sweet?
Ocean Beauty Applewood Smoked Candy Salmon: is cured in brown sugar and salt before being hand-smoked, giving it a unique savoury-sweet flavour. Ocean Beauty is based out of Bristol Bay, Alaska. 50 percent of the company's wholesale profits are invested back into the community and they pride themselves on engaging in ethical business practices.
Need to take your home cooking up a notch?
Globexplore Ponzu Flavour Pearls: these pearls contain the citrus/soy flavour from your favourite Japanese dishes in an alginate casing that dissolves while it cooks. They're ideal to use with sushi or tuna tartare. Globexplore's seaweed is hand-harvested in Brittany, and consistently and the French company hopes to bring algae and seaweed gastronomy to new customers.
Because ready meals can be fancy too
Cheating Gourmet Shrimp Jambalaya Rice Bowl: the company started when two brothers wanted to bring a family recipe to the market. Since then, they're trying to corner the market for on-the-go lunches and convince us that we deserve more than a sad salad. Their rice bowls contain phosphate free shrimp, are less than 300 calories, and are gluten free. They're also ready in four minutes.
Frozen fish doesn't need to be boring
East Coast Seafood Individually Quick Frozen Lobster Meat. You're an adult. You can branch out from fish fingers and frozen cod. East Coast Seafood has managed to cook and quickly freeze the claw and knuckle meat from lobster, and pack it in individual portion sizes. This means that you can have delicious lobster meat whenever you want and duplicate all of your restaurant favourites at home. It's preservative-free, has no chemical additives and is wild-caught.
Dim Sum is always a good idea
Sato Asian Fare Royal Shrimp Har Gow: Pacific Salmon Industries is offering customers shrimp dumplings from the oven that taste like they're deep fried. They can be eaten on their own, or as a topping on ramen or other soups. The company promises that no chemicals are used in their farmed shrimp. In addition, they only source shrimp from farms and factories that are certified by the ASC, and meet Best Aquaculture Practices (BAP) standards. Have your chopsticks at the ready.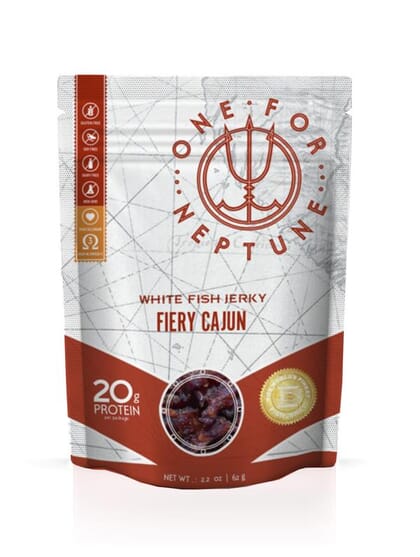 Seafood Jerky – no, seriously
One for Neptune rockfish jerky: a product that aims to make seafood and snacking synonymous. Rockfish has a higher protein to calorie ratio than salmon or spinach, and has a lower saturated fat content than beef jerky. Since the company's business model encourages suppliers to sell useable fish offcuts, they are also decreasing seafood waste and creating efficient seafood supply chains.
We should all be more enthusiastic about lunch
Acme Blue Hill Bay Protein Bowls: Acme smokes their fish in single batches and never uses artificial colours, liquid smoke or flavour enhancers. The company started in 1905 in Brooklyn, and is still family-run four generations later. They only use salmon from sources that are Best Aquaculture Practices (BAP) and MSC certified, and their products are entirely traceable. The protein bowls come with smoked salmon, white rice, and a featured sauce.

When you want to do tapas at home
Argentine Red Shrimp: Pescanova wants to make enjoying seafood easy and elegant (and preferably flame grilled). They come ready to cook, so you can enjoy tapas with minimal effort. Each pack of shrimp is peeled and de-veined, and comes with a flavour puck that melts into the shrimp as it cooks. As a company, Pescanova prides itself on having full control of its aquaculture and fishing supply chain, from origin to market. This means that the company adheres to sustainability and environmental standards. Salud!
Burgers don't always have to be made with mince
Handy Key West Pink Shrimp Burgers: the kit allows you to create your own Maryland style shrimp cakes/patties at home. The cakes can be grilled, sautéed, or baked; and promise to be economically priced. Handy uses DNA testing to ensure that the label on the box matches the contents and has a stringent inspection regime to make sure that their seafood products are shell-free. The company has also prioritised conservation and sustainability into its business plan. The tag line is to think outside the boat, to which we say, "yes please".