The F3 Fish-Free Feed Challenge was launched in November 2015 on the HeroX crowdfunding site to encourage innovation of alternative ingredients for aquaculture feeds, improve the industry's sustainability and to reduce pressure on wild-caught fish to supply fishfeed components.
So far, eight multi-national teams from around the world have qualified to participate in the competition.
Not only is the contest intended to help catalyse the development and sale of cost-competitive, viable aquafeeds free of fishmeal and fish oils, the first company to produce and sell 100,000 metric tons (MT) of feeds that do not contain marine animal meal or oil will be awarded more than $200,000 to support their fish-free aquafeed business.
Contestants range from companies with their own mills and farms with multinational sales and hundreds of employees to start-up farms and ingredient companies with just a dozen employees.
One of these smaller companies is Belgium-based TomAlgae, a manufacturer of micro-algae for use as a shrimp feed.
TomAlgae's feed is rich in omega 3 fatty acids EPA and DHA making it perfect for shrimp during the earliest life stages.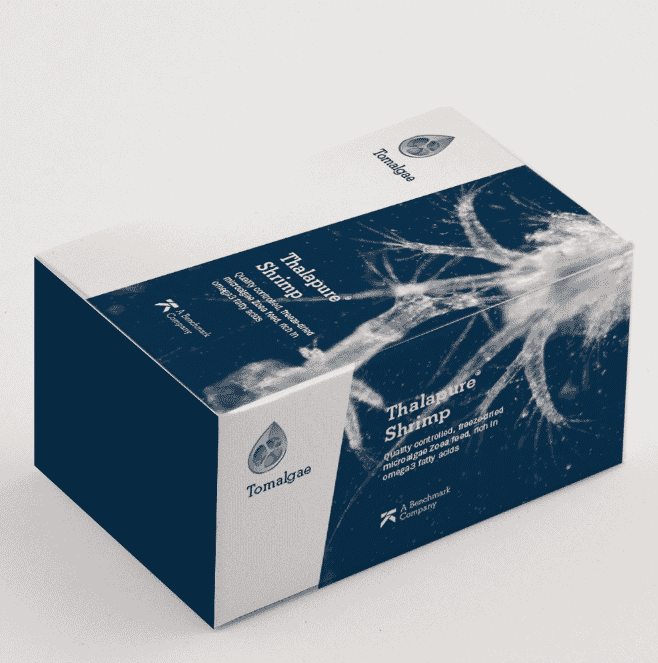 The company's commercial pathogen free freeze-dried algae products offer farmers assured continuous quality in every batch, unlike home-grown algae which some farmers produce. This home production often varies hugely in quality and quantity as well as being 30-60 per cent of a hatchery's operational costs, explained TomAlgae CEO, William van der Riet.
"We want to replace the live algae used in hatcheries," said Mr van der Riet, speaking to The Fish Site.
"There is an enormous technology gap in the early stages. They rely on a very artisinal way of producing their own feed when they should be relying on feed with quality that is consistent from day to day."
Whilst TomAlgae produces a perfect candidate for the 100 per cent F3 (Fish Free Feed) product, the feed cannot compete with the bigger companies on a tonnage level, noted Mr van der Riet.
Under ideal conditions, about 100 grams of the freeze-dried microalgae (which is rehydrated before use) could feed one million shrimp larvae and produce about 15 tons of shrimp meat. This means sustainable product is going to find it hard to compete to meet the 100,000 MT target in order to win the competition.