Successful Year Ahead for Vietnamese Pangasius Exports to Spain
VIETNAM - Since September, pangasius exports to Spain have increased with rates ranging from 13.8 per cent to 34 per cent over the same period.
As of the end of November 2015, Vietnamese companies earned a total value of US$ 44.3 million from pangaius exports to Spain. This means a 33.9 per cent year on year decline. Nevertheless, Spain still remained as the second largest pangasius importing market in EU, reports VASEP.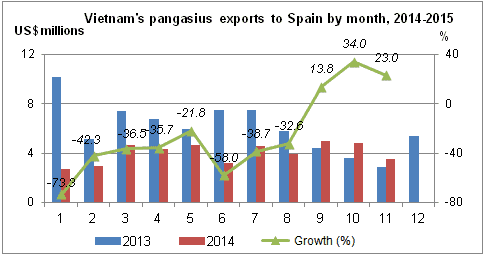 Eurostat revealed that in the first eight months of 2015, pangasius was really modest in total seafood imports by Spain.
In 2015, Spain was favor for shrimp (HS 0306), octopus (HS 0307) and some seafish such as salmon, tuna, sardines and white fish such as hake (HS 0302, HS 0303, HS 0304), cod (HS 0304).
Among all imports of fillets fresh, chilled and frozen (HS 0304), pangasius and catfish ranked the third, accounting for 8-10 per cent.
So far, Vietnam is the only source for pangasius to Spain. Pangasius occupies 87 per cent to 93 per cent of total value of pangasius and catfish imports into Spain.
The devaluation of the EUR against the US dollar made seafood imports of Spain fall sharply. This happened across the board, from catfish to tuna and cephalopod. Importers reduced purchases and asked for discounts.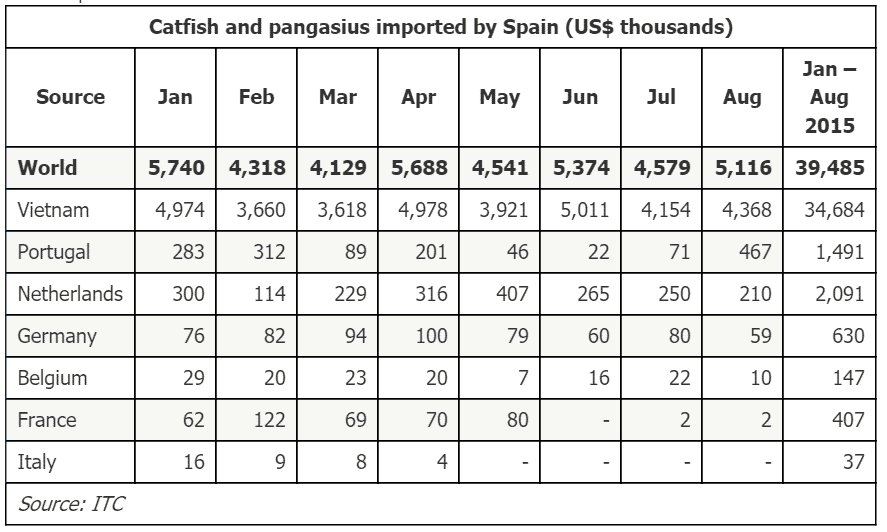 Spanish has been favored for frozen seafood, therefore, value added products exported to the market was limited.
The increase from September till now in pangasius exports from Vietnam to Spain suggests a more optimistic 2016.