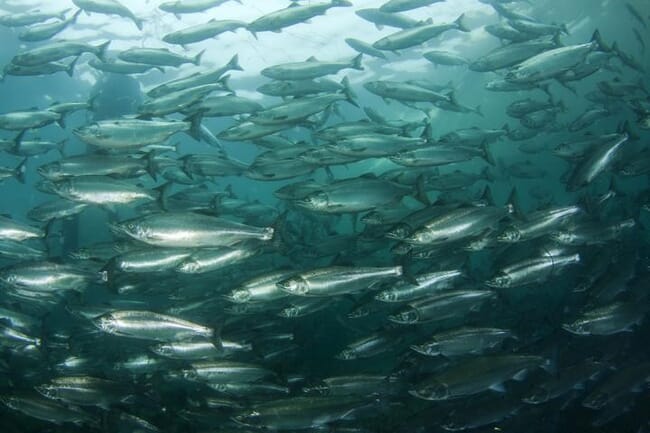 Atlantic salmon producers may want to rethink plans to submerge sea cages as a lice prevention strategy, according to results from a new study published in the journal Aquaculture. In this trial, researchers fit three 1,729 m³ net pens with air domes and stocked them with approximately 6,000 salmon smolts. The researchers submerged the cages 15 m below the surface and tracked the salmon for a year, measuring their growth rates, swimming behaviour, welfare parameters and sea lice levels.
Results from the trial showed that salmon in the submerged cages had significantly lower sea lice levels (93 percent lower than the three control cages kept at the water's surface). However, the average harvested weight for the submerged fish was nearly half of the control group (2.8 kg vs 5 kg), and the overall mortality rate was 2.5 times higher than the control. The researchers also found that salmon raised in the submerged cages had more eye and mouth injuries than fish raised in conventional cages.

They theorised that submerging the fish for the whole production cycle exposed them to colder water that had less dissolved oxygen. This sub-optimal environment had significant impacts over the production cycle, leading to lower fish weights, higher mortalities and poorer welfare scores.
Why submerge sea cages?
The salmon aquaculture industry is turning to preventive strategies to control sea lice instead of relying on chemical treatments. Since sea lice tend to live in surface waters, Norway's fish farmers are constructing barriers like lice skirts and snorkels to prevent juvenile lice from infecting fish in net pens. A novel approach is to use depth as a spatial barrier and submerge the cages below surface waters. This would create a natural barrier between the salmon and lice living at the surface.
Submerging sea cages could bring other benefits as well – keeping fish lower in the water column would make them less susceptible to storms, wave damage and net deformations from ocean currents. It could also keep fish further away from surface algal and jellyfish blooms.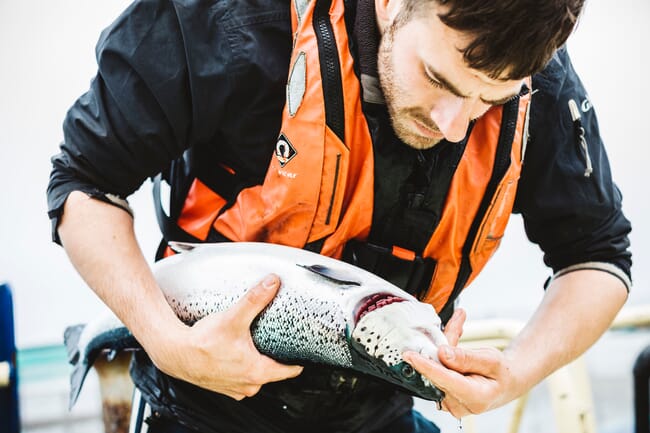 But before salmon producers sink the cages, they need to create stable air domes at the top of the structure. Since Atlantic salmon have an open swim bladder, they need access to air to maintain their buoyancy and normal swimming behaviour. If producers can successfully integrate air domes with submerged cages, the salmon industry might have a new way to keep sea lice levels low without using unsustainable delousing methods.
Key results
The researchers note that the submerged salmon had significantly lower sea lice counts than fish raised in conventional cages, but the submerged fish contended with significant production problems. This resulted in poorer growth, welfare scores and higher mortality rates. The researchers said that, "the consequences of keeping fish submerged for the entire production cycle was more detrimental to overall production," outweighing the reduced sea lice benefit.
The study authors highlighted the poor culture conditions in the submerged cages but felt that the low temperature and dissolved oxygen levels at 15 m might not be a universal. For submergence to be a successful sea lice prevention strategy, it must be used on farming sites and times when conditions at depth are best for production. The paper's conclusion notes that other fjords or offshore ocean environments could have better conditions. Conducting a similar experiment in a more suitable submerged environment may show that the approach is feasible.