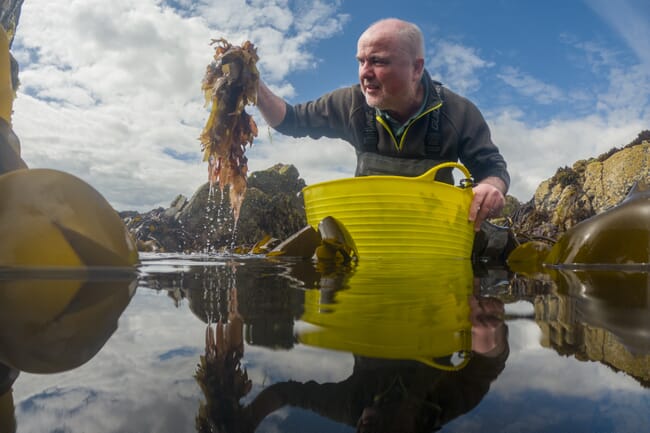 The Fife-headquartered company has retained seven jobs in the local region following the purchase of assets from Mara Seaweed – Scotland's flagship seaweed firm, which recently went into administration. It has set its sights on scaling up its factory and operations with market-leading tech in order to become the UK's leading harvesting and processing hub for seaweed.

The startup observes that the country's seaweed industry has seen much interest and change in recent years, but is "still an under-invested, untapped and highly fragmented sector".
It is eyeing a range of applications for seaweed in fields such as nutrition, cosmetics, pharmaceuticals and fertilisers.
Seaweed Enterprises has been established by CEO Pete Higgins, who is experienced in getting businesses investor ready and scaling for growth, along with the senior team from Mara Seaweed – Arnie Sathiy and Clare Dean – who have several years' practical and commercial experience in the seaweed industry.
The team has already successfully secured private investment to roll out its business plan, which aims to see it grow to become the leading seaweed processing hub, supporting sustainable business growth for the Scottish seaweed sector with market-leading tech, whilst always pushing responsible harvesting protocols and enduring partnership work.
Significant capital expenditure at Seaweed Enterprises' Glenrothes site is key to its investment strategy, allowing the production and sale of a range of species in demand from a vast array of offtake channels, already looking to seaweed for sustainable solutions.

"Seaweed is an extraordinarily beneficial natural resource whose potential is not yet fully realised, so this is a tremendously exciting time for Seaweed Enterprises and the sustainable seaweed sector as a whole," said Higgins in a press release.
"Working in partnership with Scottish seaweed farmers, as well as the large volume from our licence to wild harvest granted by the Crown Estate, we are proud to be developing innovative products to the highest standard. Our state-of-the-art facility will offer not only volume much needed by many customers, but importantly the versatility and refinement for higher value items," he added.