Speaking at this week's Aquaculture Innovation Europe conference in London, Dr Ben Renquist, CEO and founder of Genetirate, noted: "If we can increase growth rates we can reduce the amount of time salmon need to spend in marine cages and limit their exposure to disease".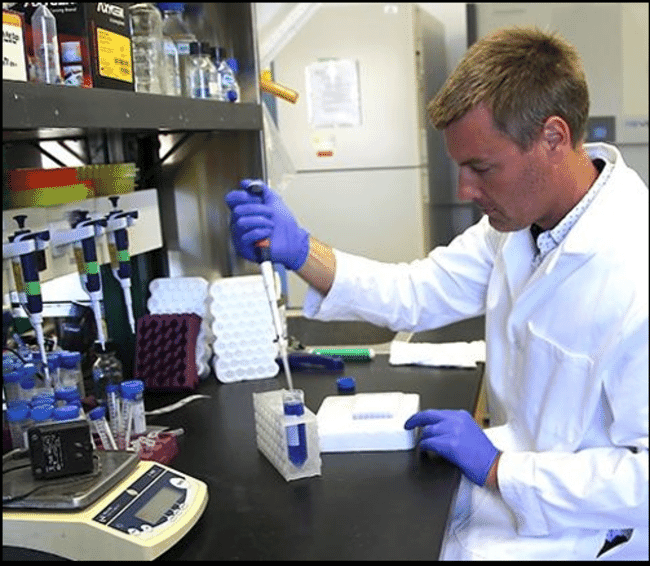 "Prior selections to improve growth have really focused on increasing feed intake, but with feed being a very high cost that's problematic – in fact when you select for growth, you're selecting for an 85 percent increase in feed intake. And there's no current method for selecting for feed efficiency or growth that's independent of feed intake," explained Renquist.
He then went on to explain his method for achieving this.
"That's where Genetirate comes in – we measure the metabolic rate of the egg using a high throughput screening method and identify faster growing individuals, independent of feed intake – so these are animals that are inherently better for growth," he explained.
A spin-out from the University of Arizona, Genetirate has developed a non-disruptive patented technology that allows users to establish how well fish and shellfish are likely to grow while still at an embryonic stage. The technology enables users to assess the metabolic rates of a wide range of fish ova and mollusc spat and the researchers have discovered that those with a higher metabolic rate grow faster.
"We were surprised by our results, because in humans, individuals with higher metabolic rates are less heavy, because they have less energy available for growth," says Renquist, who made the discovery when conducting research into zebrafish and was alerted to its potential in commercial aquaculture by Arizona's renowned Professor Kevin Fitzsimmons.
Genetirate has taken part in commercial pilots with companies including Hendrix, Hawaiian Shellfish, Desert Spring Tilapia and Cold Spring Trout. A trial in which they assessed the metabolic rates of 18,000 tilapia eggs and compared the performance of the top 4,500 and bottom 4,500 ova demonstrated a 28 percent better growth rate in the former.
"We're currently running trials with very large genetics companies and the results have been very similar for them," Renquist said, adding that the trials also showed marked improvements in feed efficiency, aided by a novel selection method which allows them to "reduce the basal metabolic rate" and therefore put more energy into growth.
Renquist is looking for two types of customers.
"The first is genetics companies – if they select the top 10 percent [of broodstock] and we got a 25 percent improvement in growth, like in the trials, as well as a 5 percent improvement in feed efficiency, a female salmon would be worth $11,221 more than a salmon we hadn't selected, throughout the production cycle," he pointed out.

For producers he sees a different strategy, explaining: "If they were to select the top 50 percent and eliminate the remaining 50 percent a Genetirated egg – if it leads to a 25 percent improvement in growth – is worth $1.12 more."
Since the company launched in February 2019, they've generated $72,000 in sales, have done business with "three large genetics companies" worked with three producers and have developed a machine capable of sorting 120,000 eggs an hour – and with multiple machines this enables them to assess "multiple millions of eggs a day."
"We expect validation grow-out trials to begin in October 2019 and we're looking for people to do that. Our strategic intent is to focus on salmonids, offer low cost trials using our technology. We guarantee a 5 percent improvement in growth, so we're taking the risk, not the producer," he promised.
He finished by outlining three different models: the first involving licensing deals for the use of the egg sorters, an onsite service or an in-house service for eggs of species that are easy to ship.
"This year we expect $350,000 in revenues, we expect $1 million in 2020 and, in $5 million in 2021 – we're going to focus on developing automated equipment to sort new species each year.
"Our goal is to raise $1 million to accelerate business growth and marketing, and expand the automation and technology," he told assembled delegates.